Last Updated on December 30, 2022 by Dexter Roona
We have another WWE 2-pack Funko POP to report on with this new WWE: Funko Pop Undertaker and Paul Bearer with WrestleMania IX Pin Funko Pop! Vinyl Figure Set 2-Pack – GameStop Exclusive. We have all the news on this great WWE Undertaker 2-pack and the best online retailers.
The iconic pairing of The Undertaker and Paul Bearer his manager from WrestleMania IX join the WWE Funko Pop figure roster.
When the bell tolls it's time for the Undertaker and Paul Bearer to make their entrance to the squared circle. Wearing his signature black leather trenchcoat the Undertaker appears on the walkway to the ring followed by his  'Mortician' manager, Paul Bearer carrying a mysterious urn, looking like a relative of the Adam's Family.
NB: Disclaimer – This Funko Pop Undertaker and Paul Bearer WWE GameStop Exclusive 2-pack article contains product affiliate links. If you click a link and make a purchase then AFG may make a very small commission at no cost to you.
Funko Pop Undertaker and Paul Bearer 2-Pack GameStop Exclusive with WrestleMania Pin
There are no WWE partnerships quite like that of The Undertaker and Paul Bearer and the WWE would not be the same if you duo had not made their mark on WWE history.
This new The Undertaker and Paul Bearer Funko Pop 2-pack depicts the duo from the classic WrestleMania IX match and comes complete with a WrestleMania pin.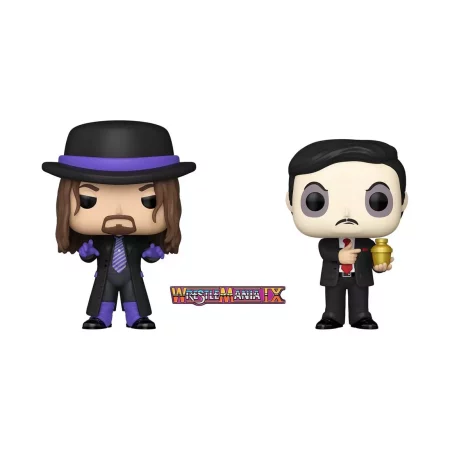 Shopping Guide
Shop for the Funko Pop Undertaker and Paul Bearer 2-Pack GameStop Exclusive at

Shop WWE Pops at:

Get a 10% Discount on all instock items and Free Postgage on all orders over $39.99 by using our AFGEEK discount code today.

Read more on this discount at –Entertainment Earth Discount 
I vividly remember the first time that I saw the Undertaker make his entrance. Dressed top to toe in black he emerged from his crypt with his signature music blasting out. It was an entrance that influenced a generation of wrestlers. His first-ever WrestleMania match put him onto a Wrestlemania winning street that saw him lose only 2 out of 27 matches, an unrivaled WrestleMania record.
Are you an Undertaker fan?
Which other WWE Funko Pops do you like?
I am a big fan of the new Bret Hart and Shawn Michaels 2-pack and the Alexa Bliss Funko Pops.
Away from the WWE, I am a fan of the Tiger Woods Pops and the Lewis Hamilton Pops.
But I want to know what you like.
Let me know in the AFG comments below.
Regards
AFG