Last Updated on January 26, 2023 by Dexter Roona
Today I bring you all the Pops for one of my favorite Spielberg movies of all time with my Jaws Funko Pop! Checklist – Shopping Guide – Gallery. I have all the news on every Jaws Funko Pop released including all the exclusives and any chase figures released and also the best online retailers to buy them from.
In the original Jaws movie from 1975 Chief Brody says the line "you're gonna need a bigger boat" well with this Funko Pop Jaws movie series you're gonna need a bigger shelf!
Jaws is a movie all about a huge great white shark that terrorizes the residents of Amity Island whose businesses are its beaches.
A series of gory fatal attacks on swimmers begin a week before the 4th July celebration. A time that is very important to the finances of Amity Island.
Chief Brody wants to close the beaches but his plan suffers major resistance from Mayor Larry Vaughn resulting in more lives lost.
The only option now is to catch and kill the great white shark.
The Jaws Funko Pop lineup includes Chief Martin Brody, played expertly by Roy Scheider, Quint played by Robert Shaw, the captain of the Orca, and Matt Hooper an oceanographer, played by Richard Dreyfus, who is an oceanographer, and of course there is a number of Jaws the shark Pops as well.
Jaws Funko Pop Figures Checklist
755 Chief Martin Brody
756 Matt Hooper – Oceanographer
757 Quint
758 Great White Shark 6″ and Great White Shark Bloody 6″ – Target Exclusive
759 Great White Shark 6″ with air tank
760 Shark Biting Quint – 2019 SDCC
Movie Moments Exclusive and GameStop Exclusive
NB: Disclaimer – This Jaws Funko Pop! Checklist – Shopping Guide – Gallery article contains some product affiliate links. If you click a link and make a purchase then AFG may make a very small commission at no cost to you.
Jaws Funko Pop Figures – Shopping Guide and Gallery
Here are all the Pops released so far and the accompanying images. You can buy these Pops at the online retailers linked at the bottom of the page.
755 Chief  Martin Brody
Here we have the Chief of Police for Amity, Martin Brody. He is dressed in blue jeans and wears thick-rimmed glasses that he wears during the fishing trip on the Orca. He is smoking a cigarette and stands ready with a bucket of chum ready to attract the giant Great White.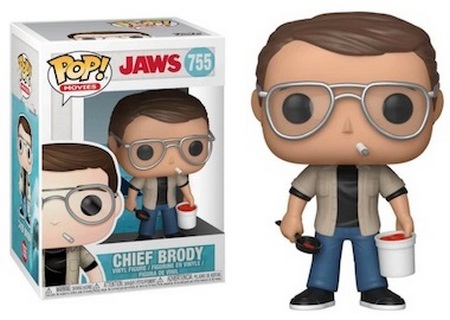 756 Matt Hooper
Matt Hooper is an oceanographer and shark expert in the movie. He brings scientific expertise to the fishing trip.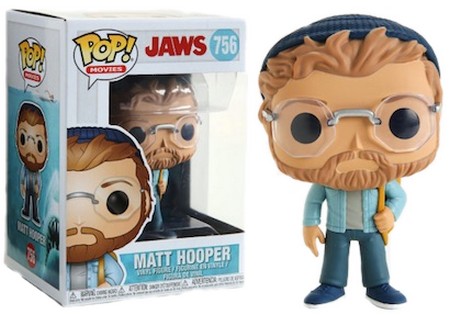 757 Quint
Quint is the captain of the Orca. He is the wily, old fisherman who is hired to capture the great white shark terrorizing Amity. He holds the harpoon gun that he uses to tag the shark with barrels to keep it from submerging.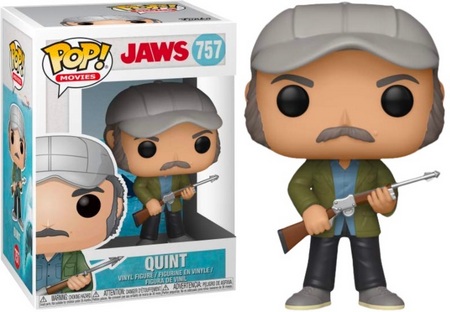 758 Jaws – Great White Shark 6-inch Funko Pop and Jaws -Great White Shark Bloody 6-inch – Target T-Shirt Collectors Box
758 Great White Shark is available as a common Pop and as a Target Exclusive.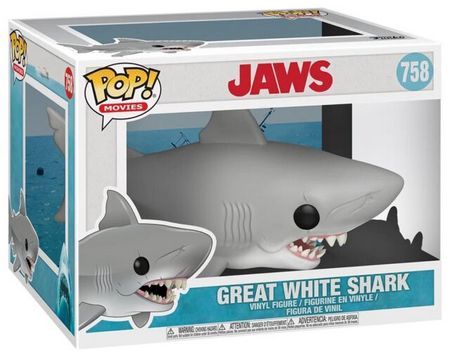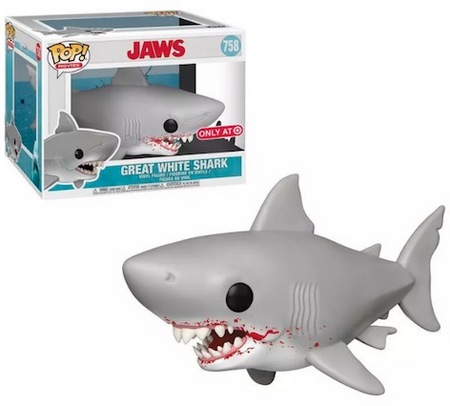 759 Jaws – Great White Shark 6 inch with Diving Air Tank
Here we see the Great White Shark with the diving air tank in his mouth that Chief Brody shoots in the finale of the movie.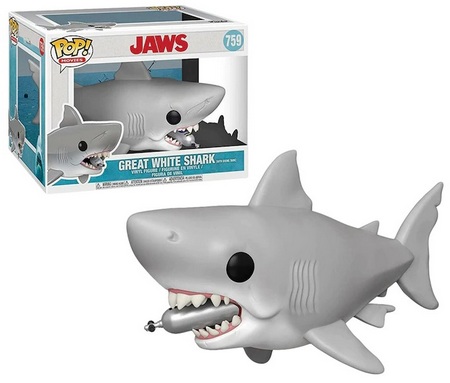 760 Jaws Biting Quint Deluxe – 2019 San Diego Comic-Con and Entertainment Earth Exclusive
Here we see the demise of Quint as he is eaten alive by the Great White.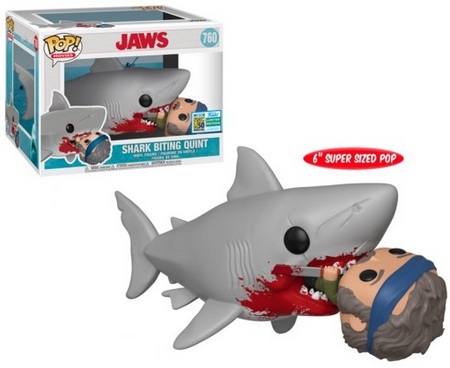 Jaws Movie Moments (Jaws and Quint) – GameStop Exclusive
Jaws uses his size to sink the Orca boat.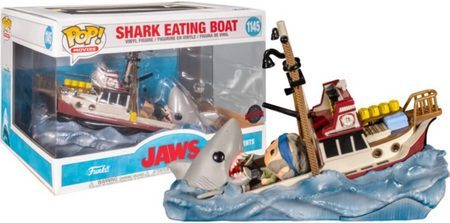 Shop for the Jaws Funko Pop Figures at the following Retailers
You can buy these Funko Pop Jaws Figures at the following online retailers:

More Jaws merchandise at Entertainment Earth

Get a generous 10% discount on all in-stock items and free postage on all orders over $39.99 at Entertainment Earth by using our special AFGEEK discount. 

If you would like to know more about this discount then please refer to our Entertainment Earth Discount page.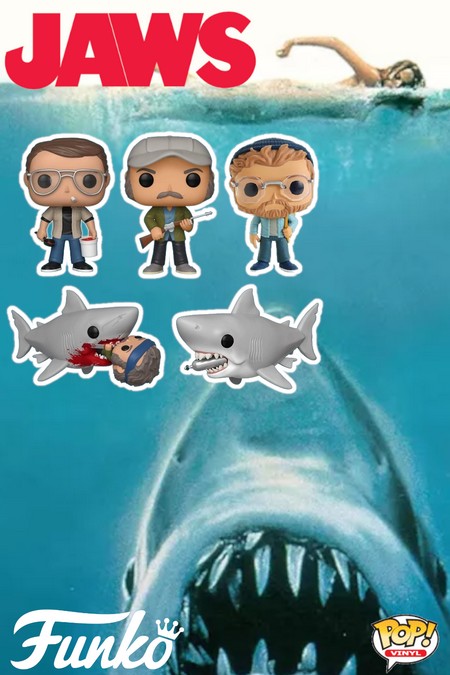 Are you, like me a Jaws fan?
Will you be adding any of these Jaws Funko Pop figures to your collection?
Which other movie Pops do you like?
I am a big fan of the Dungeons & Dragons – Honor Among Thieves Funko Pops! and the Rocky Funko Pops.
Away from movie Pops I like the cute Hello Kitty Pops and the Sailor Moon Funko Pops.
But which Pops do you like?
Have your say in the comments below.
Regards
AFG