Last Updated on February 23, 2023 by Dexter Roona
Do your Funko Pops have brains in their oversized heads? It's a nice idea and not beyond the realms of possibility. But I'm afraid it is time to Pop this popular Funko Pop urban myth, OR IS IT?
What's inside your Funko Pops? Let's talk BRAINS!
The idea of Pop figures having brains is something that started on social media as a joke. Images were shared of Pops that had been lobotomized, revealing their inner brain. A lot of effort was put into making these images look authentic to the extent that people started to believe that Funko Pops actually did have brains.
A lot of common Pops have died at the hands of Funko fans convinced that Pops have brains and then cutting them open just to be disappointed.

But what if it is only the chase variants or exclusives that have brains?
STOP do not cut open any chase variants… there is no need for the Funko Pop Chainsaw Massacre. We can categorically confirm that Pops do not have brains and you don't have to go to the extremes of putting your Pops through brain surgery to confirm this and potentially ending up in hospital yourself to confirm this
However, if you still want to check if your Pops have brains for yourself then just warm up your Pop figure in a bowl of hot water for a couple of minutes. The head softens and becomes malleable then can just be popped off and popped back on again.
If you have trouble getting the head back on just warm up the head again to make it malleable enough to reattach to the body.
Depending on the Pop and its design the above method may not give you the conclusive evidence that you are looking for. Please do not reach for the carving knife or the hack saw. Instead, check out what Top Pops has to say on his YouTube channel.

The idea that Pops potentially have brains is born out of how a Pop is produced and a quest for likes, follows, and views!
Pops are hollow and there are some vinyl figures which have extra support or weight added within the head, which would be just more vinyl from the mold. From time to time you may hear a rattle in the head when you shake the figure. This led to the owner thinking that something more was in the head.
Pop customizers picked up on this and did what they do best and customized their Pops and added brains to their Pops to then show off on social media for views and the urban myth was born as Pop collectors bought into the idea.
So do Funko Pops have brains? What's inside your Funko Pops?
Well I wish Funko Pops did have brains and perhaps down the line Funko could add a brain or something additional to the variants and exclusives but as it stands Funko Pops don't have brains unless you put them there yourself. 😉 Nowhere in Funko history is there proof that Pops have brains. Until now!
451 Dr. Finkelstein with Brain – The Nightmare Before Christmas Disney Funko Pop
Dr. Finkelstein is depicted as a wheelchair-bound, elderly man with a large head and a skinny body. He is often seen wearing a lab coat and holding a flask or other scientific equipment.
He is also known for his grumpy and impatient personality.
The Disney 451 Dr. Finkelstein from The Nightmare Before Christmas does have a brain inside his head as you can see below.
Dr. Finkelstein from Tim Burton's 1993 animated movie The Nightmare Before Christmas is a resident of Halloween Town. He is a wheelchair-bound mad scientist and the creator of Sally. He has a hinged skullcap that can be opened to reveal his brain.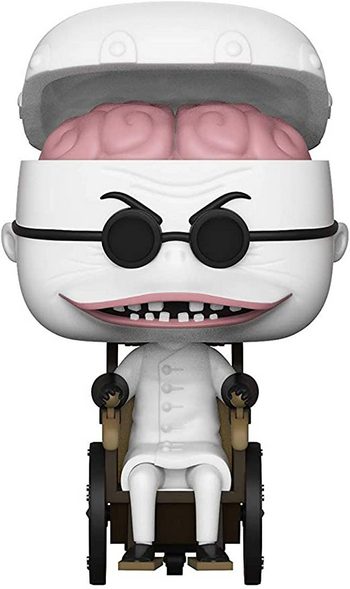 So yes on this occasion we can say that this Funko Pop does have a brain 😉
Do you have any proof of your own that Funko Pops have brains? 
Let us know in the comments section below.
We would love to hear from you.
Regards
AFG