Last Updated on December 27, 2022 by Dexter Roona
Today we bring you all the Sonic the Hedgehog Knuckles Funko Pop! figures in one handy list and shopping guide. We have all the info on these animation/game Funko Pops and the best online retailers to buy them from.
Knuckles is one of the main characters in the Sonic the Hedgehog series and the guardian of the Master Emerald. The Master Emerald is an extremely powerful ancient relic on Angel Island. It is Knuckles duty to protect the Master Emerald from those who are looking to take the emerald and abuse its powers. Knuckles is the only surviving descendant of the echidna race from the Knuckles Clan.
NB: Disclaimer – This Knuckles Funko Pop! Sonic the Hedgehog AFG article contains product affiliate links. If you click a link and make a purchase then AFG may make a very small commission from qualifying purchases.
Knuckles Funko Pop List and Shopping Guide – Sonic the Hedgehog
Here is everything that you need to know about the Knuckles Funko Pop vinyls released so far.
Knuckles Funko Pop List
To date, there have only been two Knuckles Pops released.
08 Knuckles – Sonic the Hedgehog Funko Pop

854 Knuckles Flocked Target Con and Special Edition – Sonic the Hedgehog Funko Pop
Knuckles Funko Pop Buyers Guide and Gallery
Shop for the Funko Pop Knuckles Figures at:

Get a 10% Discount on all instock items and Free Postage on all orders over $39.99 by using our AFGEEK discount code today.

Read more on this amazing discount at – Entertainment Earth Discount 
08 Knuckles – Sonic the Hedgehog Funko Pop
This 08 Knuckles Sonic Pop is a very early Pop in the Speedy Hedgehog Video Game series and is now a vaulted Pop (no longer produced) so he is becoming hard to find and a bit more pricy if you want to add him to your collection.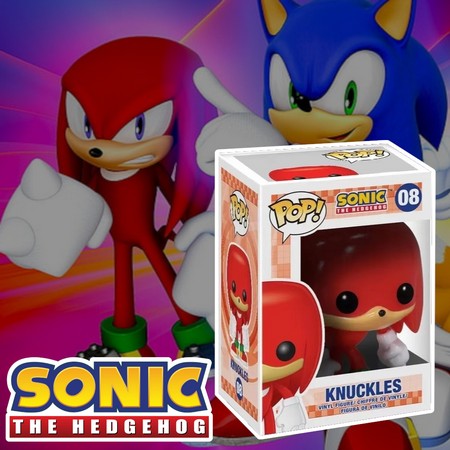 854 Knuckles Flocked Target Con and Special Edition – Sonic the Hedgehog Funko Pop
This very cool 854 Knuckles Flocked Target Con Flocked Exclusive is also available as a Flocked Special Edtion. Same figures, different exclusivity stickers.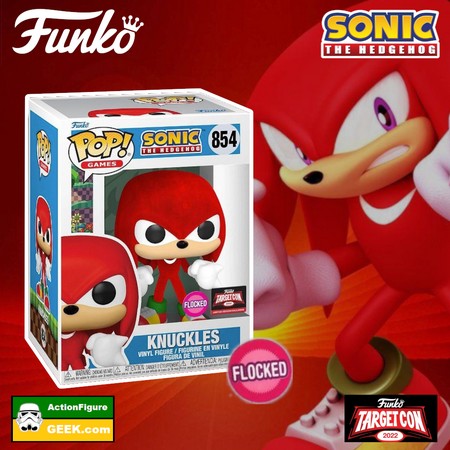 Knuckles is known for his powerful and wild nature. He possesses super strength but has a gullible nature and is short-tempered. He is headstrong and very serious about his duties.
The gloves on his hands have two spike-like knuckles on each, hence his name Knuckles. He uses his knuckles to ascend walls and dig. He also uses his dreadlocked hair to help him glide through the air by trapping thermals under his dreadlocks.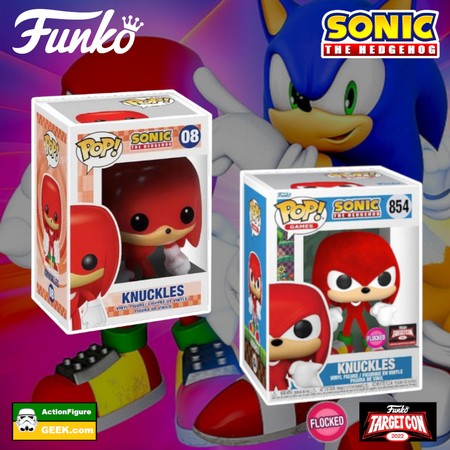 Knuckles is also one of Sonic the Hedgehog's oldest friends and rivals. He spends most of his time on Angel Island where he attends to his primary duty of protecting the Master Emerald. He protects the Emerald so diligently that doesn't care much about anything else. One exception to this rule is when his friends are in need of his help.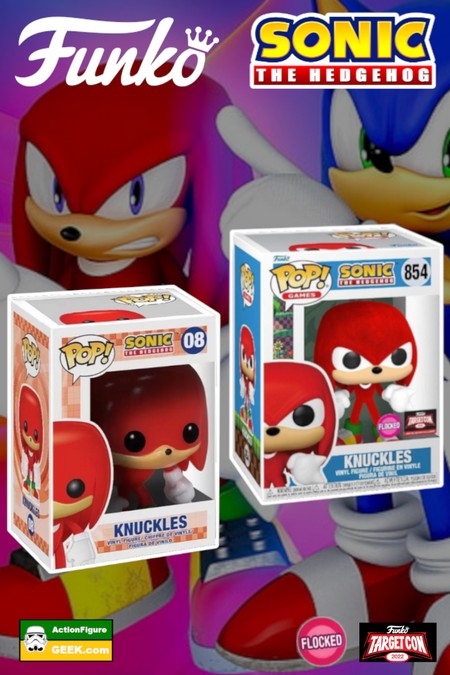 Are you a Sonic the Hedgehog Funko Pop fan?
Will you be looking to add any of these Knuckles Funko figures to your Sonic the Hedgehog Funko Pop collection?
Which other animation/game Funko Pops do you like?
I am a big fan of the Apex Legends – Wattson with Nessie Funko Pop (Cyber Punked) GameStop Exclusive and the Overwatch 2 Funko Pops.
Away from Game Funko Pops the Jiren Full Power Pop is awesome along with Etrigan the Demon.
But what are your likes and dislikes?
Let me know in the comments section below.
Regards
AFG