Last Updated on August 8, 2022 by Dexter Roona
Get ready Sonic Fans there is a new Sonic the Hedgehog – Funko Pop Super Sonic First Appearance SDCC Glow in the Dark Exclusive coming your way
When it is Comic-Con season and the San Diego Comic-Con rolls around, we just know we are going to get a whole raft of cool conference-exclusive collectibles to spend our money on.
This year, Funko is releasing a whole series of SDCC-exclusive Pop Vinyls one of which will catch the eye of Sonic the Hedgehog fans. Up for grabs at the SDCC this year is the exclusive Sonic the Hedgehog – Super Sonic First Appearance SDCC Glow in the Dark Exclusive categorized in the Pop Games category that pays a glowing tribute to Sonics signature golden aura from the video game, cartoon, and movie franchise.
Super Sonic First Appearance stands at approximately 5.3 inches tall and includes a stand that gives him the appearance of floating in mid-air as shown in the image below.
This new Sonic Funko collectible comes in the traditional Funko display box and will carry the SDCC exclusive sticker making him a must for collectors attending this year's conference and is the only guaranteed way of getting your hands on Sonic.
If you are not attending the SDCC then your best bet for picking up this Super Sonic First Appearance SDCC Exclusive is probably via eBay.
NB: This Super Sonic article does contain some product affiliate links. If you click a link and make a purchase then AFG may make a very small commission at no cost to you.

877 Sonic the Hedgehog – Funko Pop Super Sonic First Appearance Glow in the Dark Exclusive
Here is how the SDCC GITD Super Sonic Funko looks. He is definitely a Pop we would like to add to our collection.
If you are going to comic con then make sure you buy him.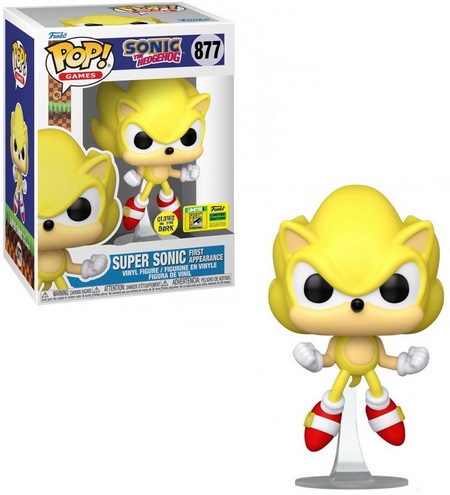 Super Sonic is enhanced by Chaos Emeralds and made his first appearance in the Sonic the Hedgehog 2 game that was released in 1992.
For Sonic to take Super Sonic form you have to collect all 7 Chaos Emeralds and collect 50 rings on a special level and then press "jump" twice. In the game, Doctor Robotnik attempts to steal the Chaos Emeralds to power his space station, you must help Sonic as he attempts to foil Robotnik's plan.
In later versions of the games, the Super Sonic transformation was simplified.
Not attending Comic-Con?
If you are unable to attend the SDCC to pick up the SDCC Exclusive or if the prices on eBay asked by the convention-goers who are selling are just a bit too high then the 287 Super Sonic – GameStop Exclusive might be a good alternative for you.
This version of Super Sonic is a pretty cool figure for your collection.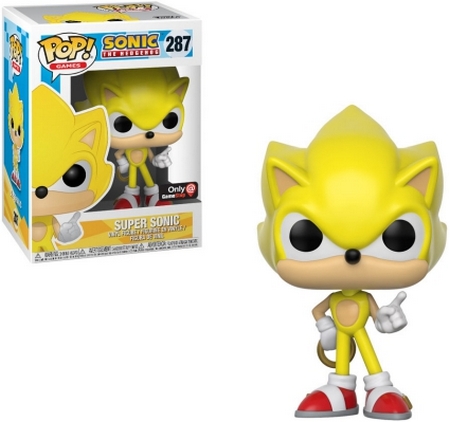 Price Check – Amazon
Price Check – eBay
Are you a Sonic the Hedgehog fan? What do you think of this new Super Sonic Funko Pop?
Is this new Super Sonic Pop a good addition to the Sonic Game Pops?
Let us know in the comments section below.
We would love to hear from you!
Regards
AFG