Last Updated on May 1, 2023 by Dexter Roona
Today we bring you news of a new addition to the Disney 100 Funko Pop! Checklist with the very cool Lady & the Tramp Funko Pop! Disney 100 Years Celebration Movie Poster vinyl. We have all the news on this new release and the best online retailers to buy it from.
The Lady & The Tramp is a heartwarming classic Disney animated movie that was released in the vintage year of 1955. The movie tells the story of Lady, a pampered cocker spaniel owned by Jim Dear and his wife Darling who falls in love with a stray mutt named Tramp.
Together, the pair embark on an unforgettable adventure that takes them through the streets of New Orleans and into the hearts of millions of Disney fans.
NB: This new Lady & The Tramp Movie Poster Funko Pop! Disney 100 Celebration article contains product affiliate links. If you click a link and make a purchase then AFG may make a very small commission at no cost to you.
Lady & The Tramp Funko Pop! Movie Poster Disney 100 Years Celebration
This very cool Disney 100 Movie Poster Lady and Tramp Funko Pop! features the duo from the classic movie poster pose and it is sure to be a hit with Disney movie fans and collectors of Funko Pop figures alike. With its attention to detail and high-quality design, the Lady & the Tramp Disney Funko Pop! figure is a must-have for any Disney or Funko Pop enthusiast.
This is a great Disney 100 Poster Pop! but what I would say is that either Tramp should be taller or Lady shorter to match in with their dimensions on the poster.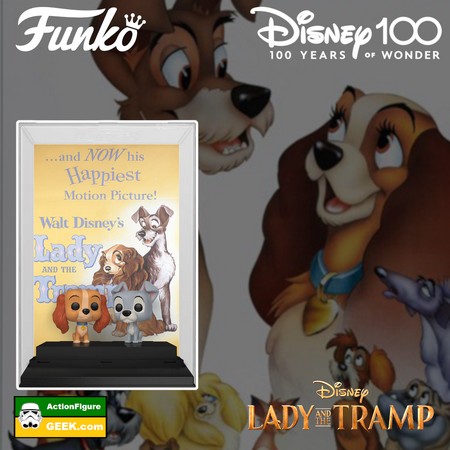 Shopping Guide
The new Lady & The Tramp Funko Pop! Poster Disney 100 Years Celebration vinyl figure is available at the following online retailers:

Entertainment Earth is offering a very generous 10% discount on all in-stock items with free postage and packaging on all orders you make totaling over $39.99. You can claim this discount by clicking here – AFGEEK discount. 

If you would like more information about this discount then please refer to our Entertainment Earth Discount page.
Lady lives in a very comfortable home with her owners. She is always the center of attention in the household, but her comfortable life is disrupted when a new baby comes onto the scene. Lady begins to feel a little left out and neglected, and she becomes worried that her owners no longer love her as much as they used to.
Tramp is a very street-smart dog who lives life on his own terms. He doesn't have owners or a home. He lives on the streets where he is well-known and respected. Fate brings Lady and Tramp's paths together and the two dogs form an instant connection.
Adventures
Over the course of the movie, Lady and Tramp go on a series of adventures together. They enjoy romantic a dinner at Tony's, one of the most iconic Disney animation scenes. They evade dog catchers and experience the thrill of a train ride. However, their happiness is short when Jim Dears aunt comes to stay and dog-sits Lady bringing her two Siamese cats with her. The cats demolish the house and blame the damage on Lady and claim that Lady has hurt them so Aunt Sarah muzzles Lady. Lady is upset and runs away to the streets to find Tramp. Tramp takes Lady to the zoo where a beaver removes the muzzle but on leaving the zoo Lady is captured and taken to the local pound.
Lady & the Tramp Funko Pop! is a heartwarming story about the power of love and the importance of friendship. The movie is a classic Disney tale that has been enjoyed by generations of viewers. The characters are memorable, the animation is beautiful, and the story is both funny and poignant and this new Lady & the Tramp Movie Poster Funko Pop vinyl figure is the perfect way to commemorate this classic Disney movie.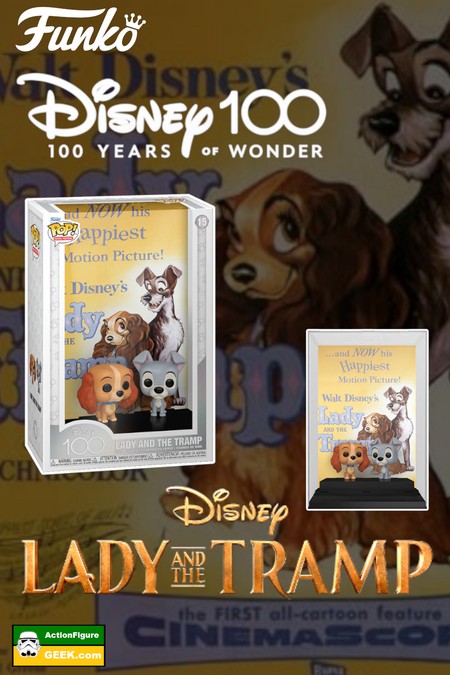 Related Disney Funko Pop! Article