Last Updated on October 3, 2022 by Dexter Roona
We have a new Funko Obi-Wan Kenobi in Jedi Robe Funko Pop to report on today. This new addition to the Star Wars Funko Pops series is a Funko Shop Exclusive. Here is all the news on this new release and the best online retailers to buy the Jedi Master from.
The new 544 Obi-Wan Kenobi in Jedi Robe is a very nice new version of the Jedi Master standing with his Jedi Robe. The hood of the robe is up and he is holding his lightsaber.
He is ready to push the button and dive into battle and confront the fearsome Darth Vader.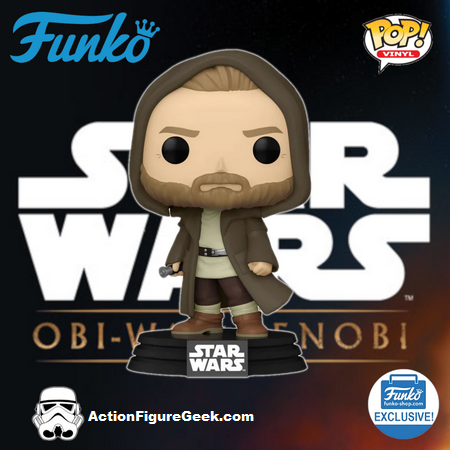 Buy the Obi-Wan Kenobi in Jedi Robe Funko Pop Funko Shop Exclusive
Obi-Wan Series
The Obi-Wan series was a difficult series to watch, to begin with, because it gave us a much more beaten and defeated version of our hero than we had ever seen before. Obi-Wan is pushed back into his old Jedi life a life that he has left behind by the young Princess Leia who needs his help and protection after she is kidnapped.
The Obi-Wan Disney+ series is set 10 years after the events of Star Wars: Revenge of the Sith. Order 66 has been given and the vast majority of the Jedi have been slaughtered by Emperor Palpatine's command.
Obi-Wan and the remaining Jedi are now in hiding hunted by the Empires Inquisitors who seek to stamp out the last of the Jedi and wipe their existence from the galaxy.
544 Star Wars – Obi-Wan Kenobi in Jedi Robe Funko Pop Funko Shop Exclusive
Obi-Wan Kenobi is now in hiding on Tatooine and keeping a watchful eye on a young Luke Skywalker. He is able to stay hidden by working a mundane job and leaving behind his life as a Jedi Master. He has now pretty much forgotten what it is to be a Jedi.
But circumstances change when the young Princess Leia is kidnapped. Obi-Wan is forced to confront his past and the now formidable Darth Vader, his former Padawan learner, Anakin Skywalker.
This new Obi-Wan Kenobi in Jedi Robe Funko Pop fills a vacant space in the Star Wars Pop numbering, slotting in nicely to our Obi-Wan Kenobi Funko Pop list between  543 Darth Vader – GameStop Exclusive and  the 545 Haja Estree – Target Exclusive 
Have you seen the Obi-Wan series?
Did you find it hard to watch the opening episodes of the show when Obi-Wan is a very much beaten and downtrodden and a very poor shadow of his former self?
Which other Star Wars Pops and figures do you collect? We like the Star Wars Black Series. There are a couple of very good Black Series Obi-Wan available there is the Black Series Obi-Wan Kenobi (Jabiim) Action Figure and the Black Series Obi-Wan Kenobi (Wandering Jedi) 6-Inch Action Figure. The Mandalorian Funko Pops are firm favorites of ours.
Have your say in the comments section at the bottom of the page. We would love to hear from you.
Regards
AFG