Last Updated on May 16, 2023 by Dexter Roona
Six new NEW Marvel Legends Retro Action Figures are on the way and ready to join your action figure collection!
Marvel Legends Retro Action Figures
The Marvel Legends Retro Collection continues to go from strength to strength as Hasbro reveals six new action figures. These new Marvel Legends Retro figures pay tribute to the original figures that Kenner created in the 1980s.
Marvel Legends Retro figures stand 3.75 inches tall and come sealed in a bubble upon a card back just like the originals were and how the original Star Wars figures were.
This wave of Retro figures includes the characters, Nova, Moon Knight, Spider-Man, Firestar, Captain America, and Tony Stark himself Iron Man.
Each figure has 5 points of articulation and is competitively priced at $11.99 each (£13-99 UK).
If you buy the set from Entertainment Earth you will receive Free Postage on all orders over $39+ and will also receive Entertainment Earths Mint Condition Guarantee so you never have to worry about receiving damaged Collectibles.
Buy the NEW Marvel Legends Retro Action Figures at
Nova 
The man called Nova, "A human rocket blasting to far-off cosmic places, Nova Richard Rider flies by and declares "blue blazes!"
A dying Rhomann Dey the last surviving member of the planet Xandar's elite Nova Corps, selected Richard Rider to replace him. He is given the uniform and powers of a Nova Centurion but little information on how to use them.
This very cool Marvel figure has five points of articulation and an 80s-style retro card back and carries the Kenner logo in tribute.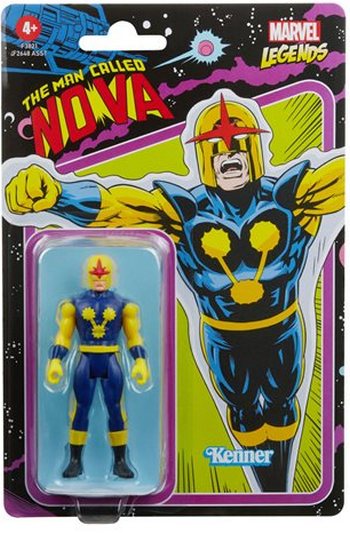 Price Check – Amazon
Price Check – eBay
Firestar
Spider-Man and his Amazing Friends from 1981 was one of the first Marvel cartoons that I remember watching as a kid. One of those friends was Firestar. With her fiery abilities, Firestar burns bright in the sky.
Firestar is a really underused character in our opinion, I don't know of any movies that she has appeared in and there are not that many Firestar action figures. I don't remember a ToyBiz Marvel Legends version?
Angelica Jones has the ability to generate and manipulate microwave radiation. She can fly and create intense heat and flames.
The artwork for this figures card back is pretty awesome making Firestar our favorite figure from this collection of Marvel Legends Retro action figures.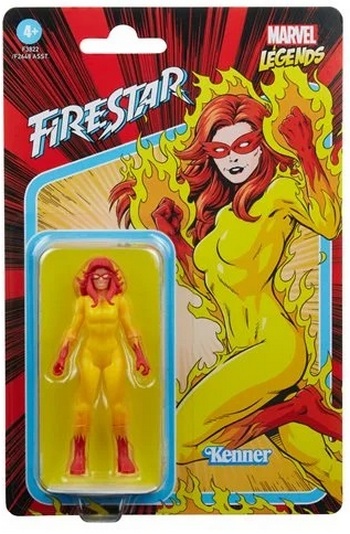 Price Check – Amazon
Price Check – eBay

Moon Knight
The release of the Moon Knight Disney+ show has given us a great raft of new Moon Knight action figures, statues, Moon Knight Funko Pops, and other comic-related merchandise and collectibles.
Marc Spector suffers from a dissociative multiple personality identity disorder and becomes the conduit connection for Khonshu the Egyptian moon god. His identities include Steven Grant a museum gift-shop employee Steven Grant who suffers very severe blackouts and memories of another life.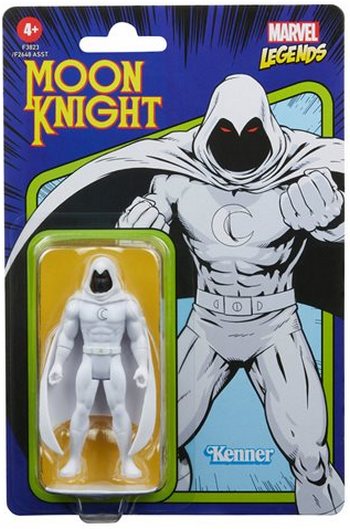 Price Check – Amazon
Price Check – eBay
Spider-Man
We all know the Spider-Man back story…Peter Parker is bitten by a radioactive spider and gains strange powers and superhuman strength. There are many, many different Spider-Man figures out there, and no one minds that there is another version with this Retro Spider-Man action figure.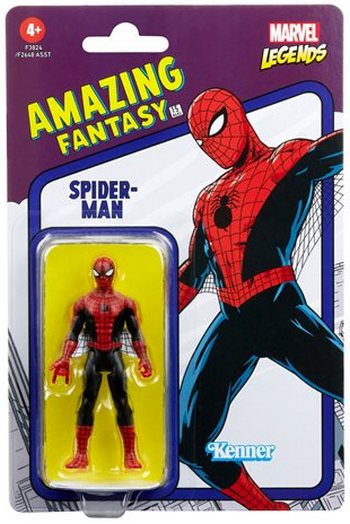 Price Check – Amazon
Price Check – eBay

Captain America
Steve Rogers, Captain America makes an appearance in this wave of Marvel Legends Retro Action Figures. The 80's Kenner look and feel is probably the most apparent with this figure than any of the others on show. Great artwork covers the card back… what's not to love about having more Captain America action figures?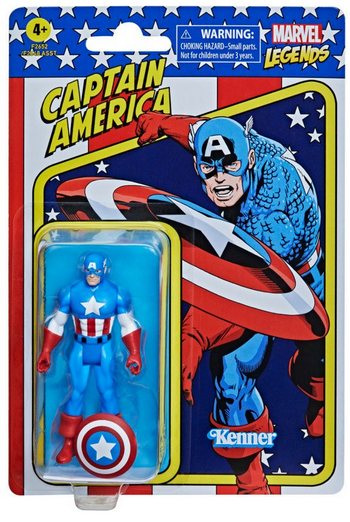 Price Check – Amazon
Price Check – eBay
Iron Man
Tony Stark aka Iron Man is one of the most popular and easily recognizable Marvel characters. Scores of action figures, Funko Pops, and all kinds of merchandise and memorabilia have been produced to celebrate Iron Man. This new Marvel Legends Iron Man Retro action figure is a great addition.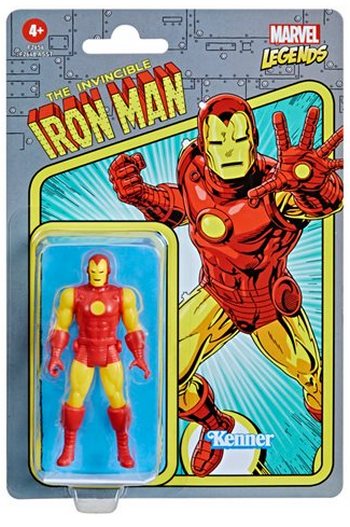 Price Check – Amazon
Price Check – eBay

Are you a Marvel Action Figure fan? Perhaps you prefer DC Action Figures like the DC Page Punchers or maybe the Star Wars Black Series?
Let us know in the comments section below.
We would love to hear from you!
Regards 
AFG