Last Updated on July 25, 2023 by Dexter Roona
We bring news on a new addition to the Naruto Funko Pop! list with this New Naruto Zetsu Funko Pop! We have all the news on this new super-sized Naruto anime Pop! including the best online retailers to buy him from.
In the fan-favorite world of Naruto, one enigmatic character stands out due to his unique appearance and abilities, Zetsu.
Zetsu is a fascinating character with a mysterious and complex past that intertwines with the dark forces threatening the shinobi world.
Zetsu's divided appearance symbolizes his dual nature. His body is literally split down the middle, with one half being white like a dead cold corpse and the other half being pitch black, reminiscent of hardened earth.
His duality is not just physical but also reflective of his personality and allegiance.
Now Funko celebrates Zetsu with this awesome super-sized Funko Pop!
NB: This New Naruto Zetsu Funko Pop! article contains product affiliate links. If you click a link and make a purchase then AFGeek may make a very small commission at no cost to you.
1438 Naruto Zetsu Funko Pop! SUPER-SIZED Vinyl Figure
It is time to clear some space in your Naruto Funko Pop collection for this must-have super-sized Naruto Zetsu Funko Pop!
Funko has faithfully recreated Zetsu from the Naruto anime series and produced a Pop figure that is sure to be a talking point in your collection.
Shopping Guide
Zetsu: The Dichotomous Shinobi
Zetsu was originally created by the rogue shinobi Kaguya Otsutsuki, an ancient and immensely powerful being. Kaguya created him using the chakra from the God Tree and the Shinju's fruit. One of Zetsu's primary roles is to act as Kaguya's eyes and ears, helping her maintain her dominance over the world.
He eventually becomes affiliated with the criminal organization known as Akatsuki and serves as a spy where his ability to merge with the surrounding environment, by transforming into a camouflaged state makes him nearly invisible.
The dichotomy within Zetsu becomes more apparent when examining his contrasting personalities. The white side is a taciturn and reserved individual, while the black half is much more talkative, expressive, and manipulative.
As the series progresses, the truth about Zetsu's origin and connection to Kaguya is revealed, shedding light on his loyalty to her.
Zetsu's character exemplifies the complexities of human nature and the blurred lines between good and evil. His dual existence as both a spy for Akatsuki and a creation of Kaguya showcases the interplay of conflicting loyalties. Despite his antagonistic role, Zetsu's character sparks curiosity and fascination, leaving Naruto fans eager to uncover the depths of his enigmatic persona.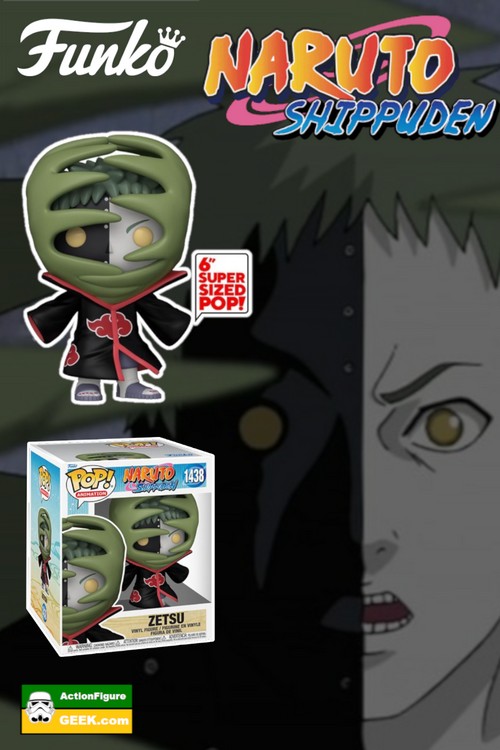 Related Anime Funko Pop! Articles