Last Updated on July 18, 2023 by Dexter Roona
Today we have news of the NEW Hunter x Hunter Awaken Gon 6-Inch Funko Pop! Exclusive. We have all the news on this cool new anime Pop! and the best online retailers to buy him from.
Hunter x Hunter follows the story of Gon Freecss, Killua Zoldyck, Kurapika Kurta, and Leorio Paradinight. All four want to become Hunters, and first meet each other during the hunter exam.
Gon wants to be a hunter more than most. His father who was also a hunter left him at a young age so in the hope of finding out more about his father Gon sets out to become a hunter and leaves his island home at just 11 years old.
The SDCC 2023 Hunter x Hunter Awaken Gon 6″ Funko Pop captures a very significant moment from the popular HXH anime series that showcases Gon's ultimate transformation.
This new vinyl of Gon represents a mature version of Gon, where he concentrates his energy into his powerful form.
This form was revealed to fans during his battle with Neferpitou and really symbolizes Gon's unwavering determination and his willingness to go the distance for his cause and what he believes in.
His adult appearance, with his signature spiky hair, shows the immense power Gon has gained through his transformation and story arc
Awaken Gon stands as a symbol of perseverance, sacrifice, and power, embodying the character we have come to admire in the anime series.
NB: This NEW Hunter x Hunter Awaken Gon 6-Inch Funko Pop! Exclusive SDCC article contains product affiliate links. If you click a link and make a purchase then AFGeek may make a very small commission at no cost to you.
NEW 1319 Hunter x Hunter Awaken Gon 6-Inch Funko Pop! Exclusive 
The 1319 Hunter x Hunter Awaken Gon Jumbo 6-inch Funko Pop Vinyl Figure really is an exceptional tribute Gon Freecss and brings the fan favorite to fans and collectors in a whole new light.
This Gon Freecss Funko Pop! is larger than life and a must-have if you are a fan or collector.
Overseas buyers should keep an eye open for a store exclusive or a Funko Special Edition to be released. These versions may well be easier and cheaper to acquire than the SDCC 2023 1319 Hunter x Hunter Awaken Gon Jumbo 6-inch Funko Pop Vinyl Figure.
But, and don't hate me for this, I'm getting Trolls Funko Pop! vibes 😉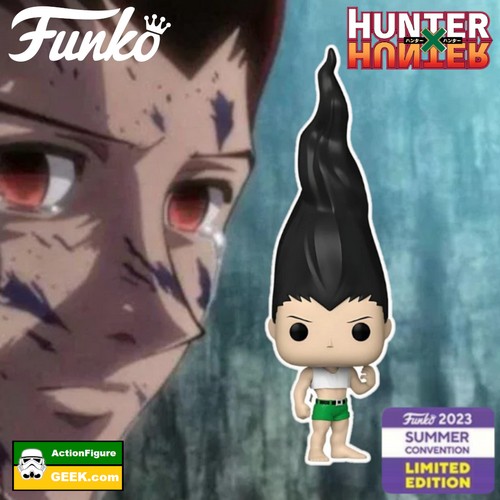 Shopping Guide

You can buy the new 1319 NEW Hunter x Hunter Awaken Gon 6-Inch Funko Pop! Exclusive SDCC 2023 at the following online retailers.

Price Check – eBay and eBay UK

Price Check – Amazon and Amazon UK

Buy Hunter x Hunter Funko Pops at Entertainment Earth and get a 10% discount on all in-stock items when you apply our AFGeek Entertainment Earth Discount.
Other Gon Freecss Funko Pops – Checklist
The 1319 Hunter x Hunter Awaken Gon 6-Inch Funko Pop! Exclusive Funko Pop! is not the first time that we have seen Gon Freecss in Funko Pop! form.
Here are all the other Gon Freecss Funko Pops as one Hunter x Hunter handy checklist.
651 Gon Freecss
802 Gon Freecss – Hot Topic Exclusive
Gon Freecss Funko Pop! Buyers Guide and Gallery
Here are all the Gon Freecss Funko Pops in more detail!
651 Gon Freecss Funko Pop!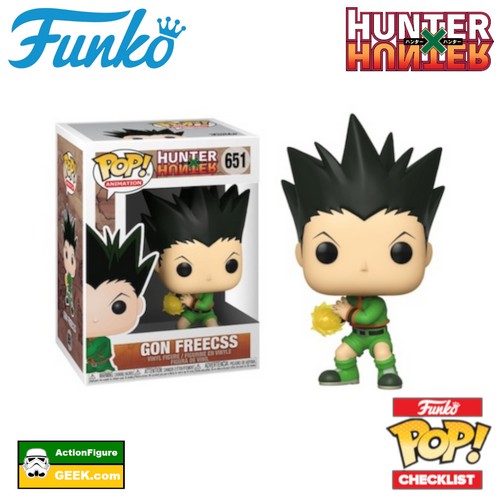 Price Check – Amazon and Amazon UK
802 Gon Freecss (white vest shirt) Hot Topic Exclusive and Special Edition
This very cool 802 Gon Freecss is available as a very cool Hot Topic Store Exclusive and also as a Funko Special Edition.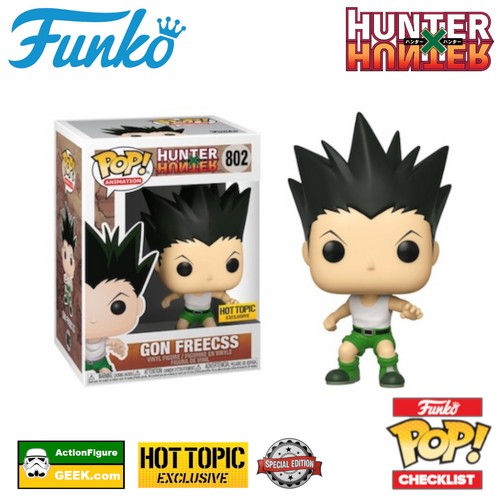 Price Check – Amazon and Amazon UK
Gon Freecss's Extraordinary Journey in Hunter x Hunter
In the world of Hunter x Hunter, the transformation of one character in the series has been truly remarkable.
Gon Freecss began his story as an innocent but very optimistic child from Whale Island. But Gon's story arc was to set him on an impressive path of self-discovery, growth, and to display unwavering determination.
Gon is physically strong and powerful. He gained his immense strength from his consistent training regime and from facing numerous challenges.
His transformation became apparent during a daring and dangerous rescue mission where Gon, along with his allies, confronted the formidable Zoldyck family's stronghold.
As Gon grew stronger he was able to face formidable opponents like the Phantom Troupe, demonstrating how far he has come in the series.
As well as immense strength Gon possesses great stealth and agility that helps with his hunting instincts honed on Whale Island.
His ability to navigate the landscape without detection became a vital tool in crucial moments, especially when encountering the Chimera Ants.
5 Interesting Facts About Gon Freeccs
If you are going to buy a Gon Freeccs Funko Pop! then you need to know about the guy. Here are some interesting facts about the HxH Hunter.
1/ Gon Freeccs was not born with any special abilities or powers.
Gon Freecss is unlike most anime main characters as he was born with no special abilities or powers. Naruto, who was born with a nine-tailed beast. Natsu has the power of the dragon Igneel. Yusuke Urameshi from YuYu Hakusho was the son of a demon king. Gon's only advantage in life is his keen willingness and perseverance to learn.
Gon Freecss just never gives up and is always looking to learn with curiosity.
Something we all should do!
2/ Gon's Nen ability is not very powerful
Gon's Jajanken is not very strong.
When compared to the powers of others it is particularly weak especially when compared to the Kurapika's power who is a specialist.
3/ Gon is a very fast learner
When Gon leaves the family home to become a hunter he leaves with only his fishing rod and his wits. He trained with Wing and Killua in the Heavens Arena arc. Where he proved to be a very fast learner picking up the basics of Nen like Ten, Ren, and Zetsu in a matter of hours.
4/ Gon has a lack of morals
Gon is good-natured and helpful. But he is lacking when it comes to morals. When looking at something bad happening is not engulfed by its darkness. We see Gon get very angry at the phantom troupe but he does not hate them for their actions. Gon also seems not to care about hurting Killua's hands in the Greed Island arc. However, his lack of morals does make him a realistic character that HxH fans can relate to.
5/ Gon is very simple-minded
During Hunter x Hunter Gon is often seen releasing smoke from his ears when he is learning something that initially seems too complex for him to understand. We tend to see this happening when Killua is explaining difficult math problems.
Gons' character is initially very childlike and simple. He is just 11 and his thinking and processing skills reflect this and are simple as well. This is the reason why Gon came up with such a simple rock-paper-scissors nen ability. Even the Jajanken name given to his nen was not thought of by him. Gon had trouble pronouncing the word "janken" in front of Knuckle, with Knuckle then believing that Gons nen was called "Jajanken". The "Jajanken" name stuck and Gon really didn't have any better ideas.
Now you know a little more about Gon Freecss you are ready to buy your first Gon Freecss Funko Pop! and the new 1319 Hunter x Hunter Awaken Gon 6-Inch Funko Pop! Exclusive SDCC 2023 would be a great first buy.
Related Anime Funko Pop1 Articles: