Last Updated on June 22, 2023 by Dexter Roona
Today we bring news on the new New Demon Slayer – Shinobu Kocho Funko Pop! that is available as a Funko Shop Exclusive. We have all the news on this cool Pop! including the best online retailers to buy her from.
In the world of anime pop culture collectibles, one particular series/franchise has taken the world by storm, enchanting its fans with its captivating storylines and its remarkable heroes and villains.
Demon Slayer: Kimetsu no Yaiba, is an extraordinary manga and anime series, that has literally almost become an overnight global sensation, enchanting millions with its dark yet enthralling story of the hero demon slayers and their relentless battle against evil demons.
Now, avid Demon Slayer fans and collectors have yet another reason to rejoice, as the iconic Funko Pop! collection introduces its latest addition the ever-growing Demon Slayer Funko Pop! list with the mesmerizing 1314 Shinobu Kocho Funko Pop!
So, let's prepare to take a pop culture journey into the captivating world of Demon Slayer with the NEW Shinobu Kocho Funko Pop! Vinyl Figure. Get ready to unleash the graceful venom and experience the allure of this remarkable character, as Funko once again brings the magic of the anime series to life in the palms of your hands.
Introducing the NEW Demon Slayer – Shinobu Kocho Funko Pop!
The new Demon Slayer – Shinobu Kocho Funko Pop! embodies elegance, strength, and an enigmatic charm that only the enigmatic "Insect Hashira" can possess. This intricately crafted vinyl figurine encapsulates the essence of Shinobu's character, capturing her ethereal beauty and fierce determination.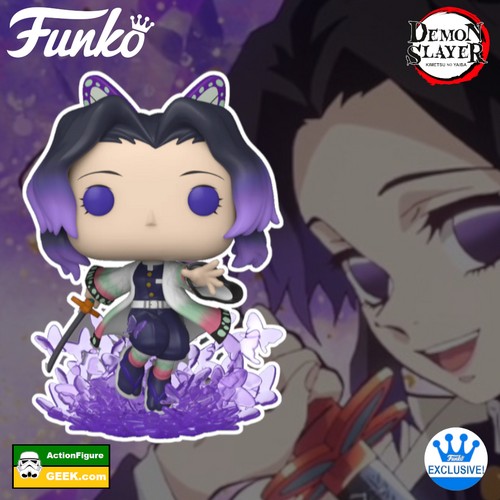 Every detail has been painstakingly reproduced, from the flowing waves of her wisteria-patterned haori to the delicate yet lethal butterfly-shaped hairpin adorning her purple locks. With a graceful action pose and a calm expression, Shinobu displays her unparalleled combat prowess and the unwavering resolve that lies within her heart in full Pop Vinyl form.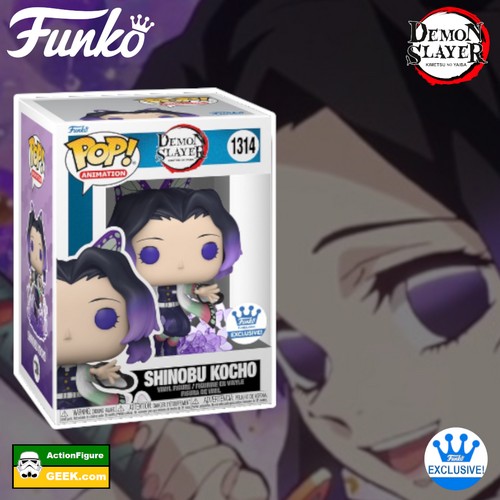 Demon Slayer enthusiasts and collectors will undoubtedly appreciate the high-quality craftsmanship of this new Shinobu Kocho Funko Pop! as it embodies the spirit and essence of the "Insect Hashira". Whether displayed alongside other Demon Slayer collectibles or standing alone as a testament to one's devotion, the Shinobu Kocho Funko Pop! is destined to become a prized possession among fans and collectors alike.
Shopping Guide

Buy the new Shinobu Kocho Funko Pop! at the following online retailers:

Price Check – eBay and eBay UK

Price Check – Amazon and Amazon UK

Buy Demon Slayer Pops and Merch at Entertainment Earth
Shinobu Kocho the Insect Hashira
In the dangerous world of Demon Slayer, where monstrous demons roam and humanity teeters on the very brink of oblivion, Shinobu Kocho stands as an enigmatic figure, captivating both allies, and enemies alike. Known as the Insect Hashira, Shinobu has a unique combat style and serene demeanor that conceal a depth of character that sets her apart from other Demon Slayers.
Beauty and Strength
Graceful and elegant, Shinobu embodies a rare combination of beauty and strength. With her lithe and slight frame and flowing obsidian hair, she exudes an air of unworldly, ethereal enchantment. But below her delicate outer layers hides a fierce determination fueled by dark tragedy from her past. She is haunted by dark memories of her sister's death at the hands of demons. These memories drive her unwavering resolve to eradicate the vile demons from existence.
What sets Shinobu apart from her fellow demon slayers is her mastery of the insect breathing technique. By harnessing the power of insects, she infuses her heavily modified Nichirin Katana blade forged by Tecchin Tecchikawahara with a potent venom/poison that cripples demons from within. Her unique approach to combat reflects her character—subtle yet deadly. Her quick, agile movements, akin to a butterfly dancing on the breeze, belie the lethal strikes that bring down her opponents.
Intelligence
Shinobu also possesses a strong, captivating intellect and a keen analytical mind. She is highly strategic and, uses her intellect to assess any and all weaknesses of her enemies and exploits them to the fullest.
Despite the darkness from her past that surrounds her world, Shinobu is able to maintain a composed and serene demeanor. Her tranquil presence provides solace amidst all of the chaos, while her gentle almost caring words and actions often offer a small glimmer of hope to her allies.
In her eyes, the preservation of life, even in the face of overwhelming darkness, remains paramount. A testament to her unwavering compassion.
NB: This NEW Demon Slayer – Shinobu Kocho Funko Pop! article contains product affiliate links
Related Demon Slayer Articles: