Last Updated on February 25, 2023 by Dexter Roona
We have a new Demon Slayer – Enmu Funko Pop! Vinyl Figure to talk about today but this is no ordinary Demon Slayer vinyl because the Enmu Funko Pop is a San Diego Comic-Con (SDCC) 2022 and Hot Topic Exclusive. 
The Demon Slayer – Enmu Funko Pop! can be found in two versions. There is the Enmu SDCC Exclusive and the Enmu Funko Pop! Hot Topic Exclusive. I have not actually seen a version that holds the Hot Topic Exclusive Sticker.
NB: Disclaimer – This Demon Slayer – Enmu Pop! Vinyl Figure SDCC and Hot Topic  Exclusive article contains product affiliate links. If you click a link and make a purchase then AFG may make a very small commission from qualifying purchases at no cost to you.
1158 Demon Slayer – Enmu Funko Pop! SDCC and Hot Topic Exclusives
Enmu is a pretty scary guy. He has long black hair, piercing green eyes, and razor-sharp teeth.  Known to have a very sadistic personality and is said to take enjoyment from the pain and suffering of humans.
He loves nothing more than gifting a human a pleasant dream only to turn it into a nightmare so that he can watch them slowly suffer in pain and anguish.
Enmu is definitely a Demon Slayer- Kimetsu no Yaiba character that you don't want to mess with.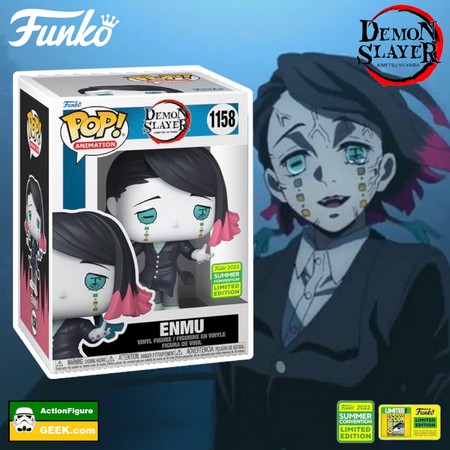 Shopping Guide 
Buy the Demon Slayer – Enmu Funko Pop! SDCC and Hot Topic Exclusive from:

Get a 10% discount on all in-stock items and free postage on all orders over $39.99 at Entertainment Earth by using our special AFGEEK discount. If you would like to know more about this discount then please refer to our Entertainment Earth Discount page.
As a human, Enmu struggled to distinguish between his dreams and reality. As he grew into adulthood, he began to use this to his advantage. He would sadistically hypnotize his patients who were dying and convince them that they were not and had regained their health.
However his wicked mind games eventually caught up with him when Muzan devoured him, but instead of killing Enmu, Muzan saw his potential and decided to turn him into a demon.
This Enmu Funko Pop! should definitely be in your Demon Slayer Funko Pop collection.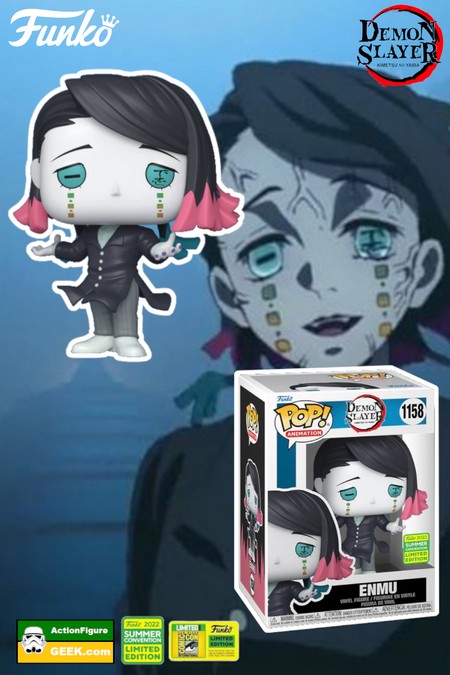 Enmu is one of the Twelve Kizuki, the highest-ranking members of the Twelve Demon Moons, and is known as Lower Moon One.
Enmu has the ability to enter and control people's dreams, which makes him a formidable opponent.
He is also able to manipulate his own body to change its shape and size, allowing him to slip through narrow spaces or elongate his limbs to attack from a distance.
Enmu's main goal is to capture the protagonist, Tanjiro Kamado, and bring him to Muzan Kibutsuji, the leader of the demons.
Enmu is ultimately defeated by Tanjiro and his allies, and his defeat marks the beginning of the Demon Slayer Corps' journey to take down the Twelve Kizuki and Muzan Kibutsuji.
Are you a Demon Slayer – Kimetsu no Yaiba Funko Pop fan?
Will you be adding the Demon Slayer – Enmu Funko Pop! SDCC and Hot Topic Exclusive to your collection?
Which other anime Pops do you like?
I am a big fan of the Demon Slayer – Tanjuro Kamado Funko Pop! and the Roronoa Zoro Funko Pop! and I must give a shout-out to the Alluka Funko Pops.
Away from anime, I am a fan of the Matt Murdock with Brick and the Reuben with grilled cheese.
But which Pops do you like?
Let me know in the comments section below.
Regards
AFG