Last Updated on January 3, 2023 by Dexter Roona
It's time to return to One Piece to talk about the Roronoa Zoro Funko Pop. We have all the news and info on this cool anime collectible and the best online retailers to buy him from.
Roronoa Zoro aka the "Pirate Hunter" Zoro, is one of the two swordsmen, the other being Brook of the Straw Hat Pirates, and a Senior Officer of the Straw Hat Grand Fleet.
Zoro was the first crewmate to join the Straw Hat Pirates after Monkey D. Luffy and Koby saved Zoro from being executed by Captain Morgan.
Roronoa Zoro is a true master of the Three Sword Style, which he created during his training sessions in Shimotsuki Village. Zoro is regarded as one of the three most powerful members of the Straw Hats pirates along with Monkey D Luffy and Sanji.
NB: Disclaimer – This Roronoa Zoro Funko Pop article contains product affiliate links. If you click a link and make a purchase then Action Figure Geek may make a very small commission at no cost to you. 
327 Roronoa Zoro Funko Pop – One Piece
Roronoa Zoro has a long-standing dream to become the greatest swordsman the world has ever seen. He is motivated by a promise that he made to his childhood friend Kuina who has since passed away.
The Roronoa Zoro Funko Pop carries strong detailing, love the scar across the eye.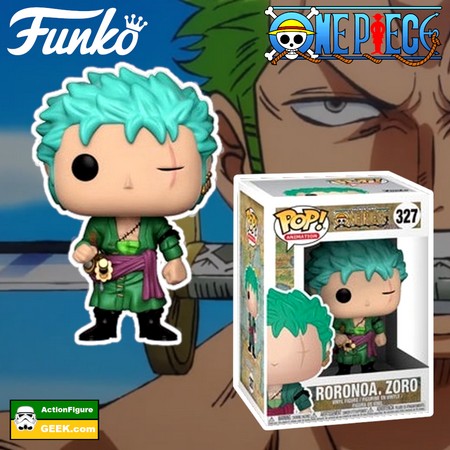 Shopping Guide
Shop for the One Piece – Roronoa Zoro Funko Pop from links below:

Get a 10% Discount on all instock items and Free Postage on all orders over $39.99 by using our AFGEEK discount code today.

Read more on this amazing discount at –Entertainment Earth Discount 
As well as being a Straw Hat Pirate Roronoa Zoro is also a former bounty hunter. He is also regarded as one of twelve pirates who are often referred to as the "Worst Generation".
Are you a One Piece fan?
Will you be looking to add this Roronoa Zoro Funko Pop! to your One Piece Funko Pop collection?
Which other Funko Pops do you like?
I find myself a huge fan of the Boruto Funko Pops and the Sword Art Online Funko Pops.
I also have to give a big shoutout to the Fairy Tail Funko Pops and the Death Note Funko Pops.
But I want to hear from you.
Let me know what you like in the comments section below.
Regards
AFG