Last Updated on January 12, 2023 by Dexter Roona
We have a new Matt Murdock with Brick Funko Pop! to talk about today. We have all the news and info on this new cool Marvel Funko Pop Entertainment Earth Exclusive and the best online retailers to buy him from.
When I learned that a new Matt Murdock Funko Pop was dropping I was excited, expecting to see the long overdue She-Hulk Daredevil in Yellow mask Funko Pop but we still wait for that Pop.
Instead, we got a new Matt Murdock with Brick Funko Pop from the Spider-Man No Way Home movie.
NB: Disclaimer – This new Matt Murdock with Brick Funko Pop Entertainment Earth Exclusive article contains product affiliate links. If you click a link and make a purchase then action Figure Geek may make a very small commission from qualifying purchases.
1221 Matt Murdock with Brick Funko Pop! Funko Pop Movies Entertainment Earth Exclusive 
This new Spider-Man: No Way Home Movie Pop gives us a version of Matt Murdock in his work suit. In the scene that this Pop depicts Murdock is still able to give us a sense of his skills even though he is not in the Daredevil suit.
When a rioter throws a brick through Spider-Man's widow,  Matt shows his lightning-quick reflexes to catch the brick in flight. Witnesses are shocked by the blind lawyer's keen reflexes.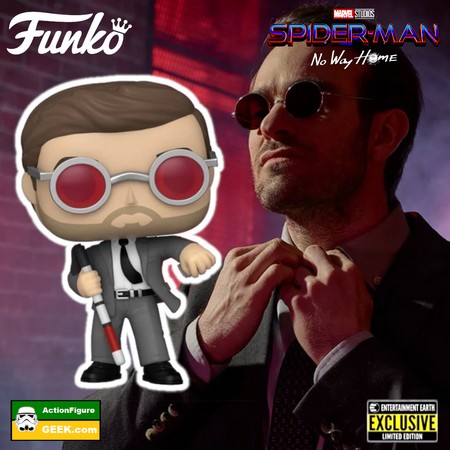 Shopping Guide
Shop for the Matt Murdock with Brick Funko Pop! Entertainment Exclusive at:

Shop at Entertainment Earth and get a 10% Discount on all in-stock items and Free Postage on all orders over $39.99 by using our special AFGEEK discount code today.

You can read more on this amazing discount at – Entertainment Earth Discount.
Daredevil played by Charlie Cox returns as Matt Murdock in the Spider-Man No Way Home movie the same role that he played in the Daredevil Netflix series.
Matt Murdock is able to exonerate Peter Parker in the movies but during the pair's meeting a brick flies through the window. Before Peter has a chance to move, Murdock manages to pluck the speeding brick out of the air before it hits anyone.
Peter Parker is amazed at the stunning reflexes on display and asks Matt how he managed to grab the brick, Matt replies, "I'm a really good lawyer."
At the end of Spider-Man: Far From Home in the end-credit scene it is revealed that Peter Parker is Spider-Man by J. Jonah Jameson and accuses the hero of killing Mysterio. Now in Spider-Man No Way Home Peter Parker is in urgent need of a lawyer, step forward Matt Murdock aka Daredevil.
Charlie Cox reprised the Matt Murdock role in the movie. It was a very small scene in the movie, but it is enough for fans to get excited. Since the movie we have also seen Matt Murdock – Daredevil in the Marvel She-Hulk series and there are now rumors of a new Daredevil Born Again Disney + series on the horizon. I just can't wait for those Funko Pops to arrive.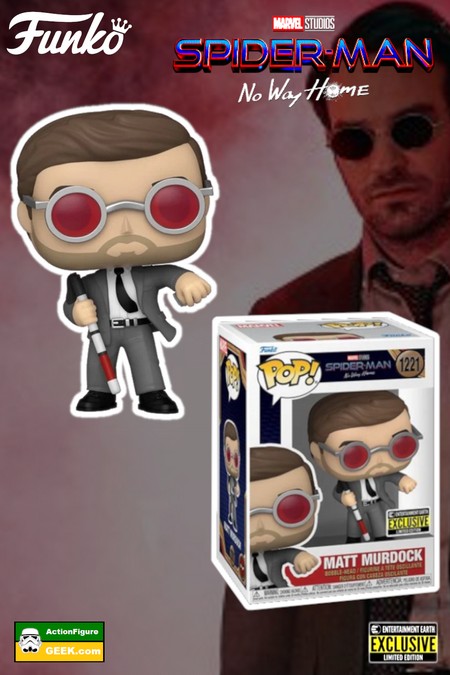 Are you a Matt Murdock – Daredevil fan?
Will you be adding this new Matt Murdock with Brick Funko Pop! to your collection?
Which other Marvel Funko Pops do you like?
I am a big fan of the Spider-Man Final Battle Series Funko Pops and the Beyond Amazing Dusk Funko Pop.
Away from the Marvel Universe, I like the Disney 100 Funko Pops and the Dolly Parton Funko Pops.
But that is enough from me.
What do you like?
Let me know in the comments section below.
Regards
AFG