Last Updated on December 24, 2022 by Dexter Roona
We return to the Funko Pop! Marvel: Beyond Amazing Collection and bring you news on the new Beyond Amazing Dusk Funko Pop! Amazon Exclusive. We have all the news and info on this new Marvel Pop and the best online retailers to buy it from.
When Peter Parker traveled to the Negative Zone the friendly neighborhood Spider-Man took on the mantle of Dusk as you can see with this new Marvel Dusk Funko Pop. The Dusk costume was worn by multiple characters in Marvel Comics who were all trying to defeat the evil villain Blastaar.
Blastaar is from the planet Baluur in the Negative Zone. He ruled as the Baluurian King ruthlessly until the Baluurians rebelled and rose against him. These events moved Blastaar to become a Negative Zone outlaw.
Now that we have this very cool Dusk Funko Pop! I am really looking forward to a new Beyond Amazing Blastaar Funko Pop! A new Blastaar Funko Pop! would be a must-have Funko Pop!
For those who are not familiar with Dusk, he is a classic Spider-Man comic book character who symbolizes freedom and wears an all-black costume.
It is reported that the idea of a live-action version of Dusk may well be being explored as a possible new series/movie.
NB: Disclaimer – This Marvel Beyond Amazing Dusk Funko Pop! article contains product affiliate links. If you click a link and make a purchase via this article then Action Figure Geek may make a very small commission from qualifying purchases.
1109 Marvel Beyond Amazing Dusk Funko Pop! Amazon Exclusive 
When Peter Parker travels to the Negative Zone where he meets Dusk a local hero. When Dusk is killed, Peter Parker takes the identity of Dusk to continue the fight with the killer.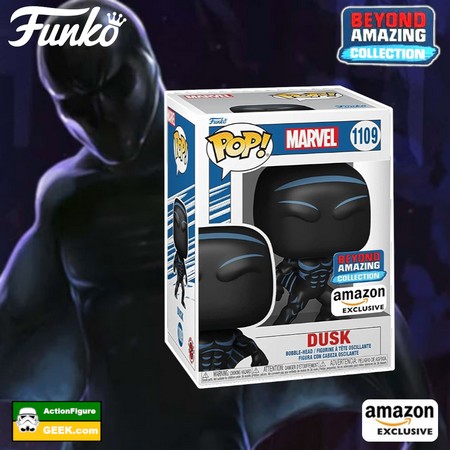 Shopping Guide
Shop for the Marvel Beyond Amazing Dusk Funko Pop Amazon Exclusive at 

Get a 10% Discount on all instock items and Free Postage on all orders over $39.99 by using our AFGEEK discount code today.

Read more on this amazing discount at – Entertainment Earth Discount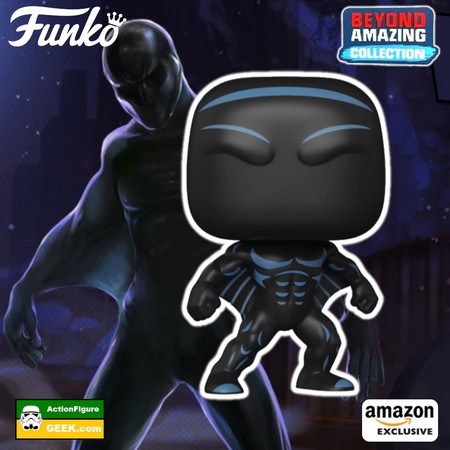 Beyond Amazing Funko Pops
The Beyond Amazing Funko Pop Series is exactly that… Beyond Amazing!
Funko has done a great job bringing everyone's favorite web-slinger, Spider-Man to fans and collectors in various suits and guises along with his most formidable foes.
There have also been a number of less well-known Spider-Man incarnations outside of the comic fan base including the Bug Eyes Armor Convention Exclusive, which I now own 😉 Maddie Franklin Spider-Woman, Gwenpool Funkos, and of course this Marvel Dusk Funko Pop.
It really has been a great year for Marvel Spider-Man Funko Pop collectors.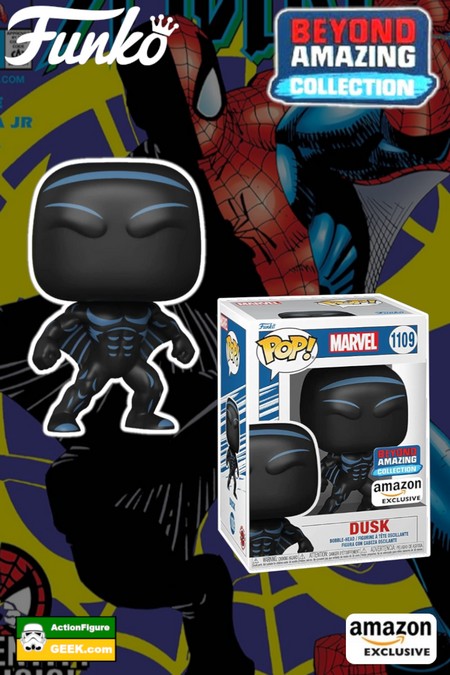 Are you a Spider-Man fan?
Will you be adding this new Dusk Funko Pop to your collection?
Which other Marvel Pops do you like?
I am a huge fan of the new Captain America – Civil War Build-A-Scene Funko Pops and the new CCXP President Loki Funko Pop. The Daredevil Funko Pops are pretty special as well.
But what do you like?
Let me know in the comments section below.
Regards
AFG