Last Updated on December 7, 2022 by Dexter Roona
We have a new President Loki Funko Pop to talk about today released as a 2022 Comic Con Experience CCXP, 2022 Winter Convention, and dual Target Exclusive. Here is everything you need to know about this new Funko Television Loki Pop including the best online retailers to buy him from.
We were introduced to President Loki in the Disney Plus Marvel Loki Series with the God of Mischief seen in many forms. There was even an Aligator Loki.
NB: This new President Loki article does contain product affiliate links. If you click a link and make a purchase then AFG may make a very small commission at no cost to you 
1066 President Loki Funko Pop! 2022 Comic Con Experience CCXP, 2022 Winter Convention, and Target Exclusive
This all-new version of Loki features the Marvel character Loki in all his green-skinned glory. He is of course wearing his iconic horned helmet and holding a scepter.
This is another great Loki Pop and is a great addition to the existing Loki Funko Pops already released. We now look forward with eager anticipation for the Loki Series 2 Funko Pops that we know are coming very soon.
Shop for the new CCXP 2022 exclusive President Loki Funko Pop at
For the full list of Funko CCXP 2022, Funko Pops visit my Funko CCXP 2022 Checklist, Shopping Guide and Gallery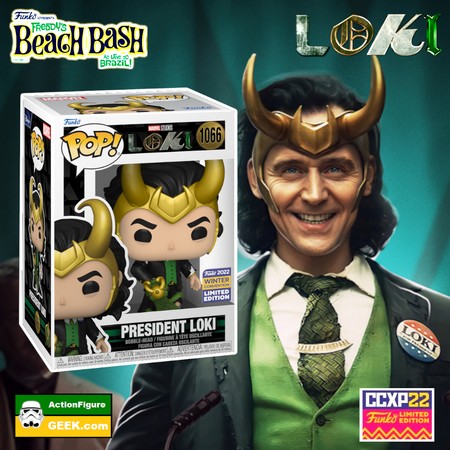 In the Loki series, we explored many Variants of Loki brought together from different realities and times. One of the variants that we met was President Loki. President Loki is a pruned variant of Loki who commanded a group of Loki variants. He has one goal…to defeat the variant, Kid Loki, and to ultimately become the leader of the void.
President Loki looks very similar to the original Loki that we know and love. He dresses differently wearing a very formal suit and a dark coat. The shoulder of the coat is torn. He also wears a badge reading "Loki For President!"
Disney has released some great Marvel Series recently and these in turn led to great Marvel Pops being released. The Series that spring to mind is Ms. Marvel, there are some awesome Ms.Marvel Funko Pops, She-Hulk, and we are still. waiting for the She-Hulk Daredevil with Yellow mask and the Moon Knight series gave us yes you guessed it Moon Knight Funko Pops😉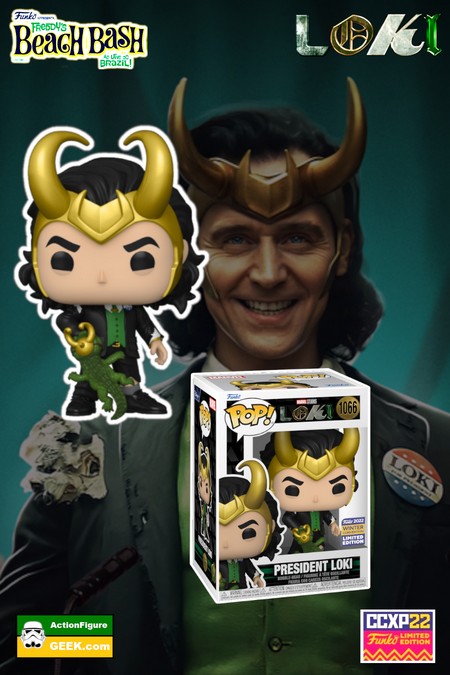 Are you a Loki God of Mischief fan?
Will you be looking to add the President Loki Funko Pop to your collection?
Which other Marvel Pops do you like?
I'm a fan of the Spider-Man: No Way Home 8-pack Funko Pop Walmart Exclusive and the
Spider-Man Leaping 3-pack Funko Pop! Amazon Exclusive is great as well. I also have to give an AFG Funko Thumbs Up! to the Doppelganger Spider-Man Funko Pop.
But what do you like? Let me know in the comments below.
Regards
AFG