Last Updated on November 1, 2022 by Dexter Roona
Today we bring you the new Funko Pop Alligator Loki. Here is everything you need to know about the reptilian God of mischief.
Alligator Loki is a variant of Loki the God of Mischief the brother of Thor the God of Thunder from the Marvel Cinematic Universe that appears in the Disney+ series Loki and as the name suggests he really is an alligator.
Alligator Loki was sent to the Void as punishment by the TVA – Time Variance Authority after creating a branched timeline.
The TVA governs alternate realities in the multiverse and is dedicated to keeping tabs on all existing realities that exist.
NB: This Funko Pop Alligator Loki article does contain product affiliate links. If you click a link and make a purchase then Action Figure Geek may make a very small commission at no cost to you. It's how we keep the lights on so thank you.
901 Alligator Loki Funko Pop Hot Topic Exclusive and Special Edition
Alligator Loki is a variant of Loki from an alternate reality born into the scaled body of an alligator. On eating a neighbor's cat he caused a nexus event putting him on the radar of the Time Variance Authority after the Sacred Timeline split and branched. He was consequently pruned and sent into the void.
Available as a Hot Topic Exclusive and Funko Special Edition.
A great Pop that sits nicely with the other Loki Funko Pops.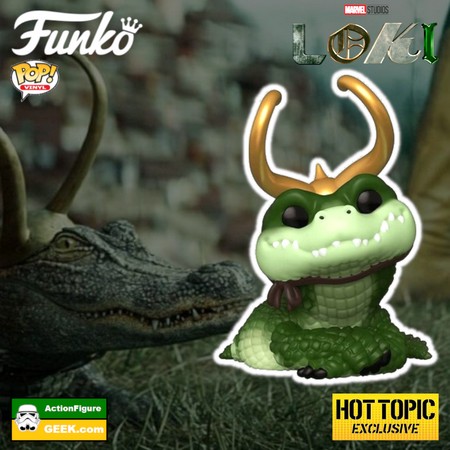 Shop for the Funko Pop Alligator Loki Hot Topic Exclusive and Special Edition: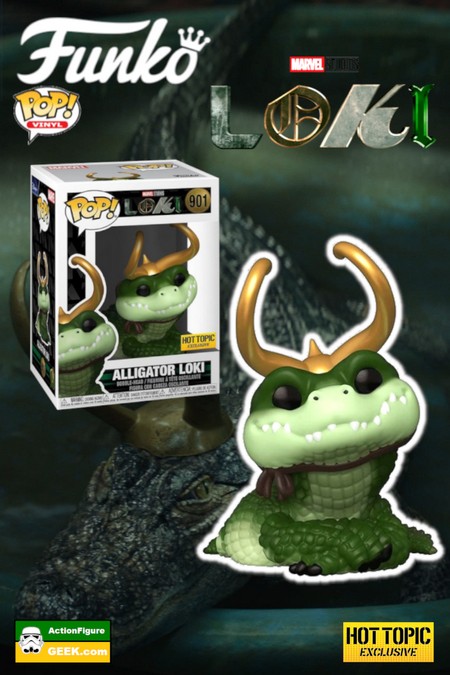 Are you a Marvel Loki Fan?
What do you think of this Funko Pop Alligator Loki Figure?
Which other Marvel Funko Pops do you collect?
The Avengers Mech Strike Pops are great along with the Wandavision Funko Pops.
Away from DC I really like the Azrael Funko Pop and the Bad Batch Funko Pops are great as well.
But what do you like?
Let me know in our comments section below.
Regards
AFG
Get a 10% discount on all in-stock items and Free postage on orders over $39.99 at Entertainment Earth