Last Updated on November 1, 2022 by Dexter Roona
Today we are talking about the Azrael Batman Funko Pop Figure. Here is everything you need to know about this new DC Heroes Funko Collectable.
Azrael, real name Jean-Paul Valley is an ally and apprentice of the Dark Knight. He is a powerful and skilled genetically-augmented assassin and murderous vigilante and a member of the underground catholic extremist group,  known as the Order of St. Dumas.
Azrael was the one to adopt the Batman mantle after Batman's devastating defeat by Bane. But Azrael revealed his true nature as a mad zealot with his fanatical and uncompromising,  viciously blind massacres of criminals. This made him an enemy of Batman.
NB: This Azrael Batman Funko Pop article does contain affiliate links. If you click a link and make a purchase then Action Figure Geek may make a very small commission payment at no cost to you.
Batman Arkham Knight – Azrael Batman Funko Pop Walgreens Exclusive and Funko Special Edition
The 407 Azrael Batman Funko Pop comes from the Arkham Knight arc and is a Walgreens Exclusive. He is also available as a Funko Special Edition.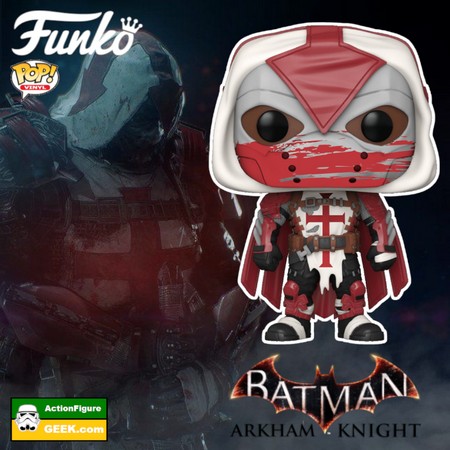 Shop for the Batman Arkham Knight – Azrael Batman Funko Pop Walgreens Exclusive and Funko Special Edition at:
Azrael's genetic DNA structure was altered by scientists using Animal DNA. He was engineered to be more than human and capable of incredible feats.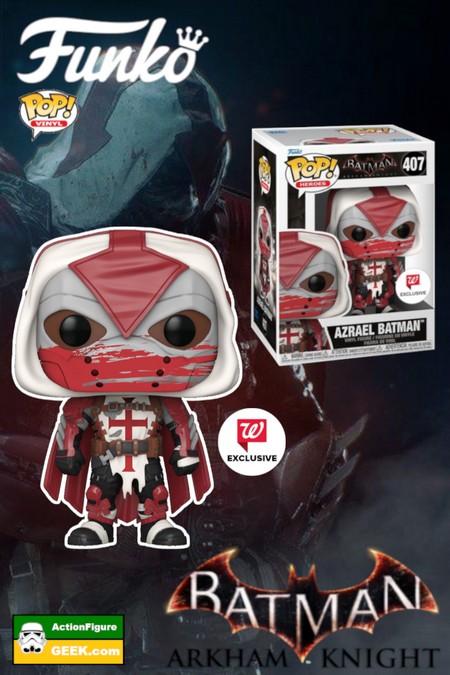 Bruce Wayne trained Azrael as a protector of Gotham City. A replacement for Batman, able to step in, in the event that an emergency if Batman was unable to deal with the situation. He was called upon much sooner than expected when Bruce Wayne suffered a severe spine injury at the hands of the Supervillain Bane that crippled him and forced him into a wheelchair.
Azrael was initially effective in his role but slowly he became a much colder and an insanely violent caped crusader. He was prepared to let innocent people die preferring to punish criminals rather than protect the innocent and save lives.
Are you a DC Batman fan?
Will you be looking to add this Azrael Batman Funko Pop to your Batman collection?
Which other DC Pops do you own?
I really like the new Batman Lights and Sound Funko Pop and the Black Adam Classic Funko Pop is an awesome Funko as well.
Looking at action figures, I really like the DC Collector Megafig Frankenstein Seven Soldiers of Victory Action Figure and the DC Collector Megafig Mongul Superman Villains Action Figure.
But what do you like?
Let me know in the comments below.
Regards
AFG
Get a 10% discount and Free Postage and Packaging on all orders over $39.99 at Entertainment Earth