Last Updated on October 15, 2022 by Dexter Roona
We have a new DC Batman Lights and Sound Funko Pop Vinyl Figure – Funko Shop Exclusive to report on. Here is everything that you need to know about this new Lights and Sound Funko Shop Exclusive and the best places to buy the Dark Knight from.
Bruce Wayne was orphaned as a young child after his parents were tragically gunned down in front of him. The events of that horrible night put Bruce Wayne on the path to a life of fighting crime to bring justice to the streets of Gotham City as Batman.
NB: This new Batman Lights and Sound Funko Pop article does contain affiliate links. If you click a link and make a purchase then AFG may make a very small commission at no cost to you.
Shop Batman Funko Pops at
DC Batman Lights and Sound Funko Pop Vinyl Figure – Funko Shop Exclusive
The Deluxe Lights and Sound Batman is designed to look like he has just fallen off the classic comic book pages. This Funko Shop Exclusive figure offers Lights and Sound features. With the push of a button, the Dark Knight's eyes light up with sound fx. The gargoyle display base acts as the housing for the electronics for this deluxe Pop
Some blogs and articles refer to this new Deluxe Batman Pop as also being a Glow in the dark (GITD) Funko Pop vinyl figure. I am not sure that is correct for two reasons.
There is no GITD Sticker
He is a "LIGHTS" and sounds Funko Pop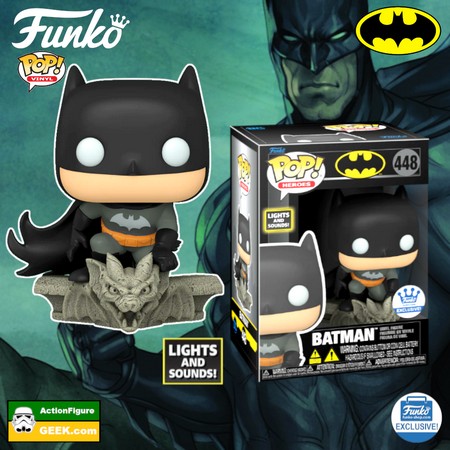 This Lights and Sound Batman Funko would sit nicely in your DC Pop collection alongside the recent The Flash – Lights and Sound Deluxe Funko Pop. These deluxe Pops have a battery to power the electronic features which are included, but do they just become regular Pops over time as the battery dies? Serious question as I don't tend to buy the lights and sound deluxe versions and also because they are 3x the price of regular Funko Pops.
Shop – DC Batman Lights and Sound Funko Pop Vinyl Figure – Funko Shop Exclusive at:
Marvels Batman?
I was thinking if there was a Marvel version of Batman one that carries lots of gadgets around with him and I can't really think of one.
Batman is a superhero laden with gadgets, from his trusty Batarangs to his high-tech Batmobile.  Would Falcon be the closest Marvel has?
Batman protects Gotham City day and night. He never hesitates to put himself in harm's way for the sake of others. Gotham is a cesspit of maniacs and criminals some of which are dangerously evil. But the city is home to Batman and nobody knows the darkened alleys better than him.
Batman is a shadowy figure, he uses the familiar darkened landscape to his advantage. Bats are never really seen in the daylight.
The crime-fighting vigilante is not alone in wanting the streets of Gotham cleaned up. The Chief of Police, Commissioner Gordon works closely with Batman. Together they work to keep the city safe.
Shop Batman Funko Pops at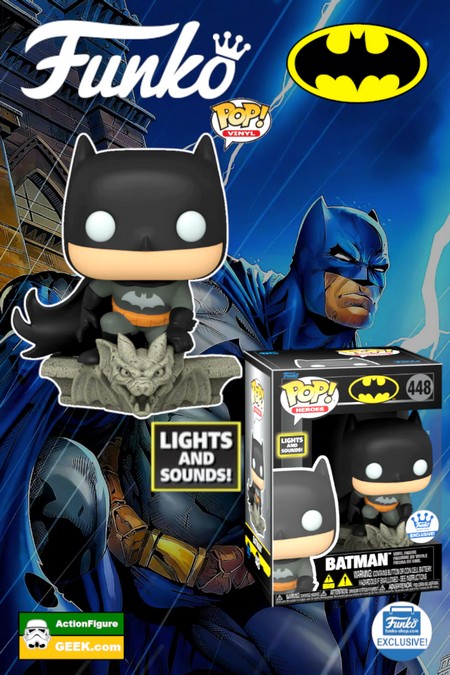 Shop – DC Batman Lights and Sound Funko Pop Vinyl Figure – Funko Shop Exclusive at:
So what do you think of this Batman Lights and Sound Deluxe Funko Shop Exclusive?
Are the lights and sounds Pops worth the extra money?
Is this Lights and Sound Pop also a glow-in-the-dark (GITD) Pop?
Which other DC Pops do you own?
I really like the new and the new Black Adam Classic Funko Pop and the new Star Fire Frightmare on Fun Street Funko Pop.
And away from Funko Pops I really like the DC Collector Megafig Frankenstein Seven Soldiers of Victory Action Figure and the DC Collector Megafig Mongul Superman Villains Action Figure.
But enough from me.
What do you like?
Let me know in the comments section below.
Regards
AFG.