Last Updated on September 27, 2022 by Dexter Roona
Today we bring you news on the new Star Sapphire Funko Pop. Here is everything you need to know about this new DC Funko Pop, including the best online retailers to buy her from and accompanying images.
There have been several DC characters named Star Sapphire. Most of them being evil dark-sided villains, all with complexly connected origin stories.
In the DC Universe, there is an immortal race of warrior women called the Zamarons.
The Zamarons have a time long tradition of choosing physically identical beings from across the universe that they used as the host body for their queen.
The chosen host the queen is called Star Sapphire.
NB: This new Star Sapphire Funko Pop article contains product affiliate links. If you click a link and purchase a product then AFG may make a very small commission at no cost to you.
Shop for Star Sapphire on
Star Sapphire Funko Pop – New York Comic Con Exclusive
This new Star Sapphire Funko Pop is part of Funko's Frightmare on Fun Street promotion and is a New York Comic Con Exclusive. She really is a Pop that will stand out at the NYCC and on your shelf or in your display if you are lucky enough to pick her up. Her costume is shocking pink after all.
Buy the new Star Sapphire Funko Pop at Entertainment Earth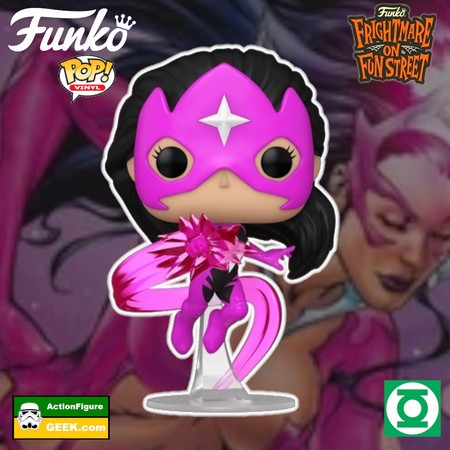 Star Sapphire carries the Zamaron Queens' symbolic weapon, a crystal resembling an actual star sapphire. The Star Sapphire crystal gives its user powers that are very similar to the power granted by the Green Lanterns ring.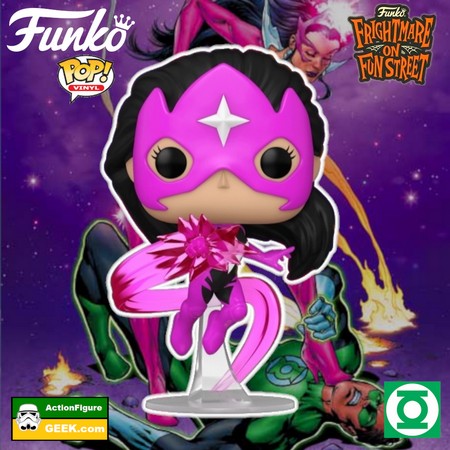 Buy the new Star Sapphire Funko Pop at Entertainment Earth
The very first version of Star Sapphire appears in the DC All-Flash Comics #32 published in 1947 and again appears in Comic Cavalcade #29 published in 1948 where she battled against the Golden Age Flash. Star Sapphire tries to take over Earth by laying waste to all the plant life. Her goal is to completely starve the Earth of oxygen.
Later she connects with the Zamaron Star Sapphires. In this story, Star Sapphire seeks to manipulate Carol Ferris into using the crystal to destroy the Zamarons but the Flash is able to break the connection and save the day.
The most prominent Star Sapphire is Carol Ferris. She is the on-off girlfriend of Hal Jordan aka Green Lantern. When possessed by the Star Sapphire gem she exhibits powers similar to Green Lantern. These include extremely powerful force blasts and solo flight.
Shop for Star Sapphire on
Will you be buying this new Star Sapphire Funko Pop?
Were you familiar with the character's origin story? It is quite complex.
Which other DC Pops do you like?
I love the new Lights and Sound Flash Funko Pop and the Black Adam Funkos are also very cool.
And I have to give a shoutout to the giant Wampa Star Wars Soda.
But enough of what I like, I am interested in what you like.
You can let me know in the comments below.
Regards
AFG