Last Updated on December 6, 2022 by Dexter Roona
Today we bring you the new Star Wars Wampa Funko Soda with CHASE 3 Liter Funko Shop Exclusive. We have all the news about this new release, the best online retailers to buy it from, and accompanying images.
We first meet the Wampa on the Ice Planet Hoth during Star Wars The Empire Strikes Back. Han Solo and Luke Skywalker are out on a routine patrol.
The night is fast closing in and so is the outside temperature. Han tells Luke it is time for them to go back to base. Luke stays back to check on an object that enters the atmosphere. During his investigation, he is attacked by the Wampa, knocked unconscious, and dragged back to the Wampas cave.
NB: This Star Wars Wampa Funko Soda article does contain product affiliate links. If you click a link and make a purchase then AFG may make a very small commission at no cost to you.
Shop Star Wars Soda's at
Funko Soda Star Wars Wampa with CHASE 3 Liter Funko Vinyl Soda Figure – Funko Shop Exclusive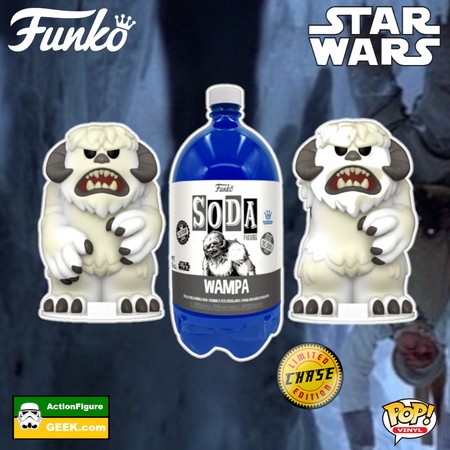 Buy the Star Wars Wampa Funko Soda at eBay and eBay UK
This 3-liter-sized Funko SODA figure is Funko Shop Exclusive and comes in two versions.
There is a regular Wampa figure and there is also a highly collectible chase variant, which gives us an injured, armless version of the Wampa.
This new Star Wars: Wampa with CHASE 3-liter Funko Soda Funko Shop Exclusive is limited to just 10,000 pieces with a 1 in 6 chance of getting the chase version pieces making the chase much rarer than the common version.
Shop Funko Soda's at
Lukes Predicament
Hanging upside down in the Wampas cave Luke is indeed in a very tight spot. Even if he escapes the Wampa he will be stranded on the subzero frozen landscape of Hoth.
Will Luke survive the Wampa and the harsh elements?
One thing for sure is that Luke will need his rudimental knowledge of the force if he has any chance of surviving this ordeal.
If you are thinking of buying this Wampa Soda then you will need to be quick if you want to add it to your collection. The limited production run for all Funko Sodas always ensures that they all sell out fast to collectors and resellers looking to pull a profit.
Are you a Funko Soda fan?
Which Sodas are in your collection? The new Elvira Soda is very cool.
Perhaps you prefer Stars Wars Pops like the Mandalorian Pops and the Bad Batch Funko Pops or maybe you prefer Star Wars LEGO?
Let us know in the comments section below.
Regards
AFG