Last Updated on February 20, 2023 by Dexter Roona
It is back to the Pop Rocks category with these new Dolly Parton Funko Pops. We have all the news and info on these new Dolly Parton Pantsuit Funko Pops and the best online retailers to buy them from.
The Country Legend Dolly Parton comes to Funko town with two new cool Pop Rocks Funko Pops. The first Dolly Pop is a common Pop with her wearing an orange pantsuit. The second Dolly Pop is a little bit more collectible. Dolly is in her silvery white pantsuit and is released as a Funko Shop exclusive.
NB: DISCLAIMER – These new Pop Rocks Dolly Parton Funko Pops are available from various online retailers that are linked in this article. If you click a link and make a purchase then AFG may make a very small commission at no cost to you.
Pop Rocks – Dolly Parton Funko Pops!
The Funko Pop Rocks series is a fantastic Funko Pop Series for music lovers but it is not just for those who love Rock Music from artists like Metallica and Iron Maiden.
Pop Rocks is more than Rock Music. You will find Funko Pops for the likes of the Korean K Pop band BTS, Snoop Dogg,  Mariah Carey, Blink 182, and more.
Just about all music genres are covered and now the awesome Dolly Parton joins the Pop Rocks series and I really love them.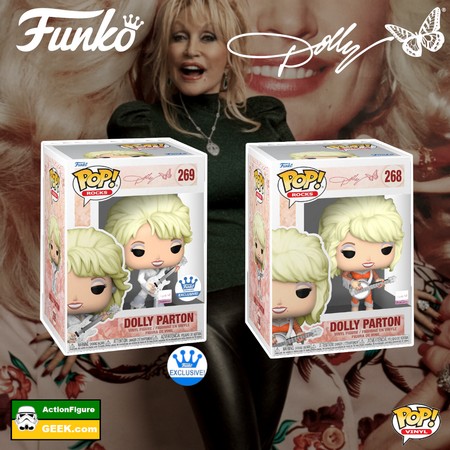 268 Dolly Parton in Orange Pantsuit Funko Pop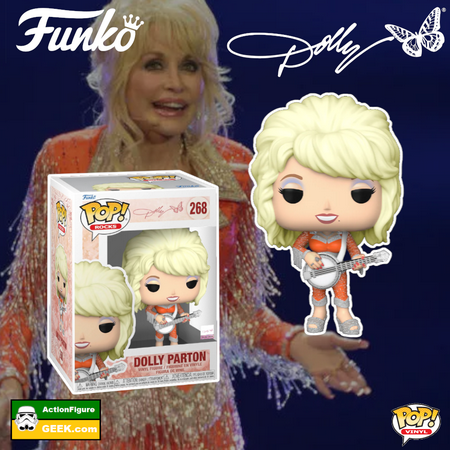 268 Dolly Parton in White Pantsuit Funko Pop Funko Shop Exclusive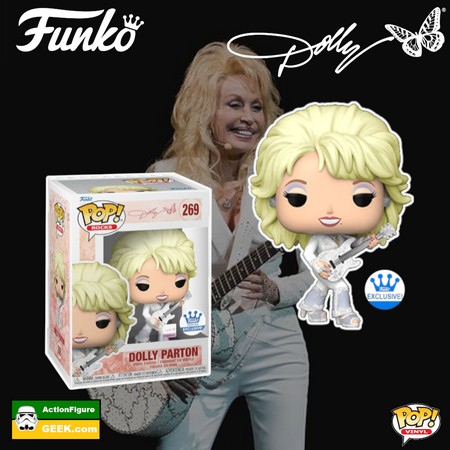 Shopping Guide 
Shop for the Dolly Parton Funko Pops both Dolly Parton Orange Pantsuit Funko Pop and the Dolly Parton White Pantsuit Funko Shop Exclusive at:

Get a 10% Discount on all in-stock items and Free Postage on all orders over $39.99 at Entertainment Earth by using our special AFGEEK discount code today.

You can read more on this amazing discount at – Entertainment Earth Discount.
Funko Pop Rocks brings us two new Dolly Parton Funko Pops wearing her legendary pantsuits. We have Dolly in her white pantsuit and Dolly in her orange pantsuit. It would have been easy for Funko just to use the same figure and just change the costume color but no Funko does Dolly justice with two different poses.
Country Legend Dolly Parton is one of the most iconic singer-songwriters there has ever been and she is still going strong. Classic songs like 'Jolene' and '9 to 5' pushed Dolly into stardom.
With a career that has spanned decades, Dolly has truly made her mark. Moreover, Dolly has made her presence felt in the fashion world with her sparkly and brightly-colored live performance costumes and jaw-dropping movie premiere red carpet outfits.
Dolly is as relevant today as she has ever been.
The teatime Legends show on Glastonbury  Sunday in 2014 is still a much talked about Glastonbury moment and coming upto date she has just duetted with Miley Cyrus (where are the Pop Rocks Miley Cyrus Pops Funkos, imagine Miley on her Wreaking Ball 😉  )at the 2022 NBC New Years Eve Party in Miami.
Dolly is known for her white pantsuits but as you can see by these new Dolly Parton Pops she is not afraid to splash the color. The Dolly in orange pantsuit Funko Pop depicts the costume she wore for a 2014 benefit concert.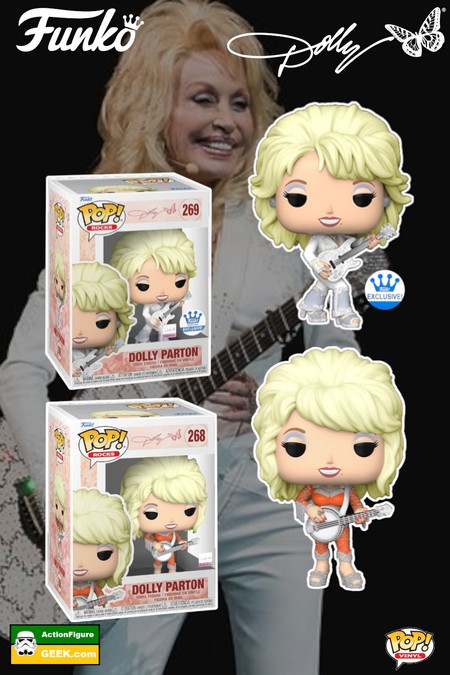 Are you a Dolly Parton Fan?
Will you be adding these Dolly Parton Funko Pops to your collection?
Which other Pop Rocks, Albums, and Concert Moment Pops do you like?
I am a huge fan of the Robert Smith Hot Topic Funko Pop and Notorious B.I.G Pops.
Away from Music Pops, I am a huge fan of the Roronoa Zoro Funko Pop and the Madara Funko Pop.
But what do you like?
Let me know in the comments below.
Regards
AFG