Last Updated on September 21, 2022 by Dexter Roona
Hot on the heels of the Zenitsu Agatsuma Funko Pop Funimation Exclusive we are given the new Demon Slayer Muichiro Tokito Funko Pop Vinyl Figure – FunKon II 2022 and Funko Shop Exclusive. Here is everything you need to know about this cool Demon Slayer Kimetsu no Yaiba Funko Exclusive and the best online retailers to buy him from.
Muichiro Tokito is an incredibly durable and talented Demon Slayer of the Demon Slayer Corps. He is the current Mist Hashira and by far his generation's most skilled Mist Breathing user. He gained the mantel of Hashira after just two short months of training.
But dispite his impressive credentials Muichirō is really just a kid at heart. But make no mistake when it comes to fighting Demons, Muichirō puts on his game face and is ready to layout judgment on his demonic opponents.
Muichirō focuses on depriving his opponents senses using Mist Breathing, disorienting them to his advantage. His attacks are fast leaving his enemies unsure where they have come from.
Demon Slayer Muichiro Tokito Funko Pop – FunKon II 2022 and Funko Shop Exclusive
The Muichiro Tokito Funko Pop – FunKon II 2022 and Funko Shop Exclusive is another really cool Funko Animation release that fans of the Demons Slayer Funko Pops are going to love.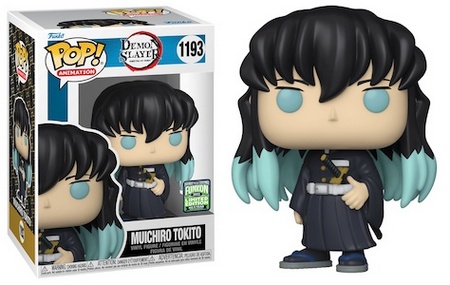 Demon Slayer Corps
The Demon Slayer Corps was founded by the Ubuyashiki family over 1,000 years ago, and are in charge of fighting demons.
The Demon Slayer Corps are divided into ten different ranks. From lowest rank to highest, the ranks are:
Mizunoto
Mizunoe
Kanoto
Kanoe
Tsuchinoto
Tsuchinoe
Hinoto
Hinoe
Kinoto
Kinoe
To join the Demon Slayer Corps you must first complete the Final Selection entrance exam. To pass the exam you must survive for seven days on a mountain infested with demons where you must fend for yourself with no help from the outside world.
If you manage to pass the Final Selection exam you become an official member of the Demon Slayers Corps at the Mizunoto rank the lowest rank of ten. The more missions or slain Demons that a Demon Slayer notches up the higher up the ranks they progress.
The Survey Corp's most elite warriors are the Hashira. These guys do not appear on the rankings.
To climb to the Hashira, a Slayer must kill 50 demons.
There is a second option to join the Survey Corps and that is by eliminating one of the 12 Demon Moons created by Muzan,
Tokito is the only one who has managed to defeat an Upper Moon without any outside help.
Are you a Demon Slayer Kimetsu no Yaiba Funko Pop fan?
What do you think of this Demon Slayer Muichiro Tokito Funko Pop – FunKon II 2022 and Funko Shop Exclusive?
Which other anime/animation Pops do you collect?
We really like the My Hero Academia – Kurogiri Funko Pop GITD Target Exclusive and the Bleach Fully Hollowfied Ichigo Funko Pop that comes with a very cool chase variant. If we are talking complete series then Black Clover Funko Pop Figures are great and also the Bleach Funko Pop Figures are favorites of ours as well and lets not forget the New Naruto Pops.
But what do you think? Have your say in the comments section below, we would love to hear from you.
Regards
AFG