The Anime Exclusives keep coming and today we bring you the new Zenitsu Agatsuma Funko Pop Demon Slayer Funimation Exclusive. We have all the news and the best places to buy them online.
Zenitsu Agatsuma is one of the main characters in the popular anime series Demon Slayer – Kimetsu no Yaiba along with Inosuke Hashibira, Tanjiro Kamado, and Nezuko Kamado.
For a Demon Slayer Zenitsu comes off as a bit of a coward with the burden of pretty low self-esteem and on occasion even considers himself to be useless despite his unquestionable skills as a Demon Slayer.
Zenitsu seems more afraid of the demons than we are watching, but always finds a way to get the job done.
NB: This post contains product affiliate links. If you click a link and make a purchase then AFG may make a very small commission at no cost to you.
Demon Slayer Zenitsu Agatsuma Funko Pop Funimation Exclusive
987 Zenitsu Agatsuma Funko Funimation Exclusive is a pretty cool new version of Zenitsu Agatsuma and definitely a Demon Slayer Pop that we want in our collection. This cool pose shows Zenitsu using his powers.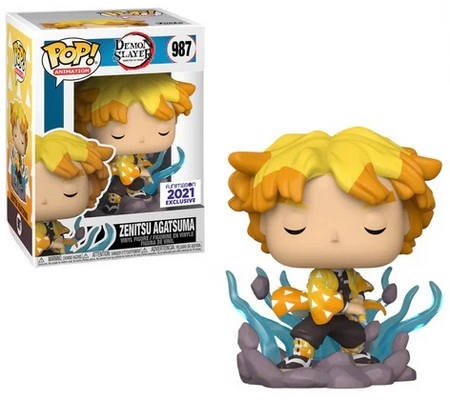 Zenitsu appears to be a weak, whiny, looking boy. Much of his upbringing was spent alone. Despite this Zenitsu still finds romance but the relationship ends when she runs away with another man. Zenitsu is left in debt. All seems lost until Jigoru Kuwajima the former Thunder Hashira pays off Zenitsu's debts and recruit him as his new apprentice.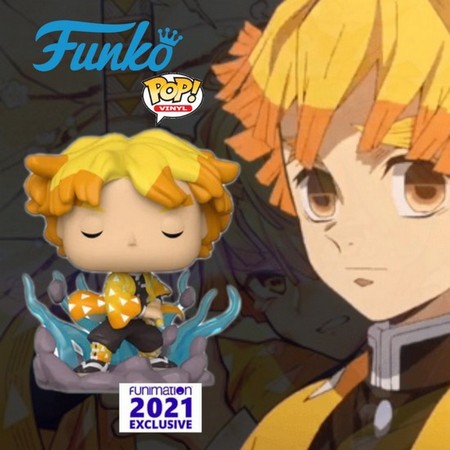 One day Zenitsu clumbs a tree during training and refuses to continue, lightning strikes him, and his hair changes to blonde.
Zenitsu faints when he experiences extreme fear. He goes into a deep sleep where is able to effectively deliver his attacks.
Are you a Demon Slayer fan?
Do you have any of the Demon Slayer Pops in your collection?
Which other anime Pops do you like? We love the Fairy Tail Pops and the Death Note Pops.
The new Cowboy Bebop Funko Pops are worth checking out as well. And a special mention for the new Naruto Funko Pops.
Let us know what you like in the comments section below, we would love to hear from you.
Regards
AFG