Last Updated on May 22, 2023 by Dexter Roona
Five new NEW Retro Marvel Legends Wave 6 Action Figures are on the way and ready to join your action figure collection!
Retro Marvel Legends Wave 6 Action Figures
Hasbro pays tribute to Kenner with these new Retro action figures. Kenner first made its mark in the 1960s and but then business really took off when they famously obtained the rights to produce Star Wars action figures for the Star Wars trilogy. These new Retro Marvel Legends Wave 6 action figures are very reminiscent of the original Star Wars figures. Same size, same size cardbacks same plastic bubble for the figure. Hasbro has done a great job recreating the look and feel of the Kenner era with these figures.
These figures are available from a number of online outlets and retail stores with the best for us being Entertainment Earth
If you buy the set from Entertainment Earth you will receive Free Postage on all orders over $39+ and will also receive Entertainment Earths Mint Condition Guarantee so you never have to worry about receiving damaged Collectibles.
A case of 8 will typically include:
1x Black Panther
2x The Thing
1x Black Widow
2x Thor
1x Green Goblin
With the Thing and Thor the more common figures and the Black Panther, Black Widow, and Green Goblin the harder to find rarer figures.
Each figure has 5 points of articulation and is competitively priced at $11.99 each (£13-99 UK).
NB: This article contains product affiliate links. If you click a link and make a purchase then AFG may make a very small commission at no cost to you.
Buy Wave 6 Marvel Legends Retro Action Figures at
Black Widow
The events of Avengers: Endgame took us to a time when Natasha Romanoff selflessly sacrificed herself at Vormir to obtain the Soul Stone. The loss of Black Widow was a huge loss for fans to take but we did get to say goodbye to Natasha properly when you finally got her own standalone move with Black Widow. The Black Widow movie introduces us to her back story and explains how she became the deadly assassin that she was.
The movie also introduced us to her sister Yelena Belova who crosses over into the Hawkeye Disney+ Series.
Black Widow and all the other figures in this wave have five points of articulation and a very cool retro cardback with vintage artwork and Kenner Logocomplete with a Kenner logo.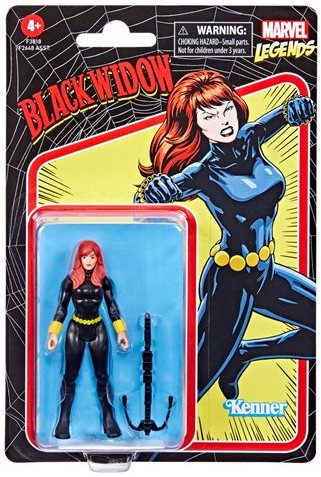 Price Check – Amazon
Price Check – eBay
Black Panther
T'Challa returns home to Wakanda to inherit his throne after his father is killed. However, the transfer of power is threatened by an enemy related to his own family. This retro version of Black Panther is more blue than black in appearance.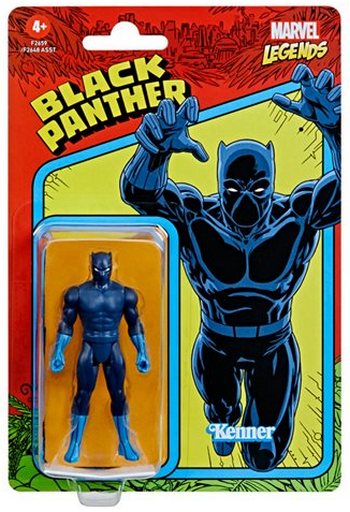 Price Check – Amazon
Price Check – eBay

Thor
Thor is a big hit in the Marvel Universe with a number of movie appearances the latest being Thor Love and Thunder.
The God of Thunder, Thor first appeared in the Marvel Comic Book Journey into Mystery no. 83, which was released in August 1962.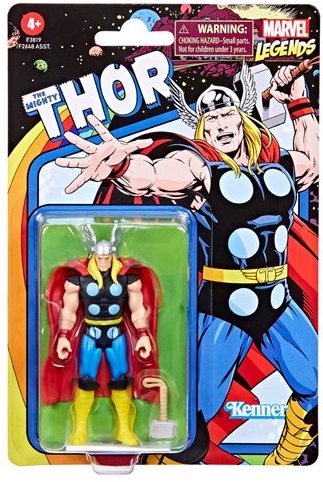 Price Check – Amazon
Price Check – eBay
Green Goblin
The Green Goblin is a hideous, cruel, and extremely dangerous criminal, flying on his Goblin Glider.
The Amazing Spider-Man villain the Green Goblin is the alias of several supervillains appearing in the Marvel Comics with Norman Osborn being the most widely known.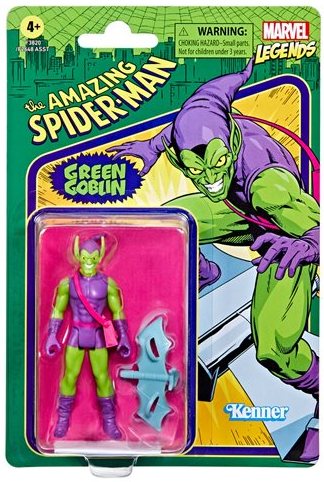 Price Check – Amazon
Price Check – eBay

Thing
It's clobberin' time! The Thing Ben Grimm is a favorite from the Fantastic Four making his first appearance in The Fantastic Four #1 (Nov. 1961).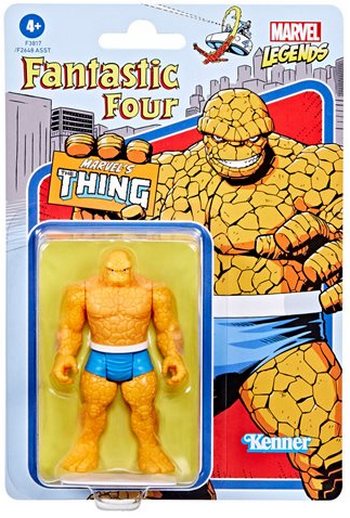 Price Check – Amazon
Price Check – eBay

Are you a Retro Marvel Action Figure fan or do you prefer the standard 6-inch Marvel Legends Action Figures?
Perhaps you prefer DC Action Figures like the DC Page Punchers or maybe the Star Wars Black Series?
Let us know in the comments section below… we would love to hear from you!
Regards 
AFG