Last Updated on December 13, 2022 by Dexter Roona
We return to the anime Funko Pops with this new Jujutsu Kaisen – Nobara Kugisaki Funko Pop! Vinyl Figure in Fight Stance – Funko Shop Exclusive. We have all the Funko news and the best online retailers to buy this awesome anime Pop.
Nobara Kugisaki is one of the many strong charismatic female characters in the Jujutsu Kaisen anime series  Her strong personality and strength make her a fan-favorite character. Nobara Kugisaki is one of a trio of main characters alongside Megumi Fushiguro and Yuji Itadori.
Kugisaki Nobara was born in the countryside of Morioka. She moved to Tokyo for a faster-paced life. In Tokyo, Nobara joined the Tokyo Metropolitan Magic Technical College commonly referred to as the Tokyo Jujutsu dedicated to creating the next generation of jujutsu sorcerers.
She is short in stature with short orange ginger-dyed hair.
NB: Disclaimer – This Nobara Kugisaki Funko Pop! In Fight Stance article contains product affiliate links. If you click a link and make a purchase then AFG may make a very small commission at no cost to you. 
1164 Nobara Kugisaki Funko Pop! In Fight Stance FunkoShop Exclusive
This great Jujutsu Kaisen – Nobara Kygisaki gives us a version of Nobara in a full fighting pose with her very distinctive face tattoo.
The new Nobara Kugisaki Funko Pop in Fight Stance is a FunkoShop Exclusive. Keep your eyes open as there is sure to be a Special Edition released very soon for worldwide collectors.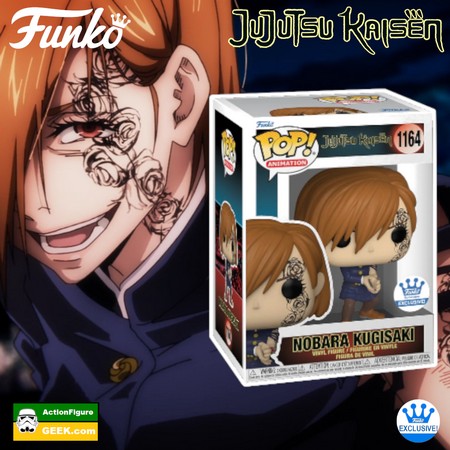 There is another version of  Nobara Kugisaki available where her pose is different and there is no face tattoo, I have already covered this Pop in my Jujutsu Kaisen Funko Pop Checklist.
Shop for the 1164 Nobara Kugisaki Funko Pop! In Fight Stance FunkoShop Exclusive at: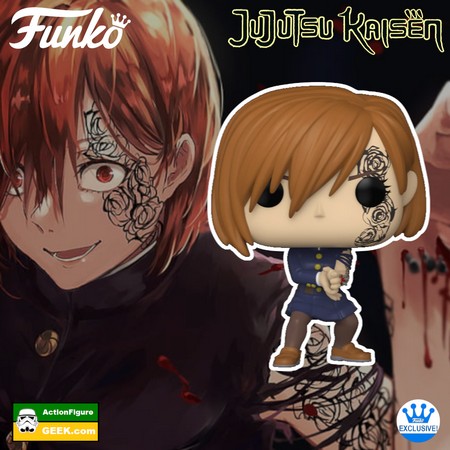 Nohara Kugisaki is confident and unapologetic in everything she does and a true force to be reckoned with.
Nohara employs the Staw Doll Technique in combat and fights with hammers and nails levitating them into the air. Her Cursed Energy technology makes her one of the most uniquely powerful Grade 3 jujutsu sorcerers at the Tokyo Jujutsu High. She is a fiercely strong warrior and immensely proud to be a woman.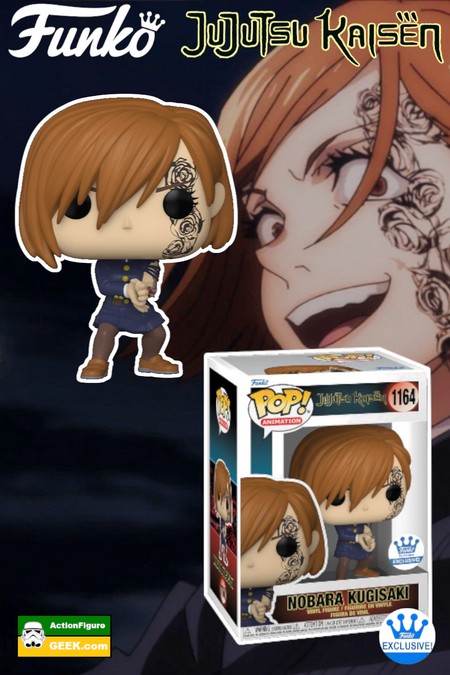 Are you a Jujutsu Kaisen anime fan?
Will you be adding the Nobara Kugisaki Funko Pop! to your collection?
Which other anime Pops do you like?
I am a fan of the Eri My Hero Academia Funko Pop and the MHA Spinner Funko Pop.
Away from anime Pops I like the Ted Lasso Funko Pops, I would like to see a few more of these produced.
But what do you like?
Let me know in the comments section below.
Regards
AFG
Looking to add some new Funko Pops to your collection? Get a 10% discount on all in-stock items at Entertainment Earth and free postage on orders over $39.99 with our AFGEEK Entertainment Earth Discount