Last Updated on May 22, 2023 by Dexter Roona
Today we relive the Golden Era of PAC-MAN with this new 10323 LEGO ICONS PAC-MAN Arcade Set. We have all the news on this cool new building set and the best online retailers to buy it from.
Prepare for a trip down memory lane as The LEGO Group and Bandai Namco commemorate the 43rd anniversary of PAC-MAN, the beloved arcade game that has captured hearts around the world. Brace yourself for a wave of nostalgia as we unveil the exciting new vintage LEGO ICONS PAC-MAN Arcade set. This creative collaboration breathes new life into one of the most famous and cherished arcade games of all time.
First introduced on May 22, 1980, by Bandai Namco Entertainment Inc., PAC-MAN quickly etched its place in history as a cultural phenomenon. Having left an indelible mark on popular culture through video games, TV shows, music, and more over the past four decades, the LEGO Group has teamed up with Bandai Namco to bring this 80s classic back to life in a whole new way. In an intriguing twist, the collaboration revealed that PAC-MAN's iconic yellow color was, in fact, inspired by the LEGO Group's very own signature hue.
NB: This LEGO ICONS PAC-MAN Arcade Set article contains product affiliate links. If you click a link and make a purchase then AFG may make a very small commission at no cost to you.
An Authentic LEGO Experience
The innovative design of the 10323 LEGO ICONS PAC-MAN Arcade set beautifully captures the essence of the original arcade version. Builders now have the opportunity to relive the ghost-munching excitement of the game as they construct this remarkable set. From the familiar arcade cabinet to the iconic characters, every detail has been meticulously recreated with LEGO bricks.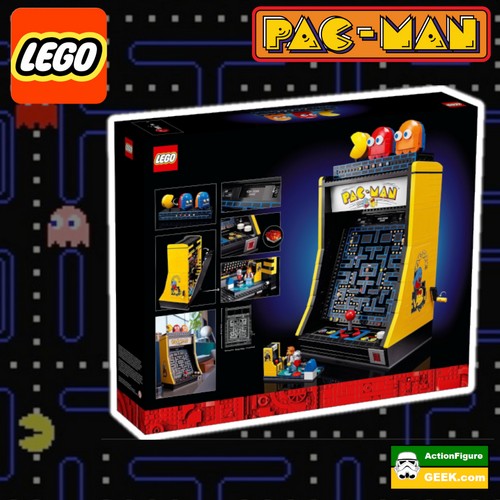 Step into the shoes of a true PAC-MAN enthusiast with this captivating LEGO set. Let your imagination soar as you create large-scale brick renditions of PAC-MAN himself, along with the mischievous ghosts, BLINKY and CLYDE. These adorable figures can be placed on a rotating base, allowing you to recreate the enthralling gameplay and display them on top of the cabinet or individually.
Price Check – Amazon and Amazon UK
Price Check – eBay and eBay UK
A Hidden Surprise
As you embark on your LEGO building adventure, prepare to uncover a delightful surprise. Once you complete the set, you can illuminate the coin slot and marvel at the nostalgic charm it exudes.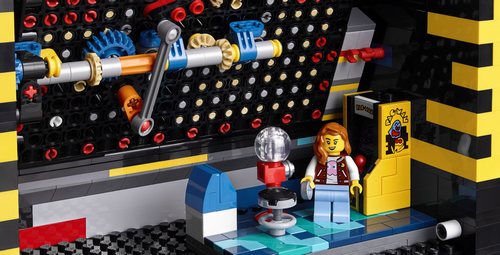 But that's not all! Deep within the cabinet lies a small vignette featuring a collectible female minifigure engrossed in playing PAC-MAN on an arcade machine. This unexpected gem adds an extra touch of whimsy and pays homage to the joy this timeless game has brought to countless enthusiasts over the years.

8 PAC MAN Fun Facts

1/ On May 22nd, 1980, PAC-MAN underwent its first focus test, allowing the public to catch their first glimpse of the iconic yellow character.

2/ The vibrant yellow color of PAC-MAN was directly inspired by the iconic hue of LEGO bricks, as envisioned by designer Mr. Iwatani.

3/ The unique shape of PAC-MAN draws inspiration from a mouthwatering pizza, complete with a missing slice.

4/ Initially released in Japan on June 29, 1980, PAC-MAN made its way to the rest of the world later on.

5/ The popularity of PAC-MAN led to the creation of a lively cartoon series that entertained audiences throughout the 80s.

6/ Buckner & Garcia achieved chart success with their hit single "PAC-MAN Fever," reaching an impressive 9th position on the Billboard's Hot 100 chart in March 1982.

7 In 1993, Billy Mitchell from Florida became the very first plater to ever to attain the game's perfect score of 3,333,360 points. To accomplish this feat, the player Billy Mitchell flawlessly cleared all 256 stages, consume all PAC-DOTs, fruits, and ghosts (by consuming 4 ghosts with each POWER PELLET).

8/ In recognition of PAC-MAN's immense success, Guinness World Records acknowledged the game as the "Most Successful Coin-Operated Game" worldwide. Within a span of seven years from its 1980 release, an impressive 293,822 arcade units were installed.
The LEGO PAC-MAN Arcade Machine
The LEGO PAC-MAN Arcade Machine is a remarkable creation and is an absolute must-have for vintage video game enthusiasts, especially those who already own the 10306 Atari 2600 and 71374 Nintendo Entertainment System LEGO sets.
Not only does the LEGO PAC-MAN Arcade machine capture the essence of the original game, but it also boasts an impressive size. Standing at 12.5 inches (32 cm) in height, 10 inches (25 cm) in width, and 7 inches (17 cm) in depth, this model is sure to catch your eye with its vibrant colors and impressive stature.
Included in the set are brick-built versions of PAC-MAN, BLINKY, and CLYDE, each designed with the ability to rotate and be displayed either separately or atop the arcade cabinet.
What's more, the back of the Arcade Cabinet opens up, revealing intricate mechanical functions housed within. As an added delight, you'll also discover a charming Easter Egg—a small vignette featuring a female PAC-MAN fan playing on an arcade machine.
Experience the magic of the past with the LEGO ICONS PAC-MAN Arcade set, a testament to the enduring legacy of a game that has transcended generations. Relish in the opportunity to bring this beloved 80s classic into your own home, meticulously crafted from LEGO building bricks. Whether you're a long-time fan of PAC-MAN or seeking a new adventure, this captivating set will transport you back to the golden era of gaming.
Celebrate the 43rd anniversary of PAC-MAN and indulge in the nostalgia that has captured the hearts of millions worldwide.
Price Check – Amazon and Amazon UK
Price Check – eBay and eBay UK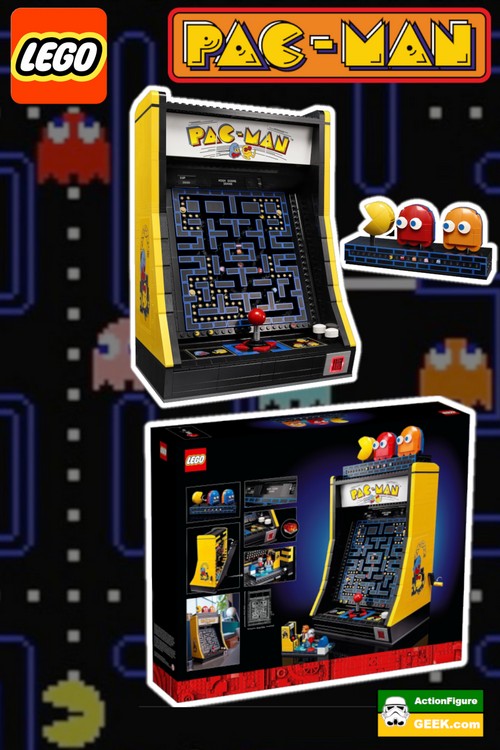 Related LEGO Articles: