Last Updated on July 31, 2022 by Dexter Roona
The new Rhaenyra Targaryen Diamond Glitter Funko Pop Walmart Exclusive joins the ranks of the House of the Dragon Pops in our checklist and buyers guide. Here is all you need to know about this cool GOT spin-off Pop figure series.
The new House Of The Dragon Pops has filled the void left by the ending of Game Of Thrones and this new Rhaenyra Targaryen Diamond Glitter Funko Pop Walmart Exclusive is a great addition to the Pops released.
NB: This article contains product affiliate links.
Rhaenyra Targaryen Diamond Glitter Funko Pop Walmart Exclusive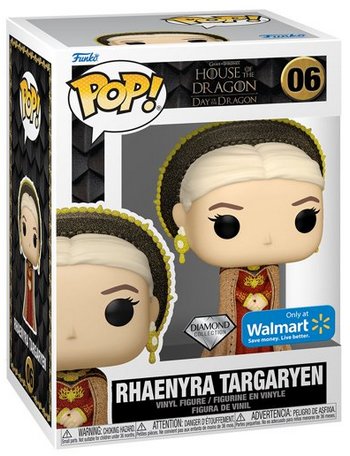 Rhaenyra Targaryen is the daughter of King Viserys I and is seen as the rightful heir to the throne. Rhaenyra is strong and intelligent and has ambition running through her veins.
She is a woman who knows what she wants, a skilled politician, and strategist, and is noted as a strong fighter. She truly is the blood of the dragon.
Rhaenyra is King Viserys I Targaryen's firstborn child, was born on Dragonstone during a raging storm lasting a full three days and nights. The castle masters say that this means she was meant to rule.
As a child, she attempted to mount Vhagar, her father's dragon without seeking permission.
She rode into battle as a young woman alongside Aegon II Targaryen. This was frowned upon it was not considered proper conduct for a lady of noble birth to ride to war.
She is seen as a powerful voice inside House Targaryen, using her influence in calling for reform in how the fearsome dragons are treated.
Rhaenyra is a strong and determined woman who is not afraid to stand up for what she believes in. She is a true dragon rider in every sense of the word.
Are you a House of Dragon Fan? Will you be buying any of these Pops?
Which other Funko Pop Tv Pops do you like? We like the New Stranger Things Byers House Funko Pop Build A Scene – 4 pack and the Loki Funko Pop Tv Figures.
Let us know what you think in the comments section below.
We would love to hear from you.
Regards
AFG