Last Updated on November 15, 2022 by Dexter Roona
We have new music Pops to talk about today with the new Funko Pop Concert Moment: Run DMC: Run DMC in Concert Funko Pop Deluxe Moment Figures – Walmart Exclusive. We have all the info you need and the best online retailers to buy them from.
This new Funko Pop Concert Moments Pop features Run DMC the legendary hip-hop trio.
The band consists of Run, Jam Master Jay, and DMC and depicts the hip-hop heroes in concert on stage in all their '80s glory. These new deluxe Pops have a backdrop of spotlights, scaffolding, speakers, and giant amplifiers, to give an authentic look and feel as only Funko can.
NB: This Funko Pop Run DMC Concert Moment Pop article contains product affiliate links. If you click a link and make a purchase then AFG may make a very small commission at no cost to you. It's how we keep the lights on.
Shop RUN DMC Pops and Merch at
Funko Pop Run DMC Concert Moment Pop Walmart Exclusive
The Run DMC Concert Moment is the perfect addition to the Run DMC Pop Rocks figures and Pop Rocks Album Pops and fits into any music lover's collection.
The 80s Hip-Hop legends hail from the USA from the borough of Queens in New York City.
Band members Joseph "Run" Simmons, Darryl "DMC" McDaniels, and Jason "Jam Master Jay" Mizell rose to prominence in the early 1980s giving their already growing fanbase an innovative cutting-edge blend of rap and rock.
They have cemented their place in music history with a string of classic albums and singles.
Run DMC came to prominence to a wider audience when they collaborated with Steven Tyler and Aerosmith on "Walk This Way," and will be remembered for their catalog of songs.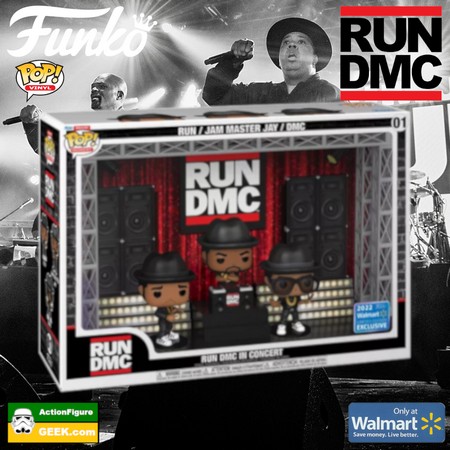 Shop for the Run-DMC In Concert Funko Pop! Deluxe Moment Vinyl Figure Walmart  Exclusive at

Walmart
In 2009, Run DMC was inducted into the Rock and Roll Hall of Fame. In his speech, Run said that being inducted into the hall of fame was "a dream come true".
Run DMC produced timeless music that really does stand the test of time and their legacy will live on for generations to come.
They completely changed the game with their innovative blend of rap and rock on songs like "Walk This Way," introducing hip-hop to a whole new audience in the process.
They had a unique style and image that helped make hip-hop and rap more acceptable outside of the urban communities where they originated.
Run DMC became fashion icons embracing designer brands and really did lay the groundwork for the rap bands that followed.
Run DMC we salute you!
Are you a Run DMC fan?
Will you be adding this new Concert Moment Deluxe Pop to your collection?
Do you own any of the Pop Rocks Pops?
I really like the Snoop Dogg Funko Pops and the Notorious B.I.G Pops are great as well and the AC/DC Funko Pop Concert Moment Walmart Exclusive is a great buy as well.
Away from music Pops I really like the Naruto Pain Funko Pops.
But I want to hear from you.
Use the comments section below and let me know what you like.
Regards
AFG