Last Updated on June 14, 2023 by Dexter Roona
Today we bring news on the awesome new Spider-Man Mary Jane Watson Funko Pop! Vinyl Figure. We have all the news on this cool new Marvel Spider-Man franchise Funko Pop! and the best online retailers to buy her from.
The world of Spider-Man Funko Pop! figures continues to expand with its ever-growing collection of captivating characters. If you're a die-hard Spider-Man and Marvel enthusiast, you'll be thrilled to hear about the latest addition to the Funko Pop! family: the 1260 Spider-Man Mary Jane Watson with Speech Bubble Entertainment Earth Exclusive and Funko Special Edition Vinyl Figure.
This exquisite figure captures the essence of Mary Jane Watson, the iconic redhead who has won the hearts of comic book fans worldwide.
Unleash Your Inner Marvel Fan with the Captivating 1260 Spider-Man Mary Jane Watson Funko Pop!
Mary Jane Watson is known for her fiery red locks, and the 1260 Spider-Man Mary Jane Watson Funko Pop! figure captures this characteristic flawlessly. The vibrant shade of red adorning her head is a visual representation of her strong and confident personality. Her black top and shoes exude a sense of contemporary style, perfectly complementing her vibrant hair.
Adding a unique twist to her ensemble, Mary Jane's Funko Pop! figure features mauve trousers, adding a pop of color and individuality to her appearance. The mauve hue adds depth and contrast to the figure, making it stand out among other collectibles. The attention to detail in the color selection demonstrates the care and thought put into recreating Mary Jane's iconic look. The standout feature of the 1260 Spider-Man Mary Jane Watson Funko Pop! Entertainment Earth Exclusive and Funko Special Edition is the accompanying Speech Bubble, the first time that a speech bubble has been included with a Funko Pop!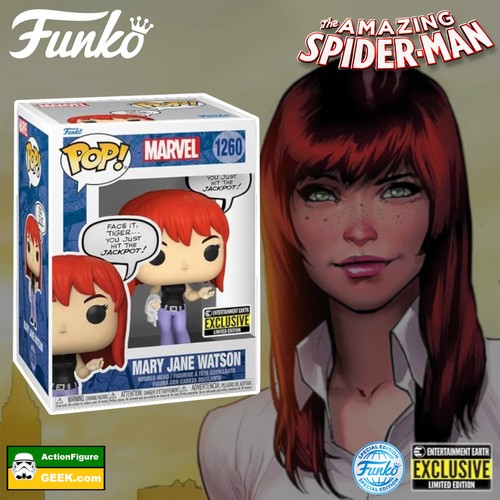 Shopping Guide
Price Check – Entertainment Earth

Price Check – Amazon and Amazon UK
Spider-Man Mary Jane Watson Funko Pop! Vinyl Figure
In the Marvel Comics issue of Amazing Spider-Man #42, skillfully crafted by the legendary duo of Stan Lee and John Romita Sr., a pivotal moment unfolded, forever altering Peter Parker's life. Prior to this issue, the mere existence of Mary Jane Watson had been tantalizingly hinted at. However, it was in Amazing Spider-Man #42 that she made her official entrance into the franchise, delivering an unforgettable line that reverberates through the annals of comic book history: "Face it, tiger…you just hit the jackpot!" we see on the speech bubble with this new Pop!
This remarkable introduction set the stage for the events that would unfold over the next 57 years and counting, hinting at the significance of her character.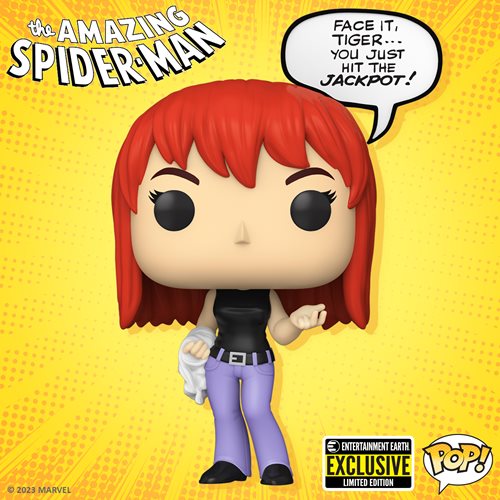 Mary Jane's Debut
Undoubtedly, the moment of Mary Jane's debut stands as one of the most iconic panels ever created, a testament to the brilliance of the artistic vision behind it. This pivotal scene, infused with foreshadowing, serves as the ideal muse to initiate Funko's line of Pop figures adorned with speech bubbles molded into their designs. Although there had been a prior Freddy Funko Pop in 2016 that featured a speech bubble sign, the inclusion of Mary Jane in this collection is an unequivocal choice, a decision that requires no contemplation. With this first addition to the Funko Pop line, one can anticipate a veritable frenzy, as enthusiasts clamor to acquire this coveted item, especially considering its exclusivity as an Entertainment Earth product and Funko Special Edition.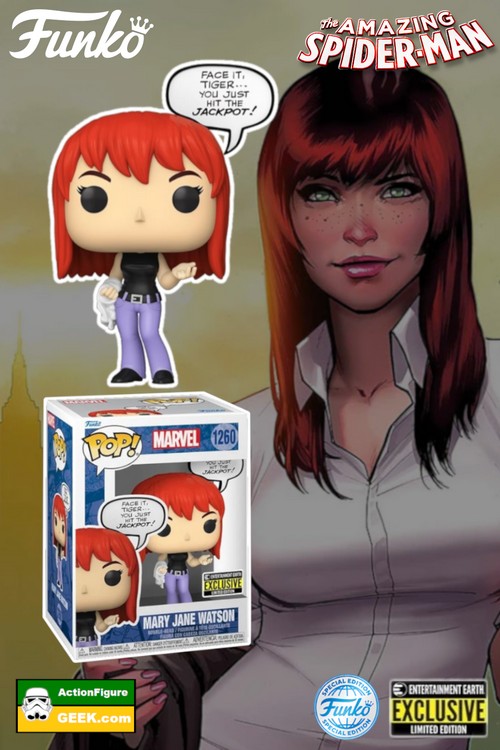 Another Noteworthy Event
Intriguingly, amidst the whirlwind of Mary Jane's entrance, another noteworthy event transpired within the pages of this particular issue. It appeared as though Spider-Man, our web-slinging hero, had committed a daring act of theft by robbing a bank. However, the truth unfolded, revealing a far more noble motivation. Spider-Man's keen senses detected a bomb concealed within one of the money bags, compelling him to intervene with unwavering resolve. Employing his indomitable strength, he swiftly removed the explosive device, thereby averting catastrophe. Amidst the apparent bank robbery, it became evident that the true prize, the genuine jackpot, was none other than Mary Jane Watson herself. Their paths serendipitously crossed for the first time, transpiring shortly after Peter Parker declined an invitation to a soirée extended by his girlfriend, Gwen Stacy.
In this single issue, a tapestry of intrigue, mystery, and unexpected encounters is woven, captivating readers and leaving them yearning for more. The entwined fate of Mary Jane and Peter Parker continues to unfold, ever-deepening the narrative tapestry of this timeless comic series.
NB: This new Spider-Man Mary Jane Watson Funko Pop! Vinyl Figure article contains product affiliate links. If you click a link and make a purchase then AFG may make a very small commission at no cost to you.
Related Funko Pop! Articles:
From the AFGeek Blog: