Last Updated on August 9, 2022 by Dexter Roona
S.H.Figuarts has released a new Spider-Man No Way Home Tobey Maguire Action Figure. Let's find out more about this cool Marvel collectible.
In the recent Spider-Man No Way Home movie we were given 3 different Peter Parkers all from different multiverse realities. It was a real surprise for regular moviegoers when Tobey Maguire's Spider-Man made his appearance and teamed up alongside Andrew Garfield's Spider-Man and Tom Holland's Spidey.
It wasn't such a surprise for Marvel Fans if you had read the movie news sites on the Internet. There were lots of articles and social media posts claiming that the actors had been on the set. The assumption was that they would be revising their Spider-Man roles in some shape or form. But it was just speculation until the movie landed on the big screen.
This new Spider-Man No Way Home Tobey Maguire Action Figure celebrates the return of Tobey Maguire as Peter Parker – Spider-Man who reigned supreme during 2002-07.
NB: This article contains affiliate links. Qualifying purchases made after clicking an affiliate link may result in a very small commission paid to AFG at no cost to you,
Spider-Man No Way Home Toby Maguire S.H.Figuarts Action Figure
The Tobey Maguire S.H.Figuarts Spider-Man Action Figure has an extremely accurate facial sculpt of Tobey Maguire's version of Peter Parker.
Free shipping on orders over $39.99 (US Only)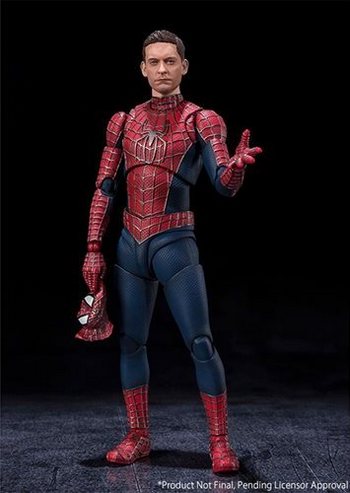 The Spider-Man: No Way Home Tobey Maguire Action Figure includes:
5 x pairs of optional hands
2 x optional head,
1x removed mask
1x web (large)
2 x web (long)
2 x web (short)
With your friendly neighborhood Spider-Man's identity now revealed by J Jonah Jameson, Spider-Man is now laid bare and unmasked for the world to see. Peter Parker is no longer able to separate his normal life from that of being the superhero Spider-Man.
Peter asks for help from Doctor Strange. He creates a spell to reverse the events of Spider-Man unveiling to the world but it comes at a cost that Peter is unwilling to pay. Peter jumps in to stop the spell and disturbs the incantation. Strange events start to occur as the multiverse has now been opened. The stakes are raised and become even more dangerous when the reality of what has just happened starts to dawn on Peter and Dr. Strange.
Are you a Spider-Man fan?
What has been your favorite Spider-Man movie to date? Who is your favorite Spider-Man?
Which are your favorite Spider-Man Funko Pops and Action Figures? We love the Spider-Man Retro Marvel Legends Action Figures and there is a really cool new Marvel Comic Cover Miles Morales Funko Pop Target Exclusive – Ultimate Fallout figure and let's not forget the Spider-Man: No Way Home Unmasked Spider-Man Black Suit Funko Pop AAA Anime Exclusive that has recently been released.
But what do you like?
Let us know in the comments.
Regards 
AFG