Last Updated on July 26, 2023 by Dexter Roona
We return the Attack on Titan Funko Pops with news on the new Attack on Titan Armin Arlelt Funko Pop! with Chase Variant. We have all the news on this cool new AOT Pop! and the best online retailers to buy him from.
Another Attack on Titan Funko Pop! joins the AOT Funko Pop! Checklist as Armin Arlelt makes his second appearance as a Funko Pop! There is a previous version available in the shape of the 237 Armin Arlelt – FYE Exclusive (details on this Pop! are at the bottom of the page)
Armin Arlelt is a central character in Attack on Titan and is a key member of the Scout Regiment, an elite military unit tasked with defending humanity from the monstrous Titans that roam the world.
Let's take a closer look at the new 1447 Armin Arlelt Funko Pop! with Chase Variant.
NB: This Armin Arlelt Funko Pop! with Chase Variant article contains product affiliate links. If you click a link and make a purchase then AFG may make a very small commission at no cost to you.
1447 Armin Arlelt Funko Pop! with Chase Variant
The new Armin Arlelt Funko Pop! with Chase Variant is a must-have collectible for Attack on Titan Funko Fans. This new Pop! Vinyl gives us an all-new version of Armin Arlelt, one of the Attack on Titan series' coolest characters in his signature attire.
The Chase Variant version of Armin features a different head sculpt from that of the common version and is the version that collectors will be hunting down.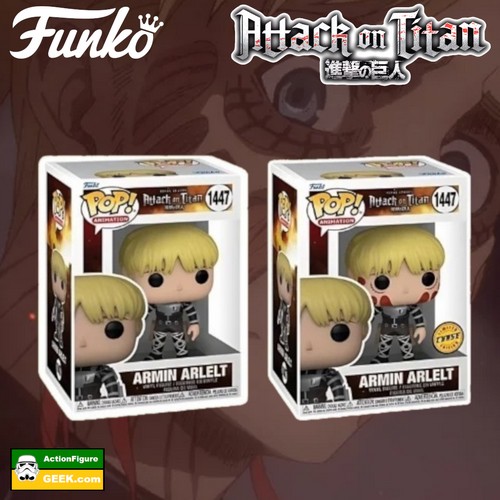 Shopping Guide
Other Armin Arlelt Funko Pop!
Armin has made one other appearance as a Funko Pop to date as an FYE Exclusive. There is also a common/stickerless version and there doesn't seem to be a Funko Special Edition.
237 Armin Arlelt – FYE Exclusive
The FYE Exclusivity of Armin makes this a collectible Attack on Titan Funko Pop!
Price Check – Amazon
Price Check – eBay
Armin Arlelt: The Evolution of a Hero
Armin Arlelt, often referred to simply as Armin, is a childhood friend of Eren Yeager, and his adoptive sister, Mikasa Ackerman. At the start of AOT Armin is a very timid and insecure individual, who doubts his abilities and often feels overshadowed by his more assertive companions.
As the story unfolds, it is revealed that humanity is on the brink of extinction due to the relentless onslaught of giant humanoid creatures with a taste for human flesh known as the Titans.
What is left of humanity lives within enormous walled cities to protect themselves from the Titans that lurk outside.
After witnessing the horrors of the Titans' attack on his hometown, Armin resolves to join the Scout Regiment alongside Eren and Mikasa to venture beyond the walls and explore the outside world.
Initially, Armin struggles in combat but his tactical thinking and ability to think outside the box soon make him an indispensable asset.
Armin faces numerous trials and personal challenges during the series confronting his fears and self-doubt head-on, often putting his life on the line to protect his friends and comrades with his unwavering loyalty and willingness to make sacrifices for the greater good earn him the respect and admiration of his fellow soldiers.
Armin's intelligence becomes a crucial factor in uncovering the mysteries surrounding the Titans, their origins, and the truth that is behind the walls. He plays a pivotal role in formulating strategic plans and finding weaknesses in the seemingly invulnerable Titans.
Related Anime Funko Pop! Articles: