Last Updated on July 26, 2023 by Dexter Roona
We have a new Attack on Titan Funko Pop to talk about in the form of the NEW War Hammer Titan Funko Pop! vinyl figure. It also looks like there will be a War Hammer Titan Funko Pop! 6-Inch Glow-In-The-Dark (GITD) Funko Pop!  – Exclusive version coming soon. There will be more on this release as and when it is confirmed.
The Attack on Titan Funko Pop list of vinyl figures continues to grow as the War Hammer Titan joins the ranks. This must-have AOT Funko will give a menacing presence when added to your collection.
Let's take a closer look at this awesome new Pop and where you can buy it from!
NB: This War Hammer Titan Funko Pop! article contains product affiliate links. If you click a link and make a purchase then AFG may make a very small commission at no cost to you.
1449 War Hammer Titan Funko Pop! Attack On Titan
The 1449 War Hammer Titan Funko Pop! is a must-have vinyl for AOT fans and collectors. But you might want to wait just a little longer before you buy as it looks like a 6-inch super-sized GITD version will be with us very soon.
Shopping Guide
The War Hammer Titan is a fearsome entity from the fan-favorite manga and anime series "Attack on Titan," created by Hajime Isayama that holds a unique position among the nine Titans due to its distinctive appearance, incredible strength, speed, and regenerative capabilities.
But what really sets it apart from the other Titans is its formidable weapon, known as the War Hammer.
The War Hammer Titan can create and control structures made of hardened crystalline material. This power allows the War Hammer Titan to create weapons, barriers, and even whole structures and buildings to engage in combat from a distance.
Its attacks are often devastating, with its crystalline-formed projectiles having the power to penetrate even the strongest defenses.
One of the most remarkable sides of the War Hammer Titan is its very unique transformation.
Unlike the other Titans, the inheritor of the War Hammer Titan does not fully consume the predecessor. Instead, the power is transferred through a mysterious process, and the previous holder's consciousness still resides within the successor, allowing for communication between them.
This process gives the War Hammer Titan a link to past inheritors that allows for knowledge to be passed down through generations with this information often proving very valuable in battle.
The War Hammer Titan has played its part in crucial battles throughout the series, often tipping the scales in favor of its wielder's side.
Its strength, power, and versatility make it a formidable force on the battlefield, with the potential to reshape the course of the war between humanity and the monstrous Titans.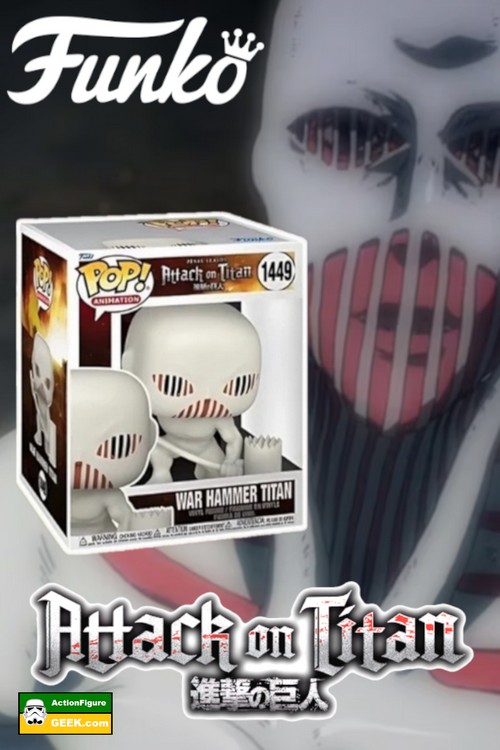 Related Anime Funko Pop! Articles: