Last Updated on August 5, 2023 by Dexter Roona
Today we bring news on a new addition to the Black Clover Funko Pop! Checklist with the release of the new Black Clover Black Asta Funko Pop!
We have all the news on this cool new Asta Pop! Figure and the best online retailers to buy him from.
Prepare to be enchanted by the latest addition to the Black Clover Funko Pop! collection, the new Black Asta Funko Pop from the renowned anime series Black Clover. This new release showcases the transformation of Asta, into his awe-inspiring Black Asta form.
With incredible attention to detail, the Funko Pop! Black Asta vinyl captures the character's appearance. From his striking black and white hair and glowing red devil eyes to the darkened five-leaf clover grimoire, every feature of this cool  Pop! is intricately crafted to bring the powerful and foreboding presence of Black Asta to life within your Funko Pop! collection.
NB: This new Black Asta Funko Pop! article contains product affiliate links. If you click a link and make a purchase then AFG may make a very small commission at no cost to you.
1420 Black Clover Black Asta Funko Pop!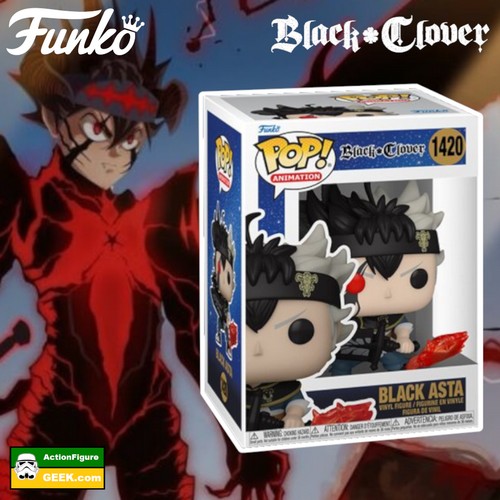 Shopping Guide
Asta's Black Clover Journey
Asta begins his journey as a very determined young boy who dreams of becoming the Wizard King, despite being born without any magical abilities in a world where magic is everything.
His big dream takes a very unexpected turn when he acquires the power of a devil through a rare five-leaf clover grimoire, turning his once bright and green grimoire into a dark black one.
The devil's power gives Asta immense strength and his appearance changes drastically, with his silver/white hair turning black and his eyes turning an eerie devil-red.
Despite gaining this dark power, Asta remains steadfast in his pursuit of justice and his goal of becoming the Wizard King.
The light and shade contrast between his pure-hearted nature and the devil's power influence creates an intriguing dynamic within Asta.
During Black Clover Black Asta's battles are nothing short of spectacular. The power of anti-magic, allows him to nullify all magical attacks, a formidable ability against all enemies.
However, Black Asta's journey isn't just about overpowering opponents with his newfound devil abilities. The series delves into themes of self-acceptance, the duality of human nature, and the choices you must make to stay true.
His struggles to control the devil's influence while maintaining his identity as Asta reveals the deep complexity of his character and adds depth to the overall storyline.
In the world of Black Clover, where magic reigns supreme, Black Asta's emergence as a symbol of hope and strength is a testament to the indomitable human spirit. His journey to rise above adversity, embrace his unique powers, and remain true to his ideals serves as an inspiration to both characters within the series and viewers alike.
Black Asta's unwavering resolve, combined with the compelling dichotomy of his character, solidifies his place as a truly unforgettable and iconic protagonist in the realm of the Black Clover anime.
Related Anime Funko Pop! Articles: