Last Updated on April 21, 2023 by Dexter Roona
Today we bring you our Demon Slayer Giyu Funko Pop! AAA Anime and Special Edition article. We have all the news on the 876 Giyu Tomioka Funko Pop! and the best online retailers to buy him from.
Giyu Tomioka is one of the main characters in the fan-favorite anime and manga series "Demon Slayer: Kimetsu no Yaiba." and has been honored with a Giyu Funko Pop!
Giyu is a highly skilled demon slayer and a former Water Hashira, a title that presents him as one of the highest-ranking members of the Demon Slayer Corps.
You can buy the Demon Slayer Giyu Funko Pop! on the links below
NB: This Giyu Funko Pop! 876 Giyu Tomioka Funko Pop! A must-have vinyl? article contains product affiliate links. If you click a link and make a purchase then AFG may make a very small commission at no cost to you.
Giyu Funko Pop – Must-Have Demon Slayer Funko Pop!
Giyu's Tomioka is very stoic and serious, and emotionally reserved. As a Hashira, he rarely shows any emotion and is completely dedicated to his role as a demon slayer. He has a strong unwavering sense of justice and is always ready to put his life on the line to protect others from the menace of demons.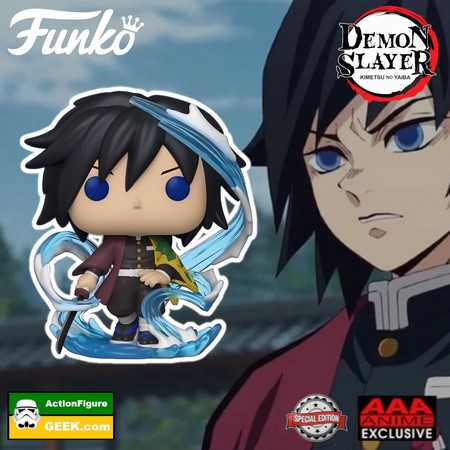 Shopping Guide
The new 876 Giyu Tomioka Funko Pop! available at the following online retailers:

Also available at Entertainment Earth

Entertainment Earth is offering a very generous 10% discount on all in-stock items with free postage and packaging on all orders you make totaling over $39.99. You can claim this discount by clicking here – AFGEEK discount. 

If you would like more information about this discount then please refer to our Entertainment Earth Discount page.
Giyu's weapon of choice is a katana sword that he wields with deadly precision. As the Water Hashira, he also has the unique ability to manipulate water, which he uses to enhance his swordsmanship. He is able to create powerful water-based attacks that can defeat even the strongest demons.
Like many of his fellow Demon Slayers Giyu has a tragic past.  Giyu was once close to someone who became a demon, and he was forced to kill them. This event left a profound impact on Giyu, further cementing his resolve to eradicate all demons and ensure that no one else experiences the same tragedy that he had.
Giyu does show a softer side when it comes to Tanjiro Kamado. He quickly recognizes Tanjiro's potential and applauds his deep dedication to protecting his sister Nezuku, who has been turned into a demon. This lends Giyu to take on a mentor role for Tanjiro, offering him guidance and training to help him develop his skills as a demon slayer.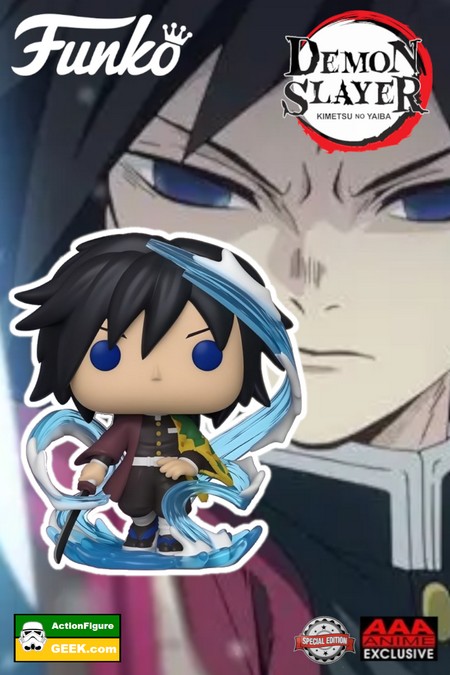 Giyu's devotion to his role as a demon slayer is unmatched, and his willingness to sacrifice himself for the greater good is a testament to his character. He is a powerful demon slayer known for his skill on the battlefield and his ability to hold his own against even the strongest demons.
His presence on any mission provides a sense of security and confidence for the other demon slayers, who know they can count on him to protect them.
Now that you know more about Giyu Tomioka will you be adding the Demon Slayer Giyu Funko Pop! to your collection? Will you be adding any of the other Demon Slayers or Demons found in our Demon Slayer Funko Pop! checklist to your collecton?
Let us know in the comments section.
Related Anime Funko Pop! Articles: