Last Updated on March 28, 2023 by Dexter Roona
We return to the Captain America Civil War Build-A-Scene Funko Pops for the next figure in the series the Bucky Barnes Build-A-Scene Funko Pop!
In the Captain America: Civil War movie, Bucky's story is one of conflict and redemption, as he struggles to come to terms with his past and find a way to move forward.
He is a tragic figure, caught between his loyalty to his friend Steve Rogers, and his guilt for the things he has done.
But he also represents the hope that even the darkest deeds can be forgiven and that people can change and find a new path in life.
And today Funko brings Civil War Bucky to life with this new Captain America: Civil War Bucky Barnes Build-A-Scene Funko Pop! Vinyl Figure Amazon Exclusive
NB: This new Bucky Barnes Build-A-Scene Funko Pop! article contains product affiliate links. If you click a link and make a purchase then AFG may make a very small commission at no cost to you, the price you pay will be the same whether you use the affiliate link or go directly to the vendor's website using a non-affiliate link.

By using the affiliate links, you are helping support ActionFigureGeek, and we genuinely appreciate your support.
1148 Captain America: Civil War Bucky Barnes Build A Scene Funko Pop! Vinyl Figure
Bucky Barnes, also known as the Winter Soldier, is a central character in the Marvel Cinematic Universe, and his story continues in Captain America: Civil War damaging consequences to the Avengers.
There are a number of Bucky Barnes Funko Pops available but none more significant than this Civil War Build A Scene Amazon Exclusive.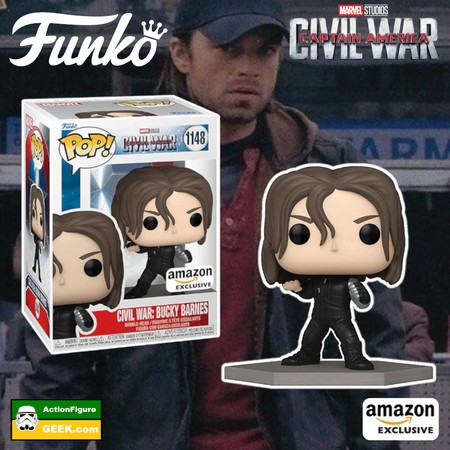 Shopping Guide
You can buy the Captain America: Civil War Bucky Barnes Build-A-Scene Funko Pop! Amazon Exclusive at the following retailers:

Entertainment Earth is offering a very generous 10% discount on all in-stock items with free postage and packaging on all orders you make totaling over $39.99. You can claim this discount by clicking here – AFGEEK discount. 

If you would like more information about this discount then please refer to our Entertainment Earth Discount page.
Captain America: Civil War
After the events of 2014's Captain America: The Winter Soldier, Bucky is still on the run from the authorities and struggling to come to terms with his past as the HYDRA-brainwashed assassin the Winter Soldier.
Meanwhile, his friend Steve Rogers, aka Captain America, is leading the Avengers and trying to keep the team together in the face of increasing scrutiny and criticism from the public and the government.
When a mission in Lagos, Nigeria goes wrong and results in civilian casualties, the Avengers are held accountable and forced to sign the Sokovia Accords, a United Nations agreement that would regulate their actions and limit their autonomy.
Tony Stark, aka Iron Man, supports the Accords, but Steve opposes them, fearing that they would compromise their ability to act independently and make difficult decisions in the face of global threats.
As tensions rise between the two sides, Bucky becomes a central figure in the conflict.
Steve learns that Bucky has been implicated in a terrorist attack and is being hunted by the authorities, but he believes that Bucky is innocent and sets out to clear his name.
Tony, on the other hand, sees Bucky as a dangerous fugitive who must be brought to justice.
As the Avengers split into opposing factions, Bucky finds himself caught in the middle.
He wants to help Steve, but he also feels guilty for his past actions and is afraid of losing control and becoming the Winter Soldier again.
When Bucky is captured by the government and put into cryogenic stasis, Steve and his team break him out and flee to a secret facility in Siberia, where they believe they will find evidence of a larger conspiracy involving HYDRA.
At the facility, they discover a video recording that reveals that Bucky was responsible for the death of Tony's parents, Howard and Maria Stark, many years ago.
Tony is devastated and outraged by the revelation, and he turns on Steve and Bucky, leading to a brutal showdown between the two sides.
In the end, Steve and Bucky are able to escape, but at a great cost.
The Avengers are divided and broken, and Bucky is once again on the run, haunted by his past and unsure of his place in the world.
But Steve remains steadfast in his belief in Bucky's redemption, and he promises to protect him and help him find a way to make amends for his past actions.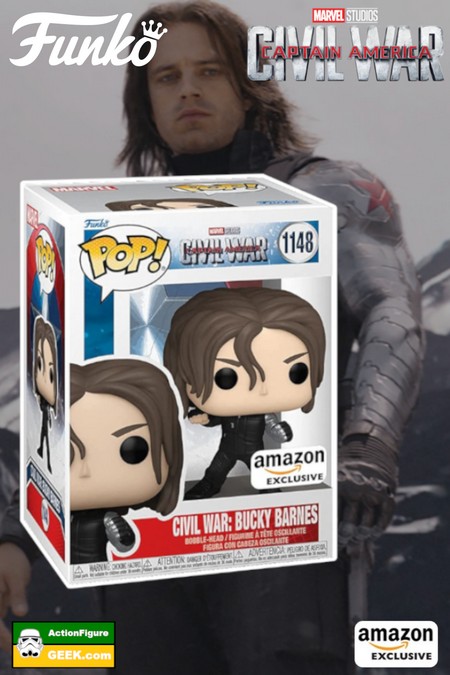 The Bucky Barnes Build-A-Scene Funko Pop! is figure number 6 of 12 in the series and joins 1143 Vision, 1144 Hawkeye, 1145 Black Panther, 1146 Black Widow, and 1147 Scarlet Witch on the list of already released or announced Captain America: Civil; War Build A Scene Funko Pops.
Related Articles:

The Best Captain America Action Figures