Last Updated on February 5, 2023 by Dexter Roona
Pop Rocks comes to Funko Fair in the form of this new Funko Pop! Rocks Cyndi Lauper Funko Pop! . We have all the news and gossip on this new Pop! a little background on Cyndi Lauper and accompanying images and of course, we offer you the best online Funko Pop! Retailers to add Cyndi to your Pop Rocks Catalogue.
The Funko Pop Rocks series is now a very established collection of music Pops. Featured artists include Iron Maiden, The Police, Mariah Carey, and Bella Poarch. Now the colorful Cyndi Lauper joins the Funko Pop! playlist.
Every Pop Rocks Funko Fan needs a little bit of Cyndi Lauper in their collection and now they can with this new, "Girls Just Wanna Have Fun" Cyndi Lauper Funko Pop! Funko Shop Exclusive.
NB: DISCLAIMER – This new Funko Pop Rocks Cyndi Lauper Funko Pop! "Girls just wanna have Fun" article contains product affiliate links. If you click a link and make a purchase then AFG may make a very small commission at no cost to you.
309 Funko Pop! Rocks Cyndi Lauper Funko Pop! "Girls just wanna have Fun" 
The Pop Rocks Cyndi Lauper Funko Pop! is inspired by Cyndi Lauper's most well-known song "Girls Just Wanna Have Fun" And you really are going to have nothing but fun when Cyndi joins your collection.
Cyndi Lauper really is no stranger to the music industry. With her ever-changing hair, colorful fashion, and lycra leotards she has become an icon for a generation. Her eccentricities have given her a music career that has spanned four decades.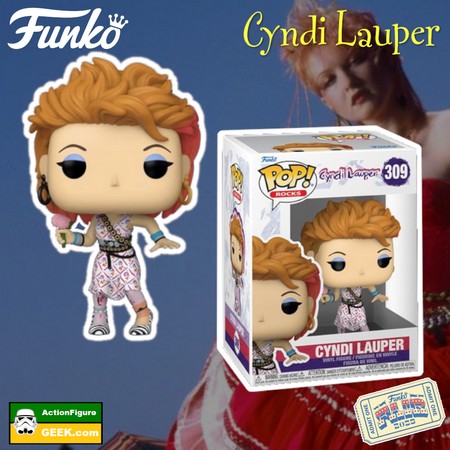 Shopping Guide
You can buy the Funko Pop! Rocks Cyndi Lauper Funko Pop! from the following AFG-recommended retailers:

Entertainment Earth is offering a very generous 10% discount on all in-stock items with free postage and packaging on all orders you make totaling over $39.99. You can claim this discount by clicking here – AFGEEK discount. 

If you would like more information about this discount then please refer to our Entertainment Earth Discount page.
Other Cyndi Lauper Funko Pops
Funko Pop! fans will know that the Funko Pop Rocks Cyndi Lauper Funko Pop! "Girls just wanna have Fun" vinyl figure is not the first time that Cyndi has appeared in Funko Pop! form.
There is also a Funko Pop! Album Pop! for the album "She's so unusual".
Price Check – Amazon
Cyndi Lauper released her first album, "She's So Unusual." in 1983. The album was a huge success with the hit songs "Time After Time" and the song that Funko celebrates with this Pop Rocks release "Girls Just Wanna Have Fun".
Cyndi was quickly embraced by the world of pop culture with her sense of style and music loved by all at the time.
Her career brought her many awards including coveted Grammy and Tony awards. Moreover, she has a star on the Hollywood Walk of Fame and was inducted into the Hall of Fame for songwriters.
Are you a Cyndi Lauper fan?
Will you be adding this new Cyndi Lauper Funko Pop! to your Pop Rocks collection?
Which other music Pops do you like?
I am a big fan of the Snoop Dogg Funko Pops and the U2 ZOO TV Funko Pops.
Away from music Pops I really like the Jiraiya on Toad Funko Pop Rides figure and the Demon Slayer Nezuko in Basket Funko Pop! Vinyl Figure Box Lunch Exclusive.
But what do you like?
Let me know in the comments below.
Regards
AFG