Last Updated on September 5, 2022 by Dexter Roona
This new Funko Pop Fire Force Princess Hibana Glow-In-The-Dark (GITD) Funimation 2021 Exclusive is a bit special in our book. Here is everything you need to know about this new Fire Force Funko Pop and the best online retailers to buy it from.
In the world of Fire Force Hibana is a beautiful princess. She is fiercely brave and has the very unique ability to make herself glow in the dark hence Funko has given us this glow-in-the-dark version of Princess Hibana.
Humanity has rebuilt the post-apocalyptic world of Force of Fire, but still randomly succumbs to events of spontaneous combustion.
It's a world where the firefighters are needed, all eight companies of firefighters.
NB: This Fire Force – Princess Hibana Glow-In-The-Dark (GITD) Funko Pop article contains affiliate links. If you click a link and make a purchase then AFG may make a very small commission at no cost to you.
Funko Pop Fire Force Princess Hibana GITD – Funimation 2021 Exclusive
Princess Hibana is the leader of company 5. She is a fun character who has an eccentric side and has a fear of missing out. She is a strong and independent female character in the world of anime.
Princess Hibana was sadly orphaned as a child and taken in by the Holy Sol Temple. It was at the temple that Princess Hibana discovered that she had the ability to create flames and shape them to form flowers. She was interested in the world with a curiosity about how things worked which led her to use her abilities, experimenting with different elements
She quickly formed a strong understanding of chemistry, which led her down a dark path. Thankfully she is able to change paths when she comes to the realization that there is more to life than destruction. She instead decides to use her powers for good.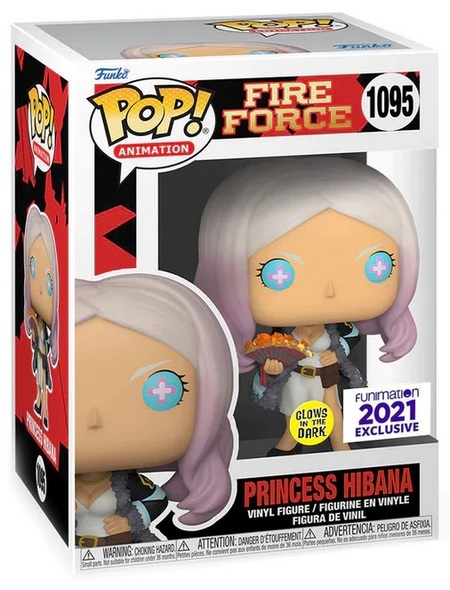 Are you a Fire Force fan? 
What do you think of this new Funko Pop Fire Force Princess Hibana figure?
Do you have any of the Fire Force Funko Pops in your collection?
What other anime/animation Pops do you collect?
We love the Saint Seiya Funko Pops, they are pretty cool, and also the new Fullmetal Alchemist: Brotherhood – Greed Funko Pop Hot Topic Exclusive is great as well. If we look at regular animation Pops then the He-Man Pops are pretty cool. And a special mention for the new Naruto Funko Pops.
Now it is over to you, the comments section is below 😉
Regards
AFG