Great news Anime Funko Fans we have a new Fullmetal Alchemist: Brotherhood – Greed Funko Hot Topic Exclusive Funko Pop to report on. Here is all the news and info on this new release and the best online retailers to buy him on.
NB: This FMA Greed Pop article does contain affiliate links. If you click a link and make a purchase then AFG may make a small commission at no cost to you.
The Full Metal Alchemist universe is vast and Greed is one of the strongest and most powerful beings in the FMA Universe.
As his name suggests Greed is one greedy dude. He is selfish, loves money (the more he has the better) and he craves power. He will use everything at his disposal to get want he wants.
1180 Fullmetal Alchemist: Brotherhood – Greed Funko Hot Topic Exclusive Funko Pop
Greed has a strong army of minions who are always willing to do his bidding making Greed a formidable opponent.
Greed is a Homunculus, an artificial human. He is part of a group of 7 Homunculus fashioned into life and led by Father.
The Homunculus are extremely dangerous beings in Fullmetal Alchemist. They are strong and powerful and their abilities rival those of the State Alchemists.
Each of Father's homunculus beings is named after one of the Seven Deadly Sins. And each homunculus being possesses powers inspired by the sin they are named after.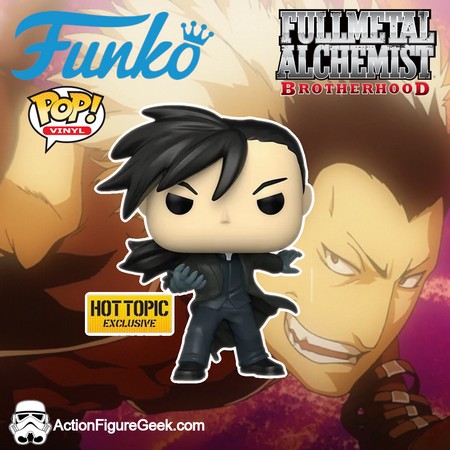 Greed and his fellow homunculi are both feared and despised in the Fullmetal Alchemist universe and are incredibly loyal to their creator's plans. However, Greed's own selfish greedy nature is stronger than his need for meeting his Father's will as seen when Greed abandoned the schedule set by Father for his own selfish needs and desires.
Greed has the ability to manipulate and change the carbon inside his body. This makes his skin very difficult to penetrate. When combined with his regeneration ability he is a truly strong and difficult to defeat.
Are you a Full Metal Alchemist: Brotherhood  Funko Pop Fan? Will you be adding Greed to your FMA Pop collection?
Which other anime/animation Pops do you collect?
We love the Demon Slayer Pops, the recent releases of Muichiro Tokito Funko Pop and the Zenitsu Agatsuma Funko Pop are very cool. We also love the My Hero Academia Pops and let's not forget the Naruto Funko Pops.
And a special mention for the Fire Force Princess Hibana Pop and the new Cowboy Bebop Pops.
But what do you like? You can have your say in the comments section at the bottom of the page. We would love to hear from you.
Regards
AFG