Last Updated on February 21, 2023 by Dexter Roona
Today we bring you news on a new Invader Zim Funko Pop! And bring you the Invader Zim: Gir eating Pizza Funko Pop! We have all the news on this cool release and the best online retailers to buy it from.
Gir is a fictional character in the animated television series "Invader Zim".
He is a small quirky, malfunctioning robot created by the alien invader Zim to help him conquer Earth.
However, Gir is often distracted from his duties and behaves in a silly and childlike manner and as you can see with this new Gir Funko Pop! it is Pizza that has him all distracted on this occasion.
NB: This new Invader Zim: Gir Funko Pop! Gir eating Pizza Pop! article contains product affiliate links. If you click a link and buy a product then AFG may make a very small commission at no cost to you 
Invader Zim: Gir eating Pizza Funko Pop! Hot Topic Exclusive 
Gir's appearance is that of a green robot with large, expressive eyes and a dog-like body shape.
He is programmed with a number of different functions, such as cooking and cleaning, but he often uses them in unconventional and bizarre ways. Here we have a version of Gir enjoying a slice of pizza.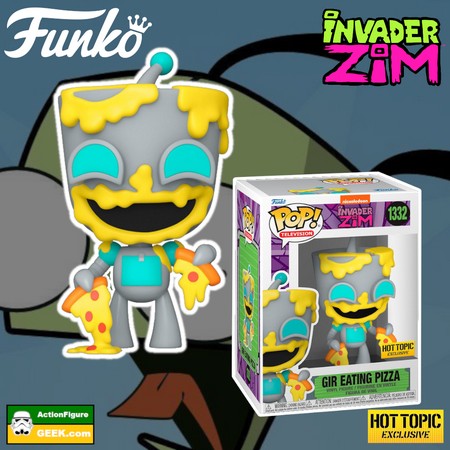 Shopping Guide
You can buy the Invader Zim: Gir eating Pizza Funko Pop! Hot Topic Exclusive at the following retailers:

Entertainment Earth is offering a very generous 10% discount on all in-stock items with free postage and packaging on all orders you make totaling over $39.99. You can claim this discount by clicking here – AFGEEK discount. 

If you would like more information about this discount then please refer to our Entertainment Earth Discount page.
Gir also has a tendency to randomly shout "I love cupcakes!" and "I'm gonna sing the Doom Song now!" which have become some of his most famous catchphrases and he is partial to Pizza as we can see with this Gir eating Pizza Funko Pop!
Despite his faults, Gir is a lovable and endearing character who has become a fan favorite.
He often provides comic relief in the series and is known for his zany antics and offbeat humor.
Gir eating Pizza FunkoPop! is a great Invader Zim Pop! Vinyl and one that deserves to be in your Funko Pop! Collection.
Invader Zim the Series
The "Invader Zim" animated television series that was created by Jhonen Vasquez. The show originally aired on Nickelodeon from 2001 to 2002, and it later gained a cult following after it was canceled.
Here are some details about the series:
The Plot:
"Invader Zim" is a darkly humorous science fiction series that follows the misadventures of an alien named Zim, who is sent to Earth on a mission to conquer it for his race, the Irkens.
However, Zim is incompetent and his efforts to take over the planet are constantly thwarted by a young boy named Dib, who is obsessed with the paranormal and is the only one who knows that Zim is an alien.
Characters:
The main characters in "Invader Zim" include Zim, the incompetent Irken invader; Gir, Zim's malfunctioning robot servant; Dib, the young paranormal investigator who is the only one who knows Zim's true identity; Gaz, Dib's sister who is apathetic towards most things but loves playing video games; and Professor Membrane, Dib and Gaz's father who is a famous scientist and inventor.
Style:
"Invader Zim" has a distinctive visual style that is both dark and comedic. The animation is often grotesque and exaggerated, with a focus on bodily fluids and other disgusting elements. The show also has a unique color palette, with a lot of greens and purples.
Episodes:
"Invader Zim" has a total of 46 episodes, which were originally aired in two seasons. The episodes are typically around 22 minutes long, and they are often split into two 11-minute segments. Some of the most popular episodes include "The Nightmare Begins," "Bestest Friend," "Dark Harvest," "GIR Goes Crazy and Stuff," and "The Most Horrible X-mas Ever."
Reception:
"Invader Zim" has gained a cult following over the years, with many fans praising its dark humor and unique animation style.
However, the show was not particularly successful during its original run, and it was canceled after only two seasons.
Despite this, "Invader Zim" has remained a popular and influential series, and it has been referenced in many other works of popular culture.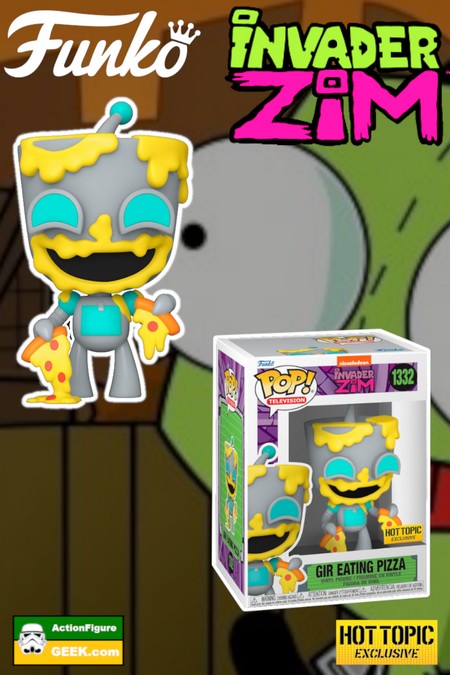 Related Funko Pop! Articles: