Last Updated on September 16, 2022 by Dexter Roona
We continue the Festival of Fun Funko Pop posts with our Gremlins Movie Poster Funko Pop Walmart Exclusive.
As a kid, I used to go every weekend to Blockbuster Video to select a new release for the Saturday night viewing. One such rental was Gremlins. All the big movies would have their own section of the store with 50 or so copies to retent, depending on how big the movie was.
Each Movie Poster Pop comes in a hard display case with the movie poster as the backdrop to create quite a nice display piece for your shelf or desk.
NB: Post contains product affiliate links. If you click a link and make a purchase then AFG may make a very small commission at no cost to you.
Shop Gremlins Funko Pops at AMAZON and AMAZON UK
01 Gremlins Movie Poster Funko Pop Gizmo Walmart Exclusive – Festival of Fun
The Funko Pop Movie Posters series pretty much all seem to date to be Walmart and Target Exclusives, normally with a Funko Special Edition released a bit later.
This version of Gizmo is very cute and works well as a Flocked Pop. I advise that if you buy this Pop you keep it locked away. Not because flocked Pops catch the dust but because we know the rules.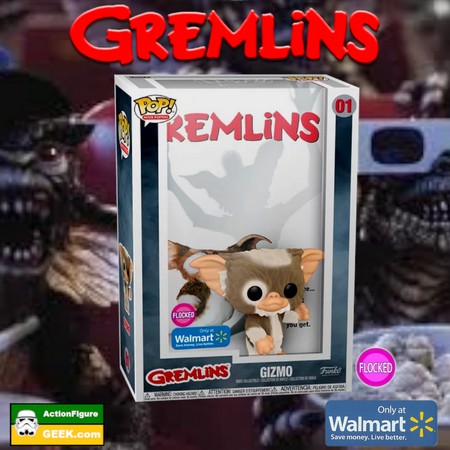 Shop for 01 Gremlins VHS Cover Funko Pop at Walmart
Price Check – eBay and eBay UK
Rules of owning a Mogwai
Do not expose the Mogwai to bright light, especially sunlight
Never get Mogwai wet
Never feed a Mogwai after midnight
So it is best to keep Gizmo in his box at all times 😉
This Gizmo Gremlin is a great addition to the other Gremlins Funko Pops that have been released.
Shop Gremlins merch at Entertainment Earth
Buy Gremlins Funko Pops at PIAB
What do you think of the VHS and Movie cover Pops?
Which other Pops do you like?
I really like the Coca Cola Holidays Funko Pops and the Frightmare on Fun Street Roger Rabbit NYCC Exclusive is very cool as well.
Which movies would you like to see as Movie Poster Pops?
Let us have your selections in the comments below.
Regards
AFG