Last Updated on September 27, 2022 by Dexter Roona
We have eagerly been watching the news about the new Funko on Fright Street New York Comic Con released and just love this new Who Framed Roger Rabbit NYCC Exclusive Funko Pop.  Here is everything you need to know about this cool convention collectible.
Who Framed Roger Rabbit was a groundbreaking movie of its time combining live-action and animation. The movie was released in 1988 and was directed by Robert Zemeckis of Back to the Future fame, and starred the likes of Bob Hoskins, Christopher Lloyd, Stubby Kaye, and Joanna Cassidy.
Pretty much all modern movies have an element of CGI, some are pretty much all CGI when you look at the likes of Avatar or the new Star Wars and Marvel movies. But director Robert Zemeckis and his crew didn't have the luxury of CGI. Instead, they were painstakingly inventing a way of seamlessly blending animation and live-action during the production shoot. For its time the results of their endeavors were excellent.
NB: This Roger Rabbit Funko Pop article does contain affiliate links. If you click a link and make a purchase then AFG may make a very small commission at no cost to you
Shop for Roger Rabbit Pops on Amazon and Amazon UK
NEW Who Framed Roger Rabbit NYCC Exclusive Funko Pop
Eddie Valiant is a PI whose brother is killed by a toon so he has no love for our animated friends.
Eddie is hired by R.K. Maroon. The job he is given is to investigate Jessica Rabbit, Roger's wife. Is Jessica Rabbit having an affair with Marvin Acme?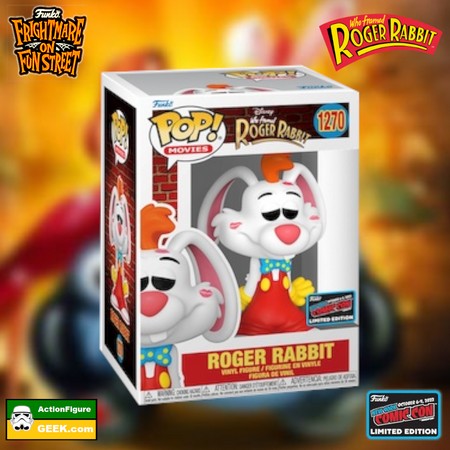 Shop for the Roger Rabbit NYCC Exclusive Funko Pop at:
When I first saw the Frightmare on Funko Street NYCC releases the Roger Rabbit NYCC Exclusive was a highlight.
Great Pop and his NYCC Exclusivity make it a highly collectible Funko Pop that will increase in value over time.
Shop for Roger Rabbit Pops on Amazon and Amazon UK
What do you think of the Roger Rabbit NYCC Frightmate on Funko Street NYCC Funko Pop?
What is your fav from the recent releases?
We also love the new Bullet Train Funko Pops and the Black Adam Funko Pops.
And the new Star Sapphire Frightmare on Fun Street NYCC Exclusive is pretty special as well.
But what about you?
Let us know in the comments below.
Regards
AFG