Last Updated on September 4, 2022 by Dexter Roona
Today we bring you our NEW Bullet Train Funko Pop list and buyers guide including accompanying images and everything you need to know about these cool movie Pops.
Ladybug, The Wolf, and Momomon from Bullet Train have been captured in Funko Vinyl form.
Bullet Train is a big-budget action movie with spectacular explosions and realistic fight scenes. It's exactly what you need if you want to escape for a couple of hours in a good story.
Bullet Train stars movie A-listers, Brad Pitt, and Sandra Bullock, along with Kissing Booths Joey King, Aaron Taylor Johnson, and Andrew Koji.
Bullet Train Funko Pop Checklist
1292 Ladybug and Ladybug Chase Variant Funko Pop
1293 The Wolf Funko Pop
1294 Momomon Bullet Train Funko Pop
NB: This Bullet Train Movie Funko Pop checklist contains product affiliate links. If you click a link and make a purchase then AFG may make a very small commission at no cost to you.
Bullet Train Buyers Guide and Gallery
Here are all the new Bullet Train Funko Pops released so far and the best online Funko Pop retailers to buy them from.
1292 Bullet Train – Ladybug and Ladybug Chase Variant Funko Pops
Ladybug is an unlucky assassin determined to complete the Bullet Train job in an efficient manner. But too many of Ladybugs' jobs have gone less than smoothly. Despite his best plans fate, puts him on the same path with other deadly assassins from around the globe who all have connected and at the same time conflicting mission goals.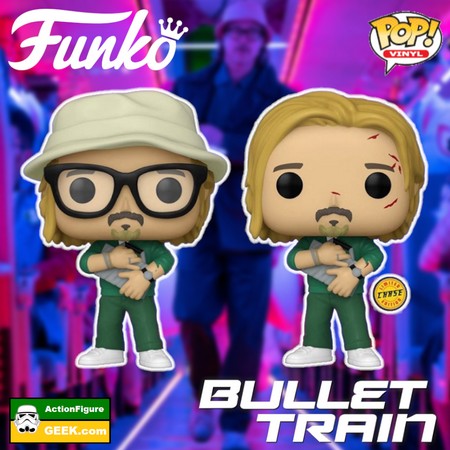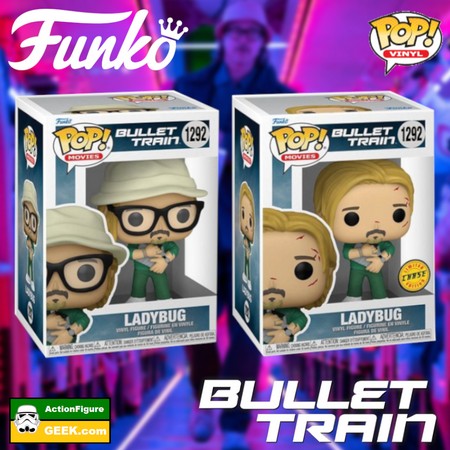 The new Funko Pop Bullet Train Ladybug has him clasping the briefcase tightly. He is available as a common Pop and as a highly collectible chase variant without his hat
1293 The Wolf Funko Pop
The Wolf is a Mexican gangster seeking revenge after his wife was killed at their wedding by an assassin named the Hornet. While riding the bullet train he mistakes the Ladybug for Hornet.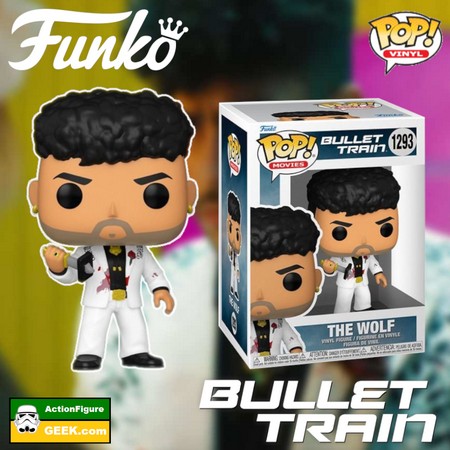 1294 Bullet Train – Momomon Funko Pop
Momomon, the big cuddly anime mascot, is constantly blocking the train's narrow ails of the Bullet Train and aggressively being pushed and pulled for being an oversized obstacle in the way. But all is not as it seems because Momomon is a murderous contract killer of the worst kind under the cuddly guise of an anime mascot.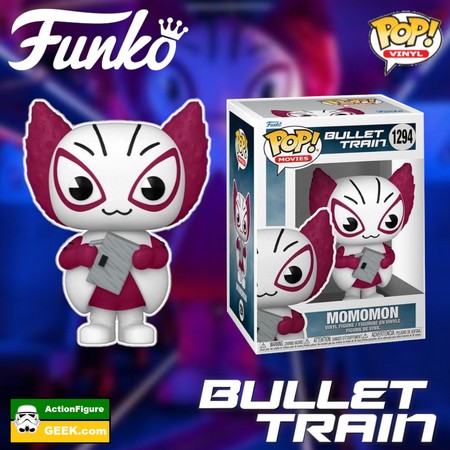 This new Bullet Train Momomon Funko Pop holding the briefcase is a very colorful Pop and translates well as a Funko vinyl figure. Very cool Movie Pop to add to your Funko vinyl.
NEW Bullet Train Funko Pops
Having watched the movie it is clear that the Funko lineup for Bullet Train can easily be expanded on. Funkos' initial wave of new Bullet Train Pops as we now know is just 3 with a chase version of Ladybug.
Other characters who should get a Funko makeover include:
Prince
Maria Beetle
Tangerine
Bad Bunny
There is also scope for a box set for all the assassins riding the Bullet Train. If it happens you will be the first to know.
Will you be buying any of these new Bullet Train Funko Pops?
The new Ladybug chase variant has to be the pick of the best Pops in the Bullet Train releases so far, though we do also love the murderous Momomon.
Which other movie Pops do you collect? We love The Batman Funko Pops and the Black Adam Movie Pops and a special mention goes to the VHS Covers Michael Myers Funko Pop, a very scary Pop for your collection.
Let us know what you think in the comments.
Regards
AFG