Last Updated on October 27, 2022 by Dexter Roona
We have a very scary Funko Pop to report on today so get ready to hide behind your sofa as we bring you the Funko Pop VHS Covers Michael Myers Halloween Funko Pop
Halloween is a horror movie that we first saw on TV. I remember it being on very late so I recorded it on the video recorder and just watched it the next day. That was a great decision. If I had watched it late at night then I would have struggled to sleep.
It really is a movie that gives you nightmares, at least for me anyway. I think that the scariest movies are always the ones where the storyline could actually come to pass. Halloween is one of these movies along with movies like the Texas Chainsaw Massacre and The Hills have Eyes. Of course, there are some that are not so scary as well like Killer Klowns from Outer Space.
This Funko Pop VHS Covers: Halloween – Michael Myers Glow-In-The-Dark (GITD) Funko Pop Walmart Exclusive takes you back to those VHS rental days at the local Blockbuster where you used to spend ages looking for a rental.
This Walmart exclusive horror Funko Pop comes with the original VHS cover art from the 1978 Halloween film, all packaged in a protective case in the same way that the Marvel Comic Cover Funkos, DC Comic Cover Funkos, and the Star Wars Comic Cover Funko Pops are.
Funko Pop VHS Covers: Halloween – Michael Myers Glow-In-The-Dark (GITD) Walmart Exclusive
Halloween tells the story of Michael Myers an escapee from a mental institution who escapes on Halloween stalking and killing his victims. His psychiatric doctor Dr. Loomis played by Donald Pleasance who knows him the best and recognizes just how evil Michael is sets out to track him down. Halloween 2 then picks up the storyline the very same night, moments after the first movie concludes.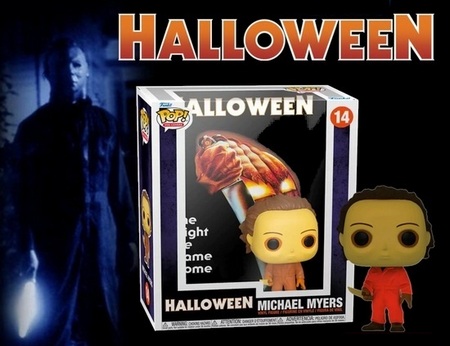 Michael Myers appeared in a number of other Halloween franchise movies but they never really hit the heights of the first two movies. The franchise was recently updated with the release of Halloween Kills. There is also a follow-up called Halloween Ends coming soon as well.
Michael Myers is a relentless killing machine. He has survived being shot, burned, stabbed, and even blown up but nothing seems to stop him. He just never dies making Michael Myers one of the most terrifying villains in cinematic history.
Michel Myers Funko Pop Figures
This is not the first time Michael Myers has appeared in Funko Pop form. There is an early Funko movies Pop,  03 Michael Myers, and Michael Myers Chase. Later they released the 622 Michael Myers Bloody – FYE Exclusive and the 831 Michael Myers – Hot Topic Exclusive.
There are also some new releases coming with our pick being the 1155 Michael Myers Bloody Jumbo 10″ – Specialty Series Exclusive
All of these Pops can be found on Entertainment Earth, Amazon, Pop in a Box, and eBay.
And we have to give a special shout-out to the Stranger Things Funko Pop of Max in her Michael Myers costume.
Are you a horror movie fan?
Will you be buying the Halloween Michael Myers VHS Cover Funko Pop?
Which other Horror Pops do you like?
We really like the Chucky Funko Pops and the Horror Blacklight Funko Pops.
Let us know what you think in the comments section at the bottom of the page. We would love to hear from you.
Regards 
AFG