Last Updated on May 10, 2023 by Dexter Roona
Today we bring you news of a brand new Hello Kitty in glasses Funko Pop! We have all the news on this cool Kitty Pop! including the best online retailers to buy it from.
Funko has done it again! released a brand new Hello Kitty with Glasses Funko Pop! vinyl figure that is sure to delight fans of the beloved Sanrio character.
The new Kitty Funko Pop! features Hello Kitty in a cute blue outfit with red and white sleeves and a red bow in her hair and holding a pencil/crayon. And the look just would not be complete without, a stylish pair of geeky glasses.
There are some great Hello Kitty Funko Pops already available the Hello Kitty x Naruto crossover Funko Pops are favorites of ours along with the Hello Kitty x Team USA crossover Pops.
NB: This Hello Kitty with glasses Funko Pop! article contains product affiliate links. If you click a link and make a purchase then AFG may make a very small commission at no cost to you.
65 Hello Kitty in glasses Funko Pop!
Hello Kitty has been a fan favorite for decades, and her popularity shows no signs of slowing down. From her humble beginnings in Japan, Hello Kitty has become a cultural phenomenon around the world, with fans of all ages and backgrounds. Her adorable appearance and lovable personality have captured the hearts of millions, and now fans can add this new Hello Kitty in glasses Funko Pop! to their collection.
The attention to detail in the new Funko Pop! is impressive. The blue outfit is carefully crafted to mimic the classic Hello Kitty design, with a cute red bow in her hair while holding a crayon/pencil. The addition of glasses adds a new dimension to the character, giving her a more mature and sophisticated if not geeky school-like look.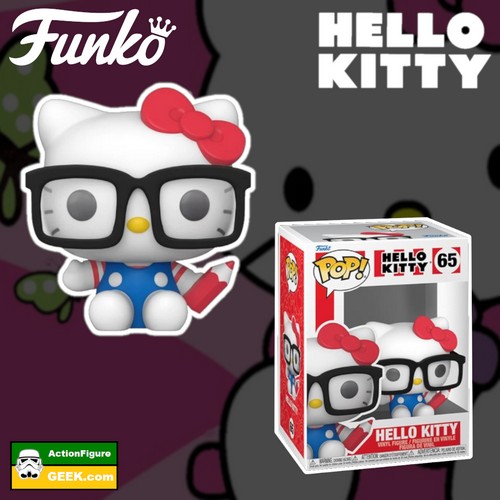 Shopping Guide
You can buy the new Hello Kitty with Glasses Funko Pop! at the following recommended online retailers:

Get a 10% discount on all in-stock items and free postage on all orders over $59.99 at Entertainment Earth by using our special AFGEEK discount. If you would like to know more about this discount then please refer to our Entertainment Earth Discount page.
Fans who have been waiting for a new Hello Kitty Funko Pop! to add to their collection will not be disappointed with this new Geeky Hello Kitty in glasses vinyl figure.
Fans of all ages will enjoy this new addition to the Hello Kitty Funko Pop! series and related Hello Kitty merchandise and is a great way to show off your love for the character, whether you display it on your desk or bookshelf or give it as a gift to a fellow Hello Kitty fan.
The new Hello Kitty with Glasses Funko Pop! is a great addition to the Hello Kitty Funko Pop! list. With its attention to detail, cute design, and sophisticated glasses, this Funko Pop! is sure to be a hit with fans of all ages. If you're a collector or just a fan of the character, this new release is definitely worth checking out.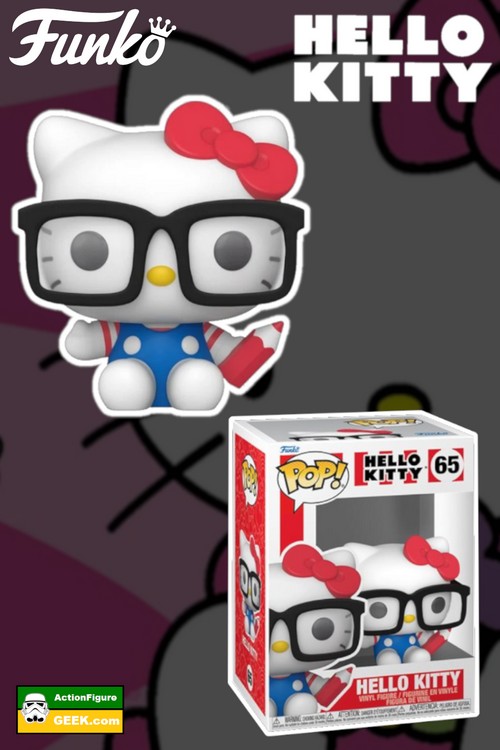 Related Funko Pop! Articles: