Last Updated on May 4, 2023 by Dexter Roona
Today we bring news of the new 886 Oshawott Funko Pop! Moustillon – Ottaro – Pokémon Funko Pop! We have all the news on this cool new Pocket Monster Pop! and the best online retailers to buy it from.
Oshawott is a popular fan-favorite Water-type Pokémon from the Sea Otter Pokémon species and is known for its cute and cuddly appearance. Oshawott was revealed to be male after a tense battle wild a female Snivy.
NB: This new 886 Oshawott Funko Pop! Moustillon – Ottaro – Pokémon Funko Pop! article contains some product affiliate links. If you click a link and make a purchase then AFGeek may make a very small commission at no cost to you.
886 Oshawott Funko Pop! Moustillon – Ottaro – Pokémon Funko Pop!
Oshawott's blue and white coloration with the seashell-like scalchop on the chest looks great. And is a pretty awesome addition to the Pokémon Funko Pop! Series of Vinyl Figures. Oshawott is in an iconic pose and standing on its hind legs. This new Oshawott Funko Pop! figure looks set to become one of the most sought Oshawott merchandise items available. It is a must-have for any Pokémon fan or collector.
Shopping Guide
The new new 886 Oshawott Funko Pop! Moustillon – Ottaro – Pokémon Funko Pop! vinyl figure is available at the following online retailers:

Entertainment Earth is offering a very generous 10% discount on all in-stock items with free postage and packaging on all orders you make totaling over $59.99. You can claim this discount by clicking here – AFGEEK discount. 

If you would like more information about this discount then please refer to our Entertainment Earth Discount page.
In the Pokémon universe, Oshawott is considered one of the three starter Pokémon that trainers can choose from in the Unova region. Its unique move set includes attacks such as Water Gun, Razor Shell, and Aqua Jet, which are all powerful Water-type moves. Oshawott's natural speed and agility make it an excellent Pokémon for battles, and its strong defense and attack make it a reliable choice for any trainer.
Oshawott has appeared in various Pokémon games, including Pokémon Black and White, Pokémon X and Y, and Pokémon Sword and Shield. In these games, trainers can catch and train their own Oshawott and use it to battle other trainers and Pokémon. This has led to various Pokémon merchandise items, such as Pokémon plush toys, keychains, and apparel to be produced and of course this 886 Oshawott Funko Pop!
Pokémon Anime
In the Pokémon anime, Oshawott has appeared in multiple episodes. One of the most well-known Oshawott appearances in the anime series was in the episode titled "The Lost World of Gothitelle!". This episode showed Oshawott to be a mischievous and playful Pokémon helping to make him a favorite among Pokémon fans.
Oshawott's popularity was further highlighted when Oshawott was used in various promotional events and campaigns. In 2012, the fast-food chain McDonald's included Oshawott toys in its Happy Meals. These quickly became a hit with young Pokémon fans.
Oshawott is a beloved Pokémon that has captured the hearts of fans all over the world. Its cute appearance, powerful moves, and playful personality make it a popular choice for trainers and collectors alike. The Oshawott Funko Pop figure is just one of many merchandise items that celebrate this iconic Pokémon. Whether you are a long-time Pokémon fan or a newcomer to the franchise, Oshawott is sure to leave a lasting impression.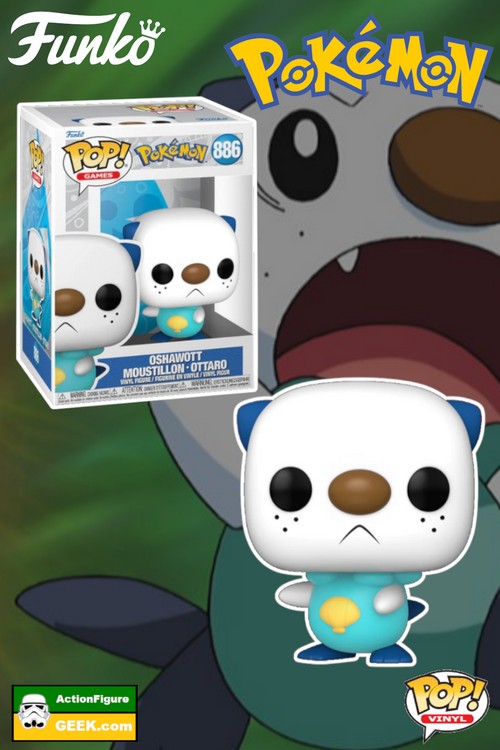 Related Funko Pop! Articles