Last Updated on January 28, 2023 by Dexter Roona
Following on from the Child Big Mom Funko Pop we bring you news of another Big Mom Pop, this time in the form of the One Piece Hungry Big Mom Funko Pop – Funko Fair 2023. We have all the information on this new vinyl figure, accompanying images, and our recommendations on the best online retailers to buy Hungry Big Mom.
Charlotte Linlin aka Big Mom is a big woman and it is only fitting that this new One Piece Hungry Big Mom Funko Pop is big… and she is.
This new Funko Pop Big Mom vinyl stands 6.5 inches tall.
In One Piece, the Big Mom is a powerful ruler with a massive appetite. She can very often be seen eating large quantities of food a d taking in more than her healthy daily intake of calories.
She often suffers hunger pangs with her want of food giving her incredible power. These hunger pangs come as a side effect of her Devil Fruit power
Hungry Big Mom is always looking to satisfy her insatiable appetite. Her hunger pangs make her a formidable opposition in a fight but they also make her vulnerable to attack.
NB: Disclaimer – This One Piece Hungry Big Mom Funko Pop article contains product affiliate links. If you click a link and buy a product then AFG may make a very small commission at no cost to you. 
1268 One Piece Hungry Big Mom Funko Pop Deluxe
Hungry Big Mom is another great Charlotte Linlin Pop. Funko really does pull out all the stops with their anime Pops.
This new Big Mom Pop is incredibly detailed and captures the look and feel of the character well and has given me quite the appetite to buy her.
She is another great Pop to add to your One Piece Funko Pop Collection.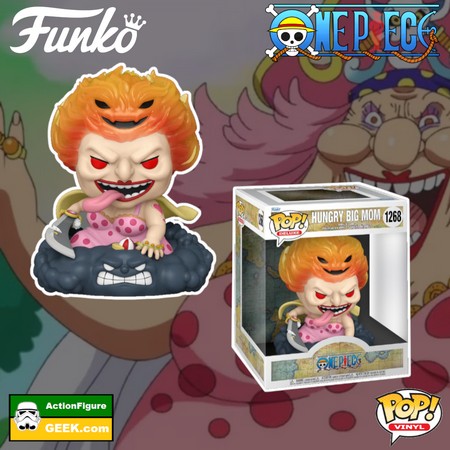 Shopping Guide
The Deluxe One Piece Hungry Big Mom Funko Pop is available from the following retailers:

Entertainment Earth is offering a very generous 10% discount on all in-stock items with free postage on all orders over $39.99. You can claim this discount by clicking here – AFGEEK discount. 

If you would like more information about this discount then please refer to our Entertainment Earth Discount page.
Other Big Mom Funko Pops
There are a few existing Big Mom Funko Pops. Here is what is available:
1271 One Piece – Child Big Mom 6-inch Funko Pop! Specialty Series and Funko Special Edition with chase
1271 OnePiece – Child Big Mom is a great Pop of a youthful Big Mom. Even at a tender age, she is super intimidating.
Price Check – eBay and eBay UK
Price Check – Entertainment Earth
1272 Big Mom with Homies – Galactic Toys Exclusive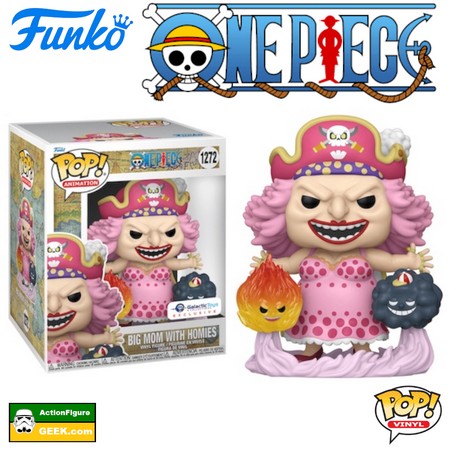 Price Check – eBay and eBay UK
Price Check – Entertainment Earth
Big Mom (Charlotte Linlin) is one of the 4 supreme rulers in the One Piece universe known as the Yonko. The Yonko are the most powerful and feared pirates who rule the New World.
Big mom is big in size and big in character.
She is incredibly ruthless, with a quick fuse temper and a natural tendency for extreme violence. She is an impatient leader who always demands complete loyalty from her crew and is unforgiving.
Big Mom may be as mean as they come but she does have a caring side to her family of which she is fiercely protective.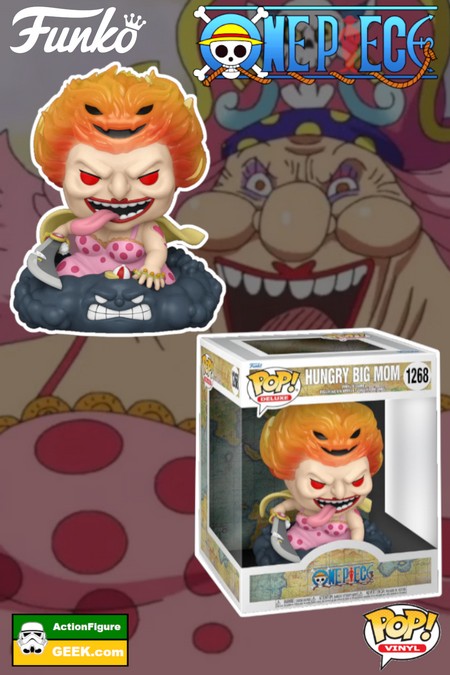 Are you a One Piece Funko Pop fan?
Will you be adding the Hungry Big Mom Funko Pop Deluxe Vinyl Figure to your collection?
Which other anime Pops do you like?
I am a big fan of the Jujutsu Kaisen – Yuji Itadori with Sukuna Mouth Funko Pop and the Jujutsu Kaisen – Nobara Kugisaki Funko Pop!
Away from Anime Pops I am a fan of the Proud Family Funko Pops and the Magic Gatherings Funko Pops.
But which Pops do you like?
Let me know in the comments below.
Regards
AFG