Last Updated on June 2, 2023 by Dexter Roona
Today we have news on the new LEGO Captain America's Shield – New Marvel LEGO Infinity Saga building set.
Marvel commemorates the legendary character of Captain America, portrayed by Chris Evans, by unveiling an exclusive LEGO replica of his iconic shield, set to release in 2023.
Despite the conclusion of the Infinity Saga, Marvel continues to honor the golden era of the Marvel Cinematic Universe (MCU) and its beloved heroes through exciting new merchandise. LEGO, for instance, recently delighted fans with a remarkable replica of Thor's hammer, Mjolnir, from the previous saga.
Following the awesome Avengers: Endgame, Steve Rogers' Captain America has been celebrated in various ways, such as a Funko recreation of his most memorable scene and a special timeline chronicling his shield's journey throughout the MCU.
Now, LEGO has announced the upcoming launch of an extraordinary building set that pays tribute to Chris Evans' Captain America in a unique manner.
LEGO Captain America's Shield
Priced at $199.99 USD (£179.99), the "LEGO Captain America's Shield" set is scheduled for release on August 1 and consists of an impressive 3128 pieces.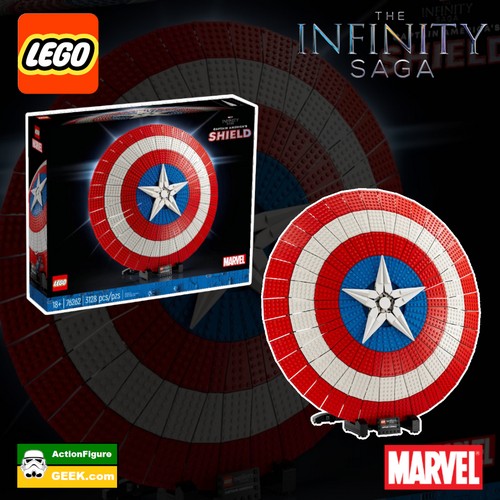 Designed with meticulous attention to detail, this LEGO replica aims to captivate "adult Marvel enthusiasts" with its authenticity and intricate construction.
LEGO Marvel Captain America's Shield (76262) allows fans to proudly showcase their passion for one of the most iconic items in the Marvel Cinematic Universe, providing a rewarding building experience and an awe-inspiring display piece within your personal Marvel fandom.
This unique LEGO Marvel Captain America's Shield set includes a special nameplate stand and a collectible Steve Rogers Minifigure, equipped with his own shield and the mighty Mjölnir, Thor's hammer.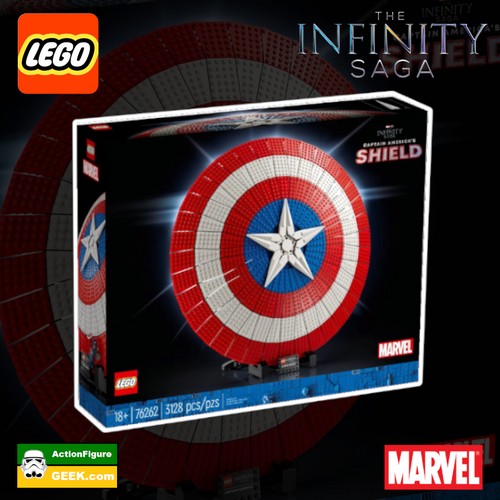 The shield itself boasts a diameter of 18.5 inches (47 cm), creating an impressive scale when juxtaposed with the miniature Captain America figure. Additionally, the LEGO Builder app offers digital building instructions for added convenience.
The packaging features captivating imagery, showcasing the LEGO replica in all its glory. It even includes schematic illustrations and action shots of Steve Rogers wielding his iconic shield in battle. The design faithfully mirrors the one seen in Captain America: The Winter Soldier, perfectly capturing Chris Evans' decade-long portrayal of the character.
Undoubtedly, the LEGO Captain America's Shield serves as a magnificent addition to any collector's display. LEGO has taken care to emphasize its place in the average household, as evident in one of the officially-released images. This remarkable LEGO replica allows diehard fans to relish in building and exhibiting these revered objects in a sophisticated manner.
Although the departure of Chris Evans' Steve Rogers continues to be deeply felt, with uncertainty surrounding his fate, the legacy of Captain America endures within the MCU. Anthony Mackie's Sam Wilson will assume the mantle of Captain America in May 2024's Captain America: New World Order, infusing his own style into the suit while preserving the iconic original shield—an enduring symbol of freedom, heroism, and justice.
The significance of Captain America's shield and Thor's hammer throughout the Infinity Saga resonates in the ongoing Multiverse Saga, solidifying their hero status and LEGO's exquisite replicas provide an opportunity for adult collectors to cherish these timeless symbols in an elegant and dignified manner, catering specifically to passionate Marvel enthusiasts.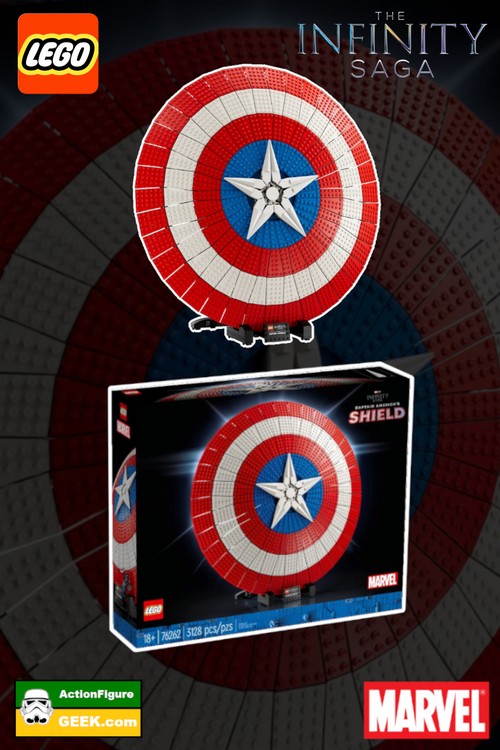 This LEGO Captain America's Shield article contains product affiliate links. If you click a link and make a purchase then AFG may make a very small commission at zero cost to you.
Related LEGO Articles: