Last Updated on August 17, 2022 by Dexter Roona
Today we bring you all the news on the new LEGO Star Wars AT-TE Walker – Revenge of the Sith LEGO Set including the best places to buy it online. But is it one of the best Star Wars LEGO sets you can buy?
The new LEGO Star Wars AT-TE Walker allows fans to recreate the Battle of Utapau.
The AT-TE Walker – All Terrain Tactical Enforcer was a battle tank used by the Grand Army of the Republic. It featured six fully articulated legs that were low to the ground making it an extremely stable vehicle to use on the battlefield.
AT-TE Walkers were used at the Battle of Utapau that took place on the Separatist-occupied world of Utapau in 19 BBY. This fearsome battle was fought between the Separatist Battle Droid Army and the Grand Army of the Republic who was joined by the Utapaun resistance. The battle was a major confrontation during the Clone Wars.
LEGO Star Wars AT-TE Walker – Revenge of the Sith 75337
The new LEGO Star Wars AT-TE Walker is a great gift idea for Star Wars: Revenge of the Sith fans. The building set features posable legs, there is a 360-degree-rotating elevating heavy blaster cannon with 2 stud shooters,  2 detailed cabins with space for up to 7 LEGO mini-figures in total, and a detachable mini-figure cockpit.
Free shipping on orders over $39.99 (US Only)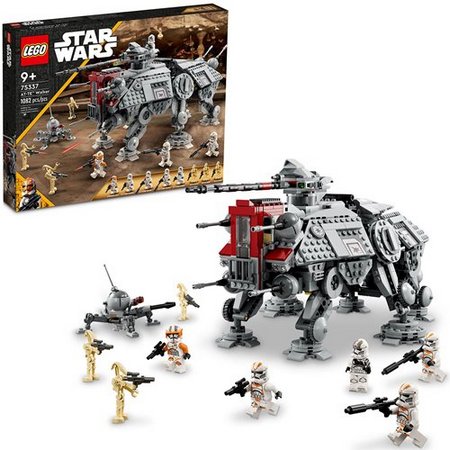 The cabins open for easy play. There is an extendable handle making it easy to lift and move the LEGO AT-TE.
Includes 5 x LEGO mini-figures:
Commander Cody
212th Clone Gunner
3 x 212th Clone Troopers
3 x Battle Droid figures
Buildable Dwarf Spider Droid
Assorted weapons
The set comes with full building instructions inside the box or you can opt to use the LEGO Building Instructions app. The app gives you a more immersive building experience as you rotate the build within the viewing tools
The LEGO Star Wars AT-TE Walker measures an impressive 17-inches long. It is 9 1/2 inches wide and 7 1/2 inches tall.
Suitable for anyone above 9 years.
Are you a LEGO Star Wars Fan?
Which sets have you purchased?
What other Star Wars merch do you collect? We love the Star Wars Black Series Action Figures and The Mandalorian Funko Pops.
Another great LEGO Star Wars set to check out is the LEGO Star Wars The Justifier.
Let us know in the comments section below.
Regards
AFG