Last Updated on September 25, 2023 by Dexter Roona
Today we bring news on the new Magneto Comic Cover Funko Pop! – Uncanny X-Men #4. We have all the info you need on this cool new Marvel Funko Collectible.
Joining the list of Marvel Comic Cover Funko Pops is the awesome Magneto Comic Cover Funko Pop! – Uncanny X-Men #4 available as a Target Exclusive and Funko Special Edition.
Magneto wears his signature red costume with purple helmet as seen in the Uncanny X-Men #4 with the artwork of the comic-book as the backdrop for this awesome Marvel Collectibles.
This cool Magneto Funko Pop! makes a great addition to the existing Marvel Comic Cover Checklist.
NB: This NEW Magneto Comic Cover Funko Pop! – Uncanny X-Men #4 Target Exclusive and Special Edition article contains product affiliate links. If you click a link and make a purchase then AFGeek may make a very small commission at no cost to you.
Get Your Hands on the Exclusive Magneto Comic Cover Funko Pop! – Uncanny X-Men #4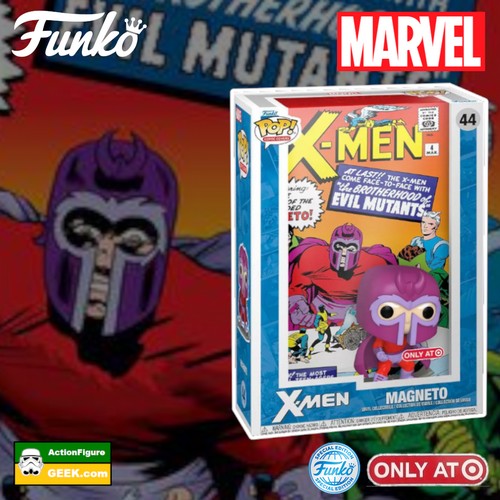 Shopping Guide

You can buy the Magneto Comic Cover Funko Pop! – Uncanny X-Men #4 Target Exclusive and Special Edition at the following online retailers:

Price Check – Amazon and Amazon UK

Price Check – eBay

Get a 10% discount on all in-stock X-Men Funko Pops by using our AFGeek discount code – Details here: Entertainment Earth Discount.
Marvel's Master of Magnetism: Magneto
In the world of Marvel Comics, Magneto stands as one of the most iconic and complex villains turned anti-hero. He made his dramatic debut in "Uncanny X-Men #4." Created by the legendary duo of Stan Lee and Jack Kirby in 1963.
Magneto possesses magnetic manipulation powers making him a powerful and formidable adversary to the X-Men.
In Uncanny X-Men #4," Magneto emerges as the leader of the Brotherhood of Evil Mutants, a group of mutants united under his banner.
His mission is simple: mutant supremacy over humankind, a vision rooted in his traumatic past as a Holocaust survivor.
This backstory added depth and nuance to his character, making him more than just a stereotypical supervillain.
The power Magneto holds over magnetic fields and metal grants him an extraordinary range of abilities. He is able to levitate, create impenetrable force fields, and can even reshape and form metal objects to his will.
His helmet is designed to shield his mind from psychic attacks from even the most powerful telepaths like Professor X.
As the X-Men's arch-nemesis, Magneto engages in a constant battle with Professor Charles Xavier
Their very different views on the coexistence between mutants and humans form the core conflict in the X-Men series, offering fans a thought-provoking exploration of prejudice, discrimination, and the struggle for acceptance.
Over the years, Magneto's character has moved from a pure villain to a more complex figure.
There have been occasions when Magneto has joined forces with the X-Men to combat common threats, blurring the line between hero and villain.
This moral ambiguity has made him one of Marvel's most compelling characters, constantly challenging readers' perceptions of right and wrong.
In "Uncanny X-Men #4," Magneto's introduction marked the beginning of a legacy that would solidify him as one of Marvel's most enduring and enigmatic characters.
His complex motivations, magnetic powers, and ongoing battle with the X-Men have made him a central figure in the Marvel Universe, leaving an indelible mark on the world of comic books.
Related Marvel Funko Pop! Articles:
From the AFGeek Blog: